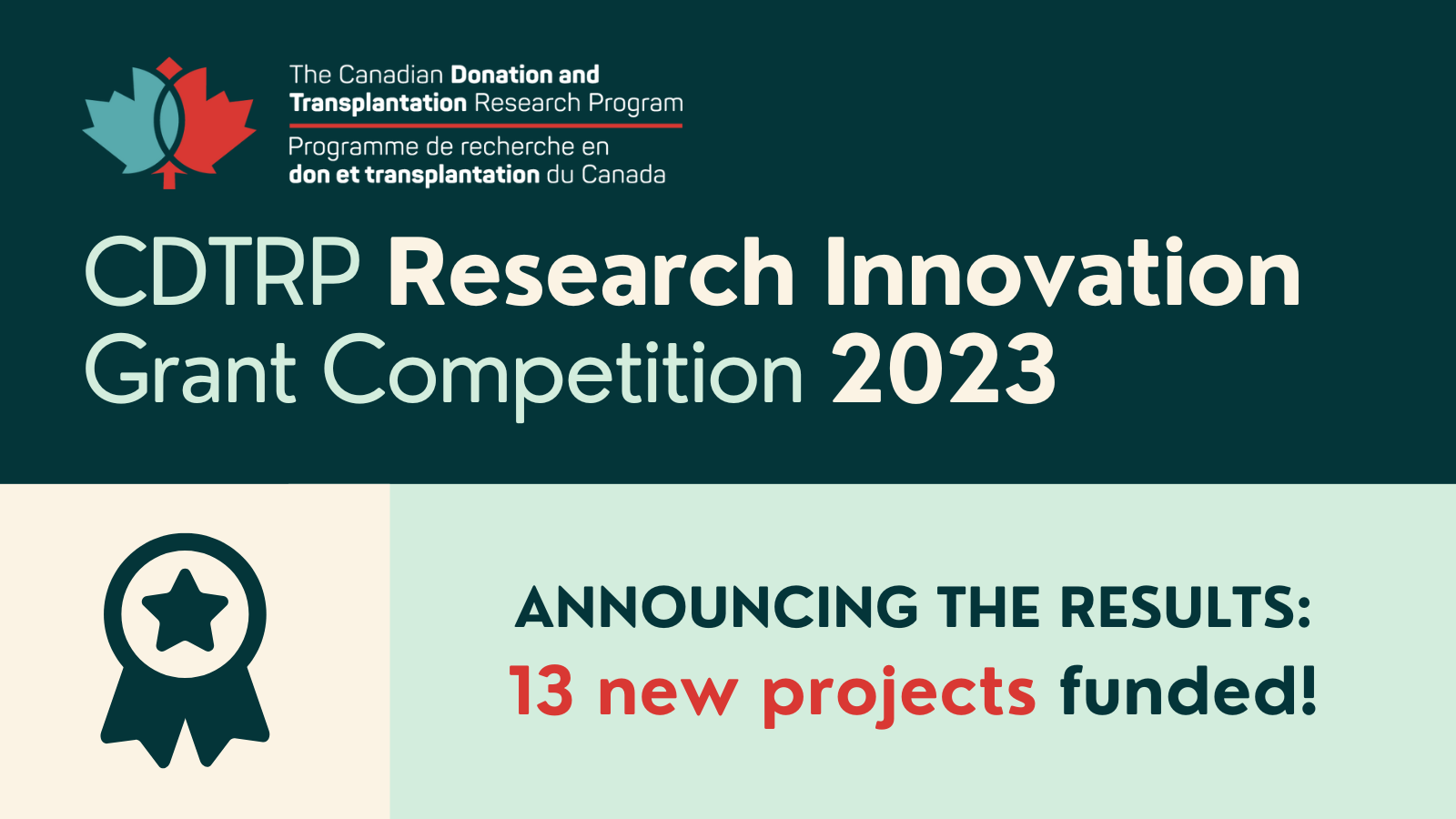 Announcing the results of the 2023 CDTRP Research Innovation Grant Competition – 13 new projects funded!
The CDTRP is happy to share the results of the 2023 CDTRP Research Innovation Grant Competition and welcome 13 new projects into our national research structure. Since 2013, the Canadian Donation and Transplantation Research Program (CDTRP) has supported research and innovation that addresses barriers within the fields of donation and transplantation, with the ultimate goal of advancing long-term health outcomes and quality of life for Canadian transplant patients. As we are entering our 10th year of creating opportunities for innovative research collaborations, CDTRP is very proud to add 12 new projects from devoted and visionary investigators.
This competition was made possible through the generous financial support, dedication and commitment from our national and regional partners, which include:
We would also like to thank and acknowledge everyone who contributed to the competition and peer review process, including Peer Review Committee Chair Dr. Sunita Singh, our scientific reviewers and our patient, family and donor reviewers for participating in the review process and for upholding an excellent level of professionalism and quality.
The 13 new projects that will receive funding and will be added to the CDTRP are:
Congratulations to all of the research teams! We will be featuring each of these projects in our newsletter over the next few weeks, and we look forward to hearing from the teams on upcoming Research Connect series and other CDTRP events as the projects get underway.
We are already planning for the 2024 CDTRP Research Innovation Grant competition, so start sharpening your pencils and putting your best ideas and teams together for next year!