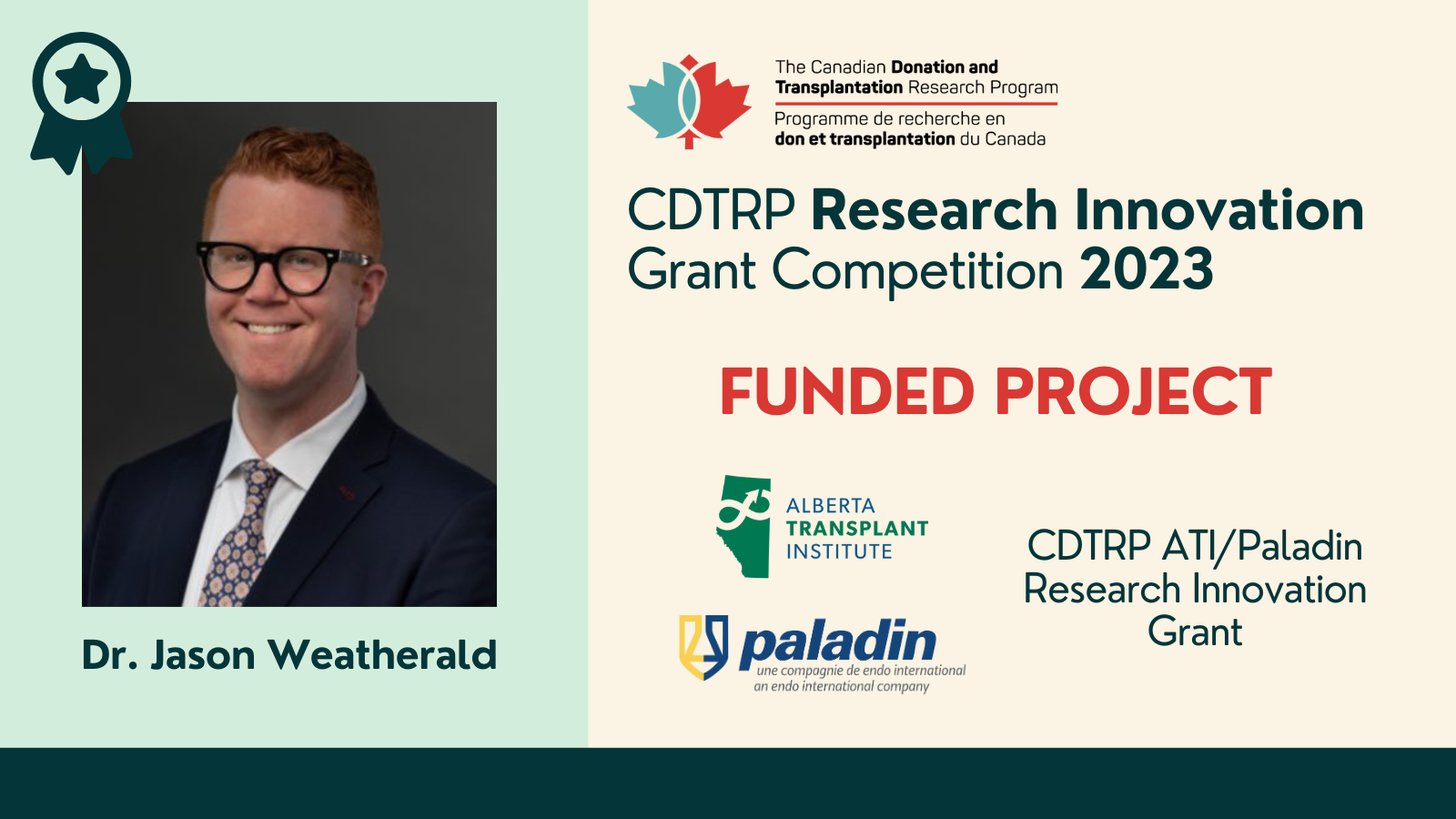 CDTRP 2023 Research Innovation Grant Competition Results
CDTRP is thrilled to announce the results of the CDTRP 2023 Research Innovation Grant Competition, made possible through our partnership with various esteemed organizations. We are proud to showcase all of the exciting projects that have been funded in this year's competition.
We would like to extend our warmest congratulations to Dr. Jason Weatherald and his team for being awarded the CDTRP ATI/Paladin Research Innovation Grant. We wish them all the best as they embark on their innovative project!
"Congratulations to the members of the Alberta Transplant Institute for their achievement in securing CDTRP Innovation Grants for two amazing projects! In pediatric heart transplantation, your dedication to understanding the lived experience of pediatric heart transplant patients and their families demonstrates a profound commitment to patient-centered care. By delving into their unique perspectives, you will shape future interventions and improve outcomes for young transplant recipients. In lung transplantation, defining the highest research priorities is an important initiative and a testament to collaborative spirit and determination to address the most pressing needs in the field. Through this important initiative, you will ensure that research efforts align with the needs and aspirations of patients and healthcare providers alike."

– Dr. Lori West, Director, Alberta Transplant Institute
CDTRP ATI/Paladin Research Innovation Grant: Dr. Jason Weatherald
Lung Transplantation Research Priority Setting Partnership 
Main affiliation: University of Alberta
Theme 5 – Restore Long-Term Health
Lay abstract
Lung transplantation can improve survival and quality of life for patients with end-stage lung diseases. However, to improve outcomes for patients receiving lung transplants, more research will be needed. This research grant aims to establish research priorities for lung transplantation according to patients, caregivers, and clinicians. The project will engage a diverse group of patients, caregivers, and clinicians to identify uncertainties relating to any aspect of pre and post-operative care, complications, rehabilitation, quality of life and prognosis after lung transplantation. The project will identify unanswered questions that could be addressed by future lung transplantation research and disseminate these research priorities with researchers, clinicians, and funding agencies in Canada and internationally. To achieve this goal, the James Lind Alliance process will be followed. This is a valid and widely used method for setting research priorities that has been successfully done for many chronic diseases and for kidney transplantation, but never for lung transplantation. The main output of this project will be a top 10 list of researchable questions that could be addressed by future research. By involving patients, caregivers, and clinicians, this project aims to identify research priorities that are most important to those affected by lung transplantation. The project will be conducted in five key steps, including 1) identifying partners and raising awareness, 2) identifying questions and potential evidence uncertainties, 3) refining questions and evidence uncertainties, 4) interim prioritization, and 5) conducting a final priority setting workshop. Lastly, we will disseminate these research priorities to relevant stakeholders.