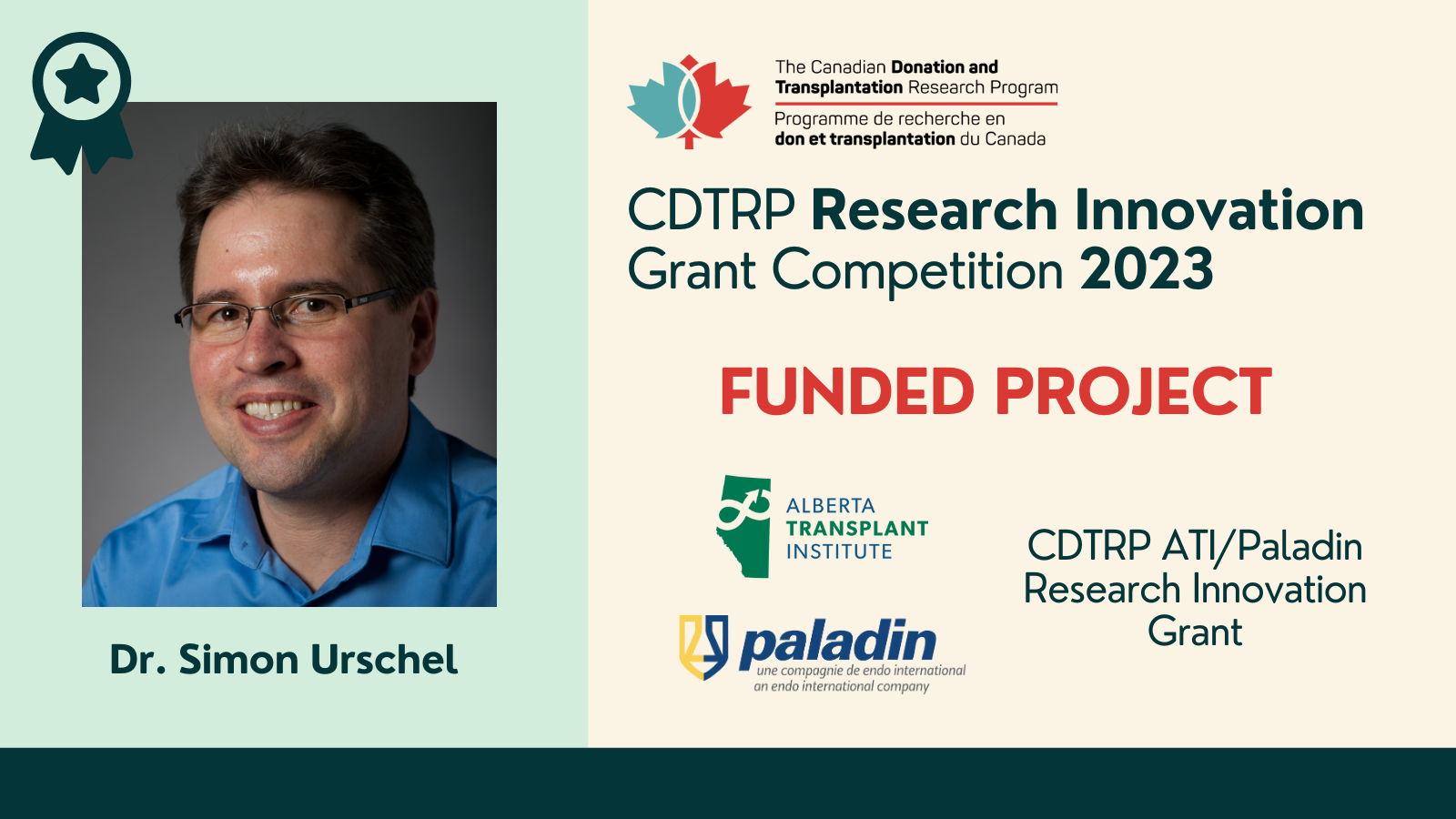 CDTRP 2023 Research Innovation Grant Competition Results
CDTRP is thrilled to announce the results of the CDTRP 2023 Research Innovation Grant Competition, made possible through our partnership with various esteemed organizations. We are proud to showcase all of the exciting projects that have been funded in this year's competition.
We would like to extend our warmest congratulations to Dr. Simon Urschel and his team for being awarded the CDTRP ATI/Paladin Research Innovation Grant. We wish them all the best as they embark on their innovative project!
"Congratulations to the members of the Alberta Transplant Institute for their achievement in securing CDTRP Innovation Grants for two amazing projects! In pediatric heart transplantation, your dedication to understanding the lived experience of pediatric heart transplant patients and their families demonstrates a profound commitment to patient-centered care. By delving into their unique perspectives, you will shape future interventions and improve outcomes for young transplant recipients. In lung transplantation, defining the highest research priorities is an important initiative and a testament to collaborative spirit and determination to address the most pressing needs in the field. Through this important initiative, you will ensure that research efforts align with the needs and aspirations of patients and healthcare providers alike."

– Dr. Lori West, Director, Alberta Transplant Institute
CDTRP ATI/Paladin Research Innovation Grant: Dr. Simon Urschel
Exploring the lived experience of pediatric heart transplantation from patient and family perspectives 
Main affiliation: University of Alberta
Theme 5 – Restore Long-Term Health
Lay abstract
Heart transplantation is a treatment for children with heart failure that is always associated with traumatic events for the patients and their families, who face life-threatening situations, and a currently imperfect cure that may not be available in time to save the child. These experiences and the post-transplant concerns for maintaining a healthy heart can cause lifelong challenges, which may jeopardize the long-term success of the transplantation itself. Substantial improvements of survival and medical stability after transplant have led to a shift in research and clinical focus to improving overall well-being, coping with a chronic health condition, and helping families find normalcy after such critical life events. The purpose of this study is to explore the experienced journey of pediatric heart transplantation as it is lived by the patients and their families and understand the impact of these experiences from their own perspectives. The experiences may vary for those who require transplant from birth and others having lived a healthy life or a life of chronic heart disease before receiving a heart transplant later in childhood. With patient and parent input to create meaningful and appropriate questions, information will be gathered through individual interviews and group discussions with families having experienced these various journeys. The perspectives of patients, parents and siblings will be collected with a goal of identifying specific concerns that may be underrecognized and can be supported by the medical teams thereby providing a voice to the transplant families with the intention of improving these experiences for families.