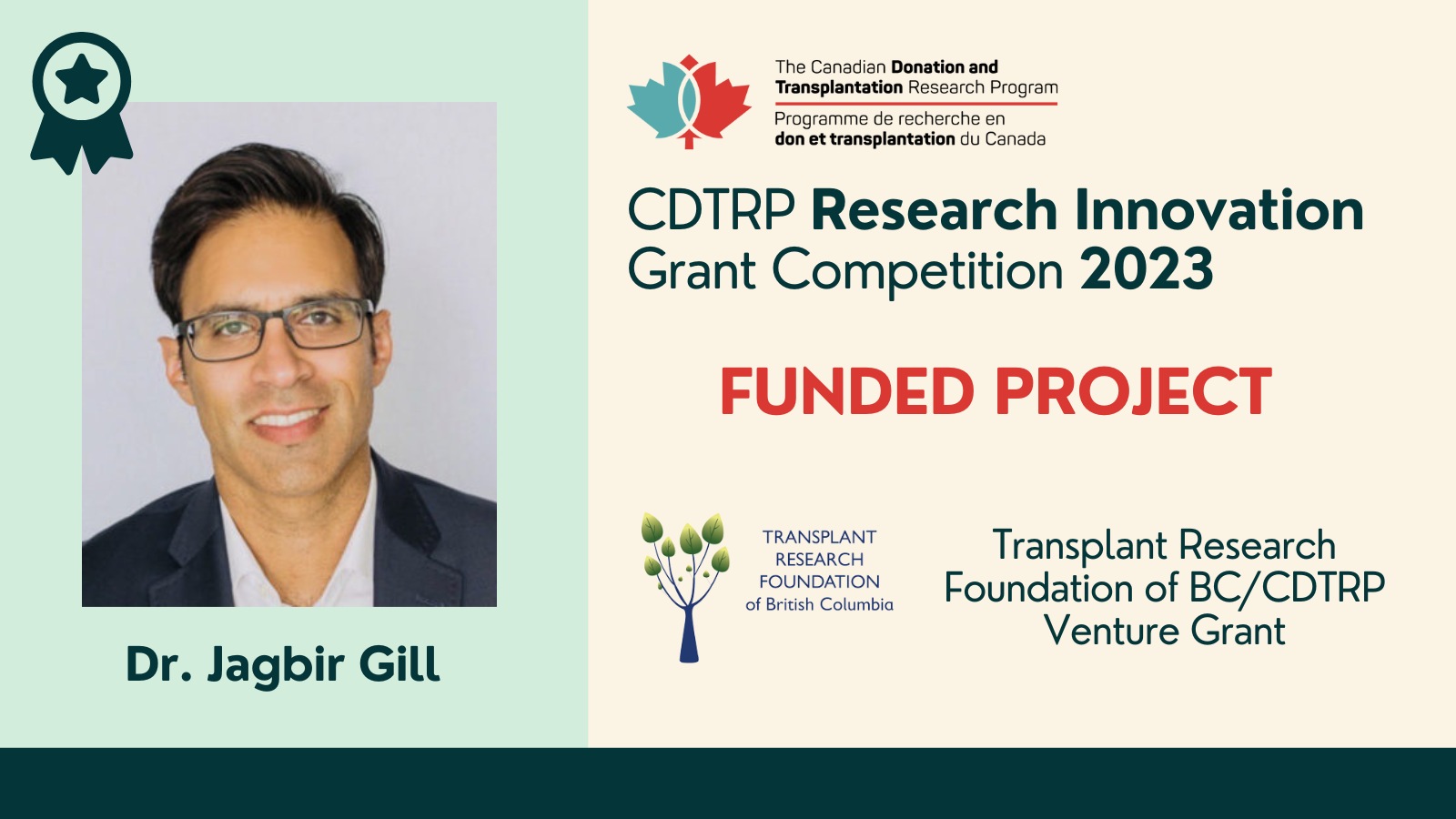 CDTRP 2023 Research Innovation Grant Competition Results
CDTRP is thrilled to announce the results of the CDTRP 2023 Research Innovation Grant Competition, made possible through our partnership with various esteemed organizations. We are proud to showcase all of the exciting projects that have been funded in this year's competition.
We would like to extend our warmest congratulations to Dr. Jagbir Gill and his team for being awarded the Transplant Research Foundation of BC/CDTRP Venture Grant. We wish them all the best as they embark on their innovative project!
"The Transplant Research Foundation of BC is thrilled to support such a wide depth and breadth of research that will lead to important new discoveries to truly transform organ donation and transplantation in British Columbia and Canada."

– Elaine Yong, TRFBC Co-Chair
Transplant Research Foundation of BC/CDTRP Venture Grant: Dr. Jagbir Gill
A unique reciprocity-based strategy to improve living kidney donations in British Columbia: Focus group consultations 
Main affiliation: University of British Columbia
Theme 1 – Improve a Culture of Donation
Lay abstract
Despite the tremendous benefits of kidney transplantation, the demand for transplantation far exceeds the availability of organ donors in Canada, meaning patients have to wait years on dialysis before receiving a deceased donor kidney transplant (DDKT). Deceased donor rates have not changed since 2020. Further, there are limited living kidney donors in Canada and the numbers continue to stagnate. One of the things that limits potential living donors is the concern that someone they know, or love may need a kidney in the future and if they donate now they won't be able to help other family members.

In this project, we aim to explore the acceptability of policy in which living kidney donors would be able to identify someone who could receive a priority for a DDKT if they need it.  As this would have important implications it is important to understand whether such a policy is acceptable to key stakeholders.

We will conduct focus group consultations with patients that are on the waitlist and those that have already been transplanted, living kidney donors, and general community members to explore the acceptability of reciprocity-based strategy. The results will be analyzed and reviewed with the key knowledge users and stakeholders, and policy briefs and reports will be developed to directly inform the development and implementation of reciprocity-based strategy in British Columbia.