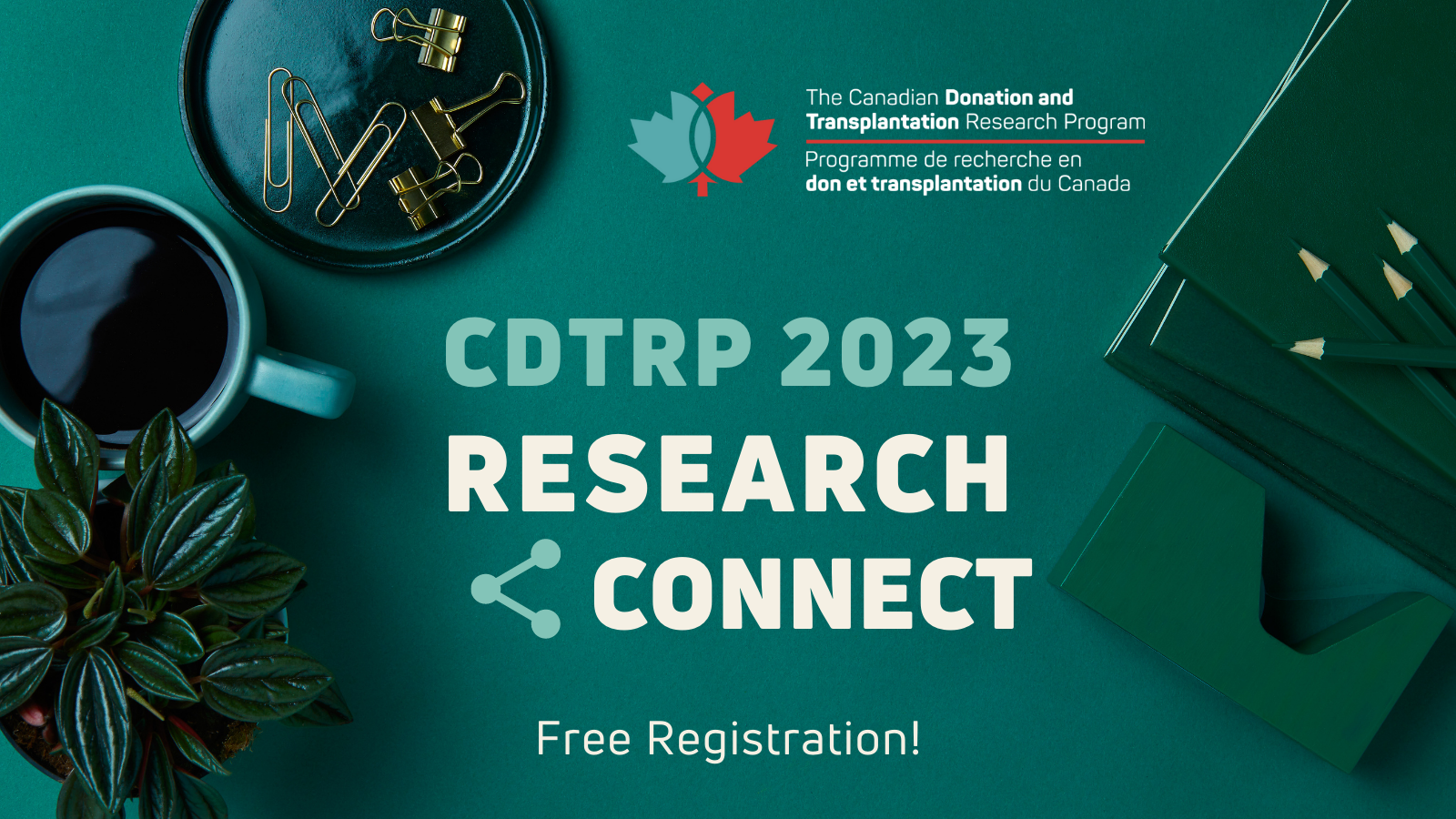 The CDTRP is pleased to announce its discussion-based meeting series called "Research Connect". This series streamlines the subset of Theme, Hub, and Working Group meetings that aimed to share and discuss the latest research findings across the network and our Webinar series, which featured national and international speakers.
The goal is to make it easy for our members to know about and attend high quality presentations across all Themes and topics of interest. We are aiming for active discussions including researchers, trainees, and patient, family, and donor partners, engaging the whole community as if we were having a family dinner rather than listening to a formal presentation.
Access is open to all and free. Registration is mandatory.
Thanks to Takeda Canada and AstraZeneca for sponsoring the CDTRP 2023 Research Connect Series!

The CDTRP Research Connect Series is supported by the Canadian Institutes of Health Research (CIHR).

 If you would like to present your work or have a speaker suggestion, please contact Research Theme Coordinator Erika Kathe Croft at ekcroft@cdtrp.ca.
Explainable multimodal deep learning for informing bespoke goal-directed anesthesia in kidney transplantation – (Theme 3)
Treg exhaustion : Myth or reality? – (Theme 4)
Packaging validation for the safe transportation of organs and tissues for transplants – (Theme 1)
ARDOT Working Group: Discussing the Future – (Allied Research in Donation and Transplantation (ARDOT) Working Group)
Enhanced sociodemographic variable collection in OTDT systems – (Theme 1)
Is the urobiome relevant for kidney allograft health? – (Theme 4)
Repopulation of Long Segment Tracheal Allografts for Transplantation – (Theme 3)
International Forum Outputs regarding Donation System Architecture, Consent Models and Emerging Legal Issues – (Theme 2)
Implementation of Donation Advisor: A personalized clinical decision support tool for improved efficiency and effectiveness of deceased organ donation and transplantation – (Themes 1&2)
Developing a national research program: a practical guidance for researchers – (CDTRP Allied Research in Donation and Transplantation (ARDOT) Working Group)
The challenge of missed organ donors: Can machine learning be used for early identification of potential donors? – (Theme 1)
Acceptability and feasibility of the Kidney Transplant Physical Activity and Social Club (KEeP ACTIVe Club) – (Theme 5)
Can-SOLVE CKD Network's Roles and Resources for Patient Partners (Theme 4)
Molecular mechanisms and therapeutic targets of human lung transplant injury (Theme 3)
Survey of Current Practices in Pediatric and Neonatal Donation and Transplant in Canada (Theme 2)
What is known and unknown about COVID-19 therapeutics for transplant recipients