Study Description
Organ transplant recipients have an increased risk to severe COVID-19 infections and complications. The goal of the PREVenT-COVID study is to examine the immunogenicity and safety of COVID-19 vaccines in both solid organ and hematopoietic stem cell transplants. This ongoing national study involves nine transplant centres connected across four  provinces.
This project is funded by the Public Health Agency of Canada (PHAC), through the Vaccine Surveillance Reference group and the COVID-19 Immunity Task Force (CITF). Our lead investigator, Dr. Deepali Kumar, is a transplant infectious diseases physician at the Ajmera Transplant Center apart of the University Health Network (UHN) in Toronto. This study is also co-led by numerous investigators from Ontario, Québec, British Columbia, and Alberta. With the collaborative efforts of CDTRP, this study brings together both adult and pediatric solid organ and hematopoietic stem cell transplant recipients from across the nation.
Overall goals of the study
Assess the immunogenicity and safety of the COVID-19 vaccines, by evaluating IgG antibody response levels against the receptor binding domain (anti-RBD) of the COVID-19 spike protein. Further immunological responses such as neutralizing antibodies and CD4+ and CD8+ T cell mediated immunity are also being evaluated.

Develop a national safety surveillance system of COVID-19 vaccination amongst transplant recipients.

Coordinate the efforts of national and provincial organizations involved in public health and vaccination research to share current and emerging data.

Build a lasting knowledge transfer platform to rapidly disseminate the research results to patient partners and to public health agencies.
Starting in April 2021, patients with either kidney, liver, lung, heart, pancreas, islet cell, and/or stem cell transplants had been enrolled into the PREVenT-COVID study across the nine collaborating transplant centres in Canada.
To assess immunogenicity, blood samples were collected at several time-points, aiming to capture the tolerance of COVID-19 by measuring the production of anti-SARS-CoV-2 antibodies (anti-RBD) within the blood. It takes approximately two weeks for an antibody response to become systemic, thus, to measure anti-RBD antibodies after vaccination, blood collection occurred pre-1st dose, and 3-6 weeks post each vaccine hereafter. This timeline provides both short-term and long-term antibody responses after vaccination, as the final blood collections will coincide with the 6- and 12-month timeline after initial vaccination. Following this scheduling, blood collection from healthy, non-transplant recipient controls will be collected as well to allow for a relative comparison to our transplant cohort. From these blood samples, both serum and peripheral blood mononuclear cells (PBMC) will be isolated for more granular studies.
Previous studies have shown that transplant recipients produce insufficient antibody responses against COVID-19, regardless of vaccination. To assess the reasons behind this, variables such as age, sex, time since transplant, vaccine intervals, immunosuppressant regimes, chronic kidney disease and other co-morbidities, will be analyzed and correlated to antibody response.
With approximately 550 transplant recipients enrolled, including both solid organ and hematopoietic stem cell recipients, in adults and pediatrics; PREVenT-COVID is extremely unique and will provide a breadth of new knowledge to the ODT community.
Knowledge Translation (KT) Strategy
Results of this study will be shared publicly when possible, through its Knowledge Translation whose goals are to:
Promote evidence informed policy action for COVID-19 vaccine for transplant patients;
Engage and inform transplant patients & their families about their safety and immune system response to the COVID-19 vaccines.
This will be done by various channels of communication through CDTRP's patient, family and donor partners, social media, mass media, scientific publications, written documents, conferences, and local seminar series.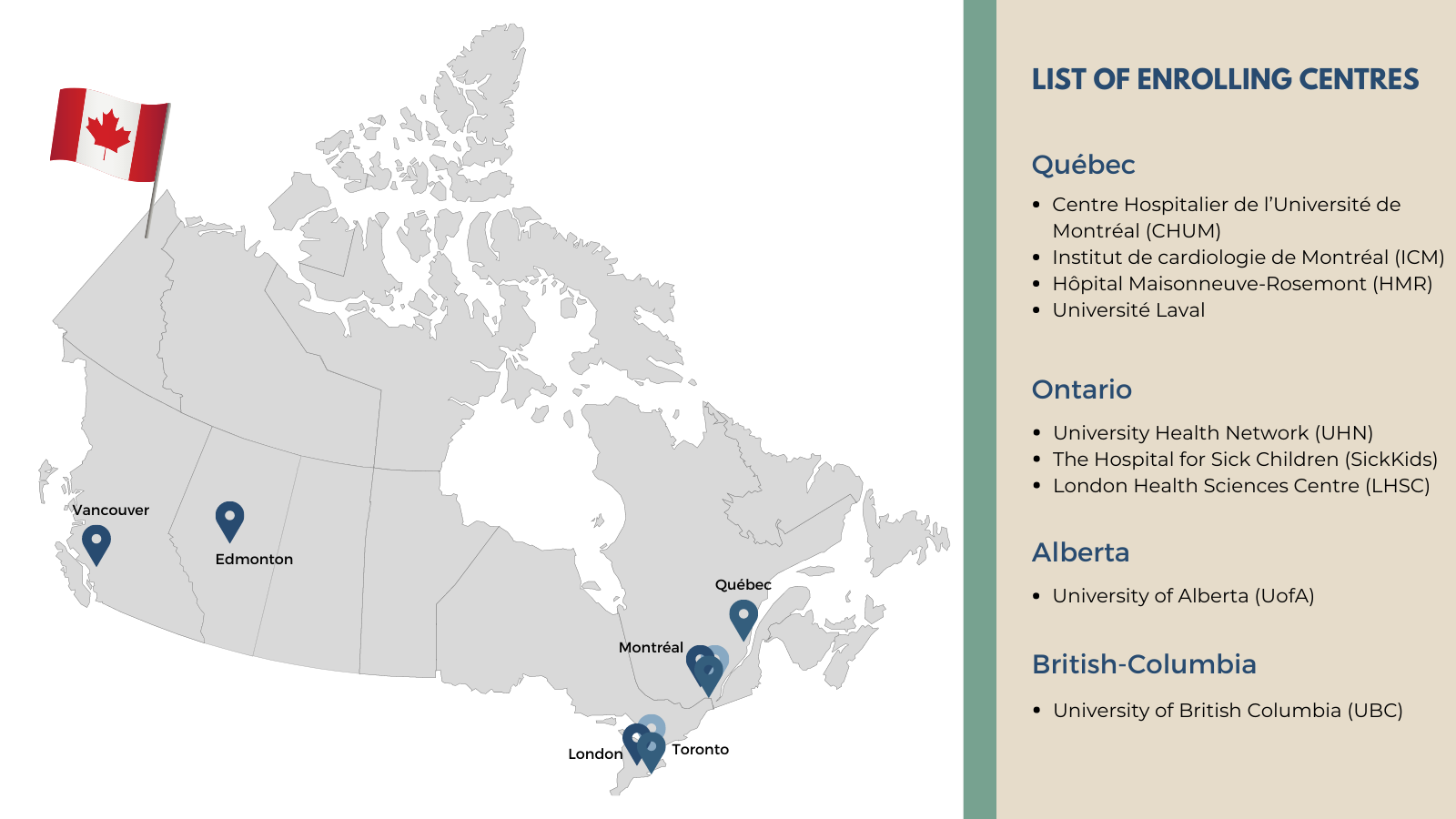 List of Collaborators and their Affiliated Sites
(in alphabetical order | Updated: April 27, 2022)
Canadian Donation and Transplantation Research Program (CDTRP)
Lori West – Principal Investigator
Patricia Gongal – Executive Director
Demitra Yotis – Clinical Data Coordinator
Kristian Stephens – Knowledge Translation Coordinator
Centre Hospitalier de l'Université de Montréal (CHUM)
Marie-Josée Hébert – Principal Investigator
Héloïse Cardinal – Principal Investigator
Zineb Khrifi – Clinical Coordinator
Julie Turgeon – Clinical Coordinator
Dalhousie University
Karina Top – Principal Investigator
Héma-Québec
Mélanie Dieudé – Principal Investigator
Marc Cloutier – Scientist
Renée Bazin – Scientist
Éric Ducas – Research Professional
Sahra Fonseca – Research Professional
Marie-Josée Fournier – Research Professional
Patricia Landry – Research Professional
Nathalie Dussault – Research Professional
Audrey Laforce-Lavoie – Research Professional
Hôpital Maisonneuve-Rosemont (HMR)
Jean-Sébastien Delisle – Principal Investigator
Cédric Carli – Sample Processing
Gabrielle Boudreau – Sample Processing
Céline Nkoué – Research Coordinator
Imran Ahmad – Local co-investigators
Olivier Veilleux – Local co-investigators
Jean Roy – Local co-investigators
The Hospital for Sick Children (SickKids)
Shaun Morris – Principal Investigator
Upton Allen – Principal Investigator
Chia Wei Teoh – Principal Investigator
Joerg Krueger – BMT recruitment
Institut de cardiologie de Montréal (ICM)
Normand Racine – Principal Investigator
Maryse Desjardins – Clinical Coordinator
Hélène Brown – Clinical Coordinator
Johanne Doiron – Administrative Agent
Institut national de santé publique du Québec (INSPQ)
Gaston DeSerres – Principal Investigator
London Health Sciences Centre (LHSC)
Cadence Baker – Research Manager
Sarah Shalhoub – Principal Investigator
Grant Luke – Research Assistant
Université Laval
Christopher Lemieux – Principal Investigator
Sacha De Serres – Principal Investigator
France Samson – Clinical Coordinator
Margarita Becerra Perez – Research Coordinator
Melanie Bradley – Research Coordinator
University Health Network (UHN)
Deepali Kumar – Lead Investigator
Atul Humar – Principal Investigator
Victor Ferreira – Principal Investigator
Sasan Hosseini-Moghaddam – Principal Investigator
Natalia Pinzon – Clinical Coordinator
Matthew Ierullo – Research Technician
University of Alberta (UofA)
Dima Kabbani – Principal Investigator
Kimberly Robertson – Clinical Coordinator
Heather Mangan – Clinical Coordinator
Varalika Tyagi – Undergraduate Student
University of Alberta (UofA) | Pediatrics
Catherine Burton – Principal Investigator
Sneha Suresh – Principal Investigator
Joan Robinson – Principal Investigator
Cheri Robert – Clinical Coordinator
University of British Columbia (UBC)
Sara Belga – Principal Investigator
Megan Levings – Principal Investigator
Gale Ladua – Clinical Coordinator
University of British Columbia (UBC) | Pediatrics
Hana Mitchell – Principal Investigator
Candice Weidman – Clinical Coordinator
Tom Blydt-Hansen – Principal Investigator
Manish Sadarangani – Principal Investigator
Amanda Li – BMT recruitment
Monica Ho – Clinical Coordinator
Vancouver Coastal Health Research Institute (VCH)
Allison Mah – Principal Investigator