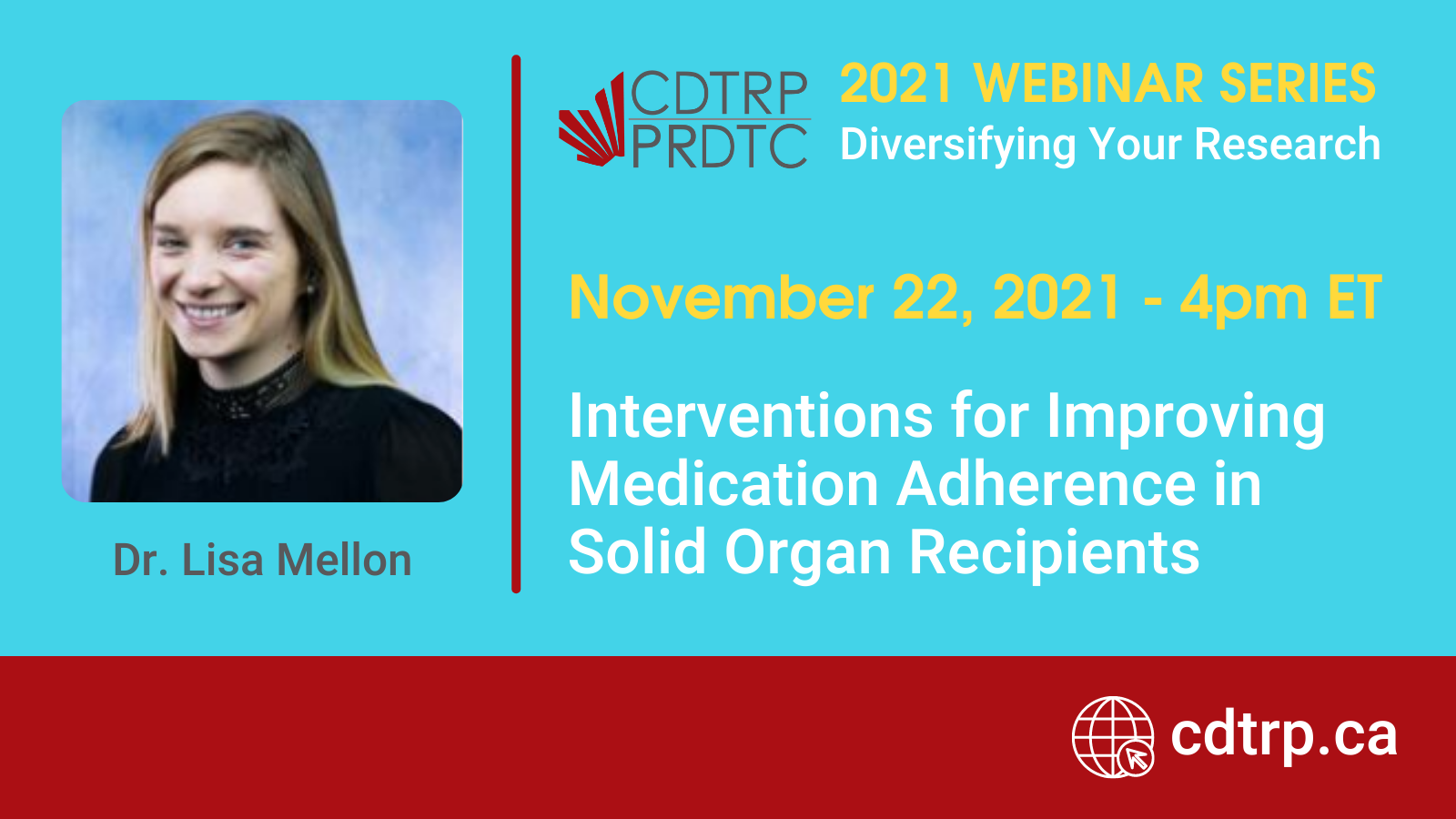 Next CDTRP Webinar: Interventions for Improving Medication Adherence in Solid Organ Recipients
Join us on Monday, November 22 at 1 pm PT | 2 pm MT | 4 pm ET | 5 pm AT as we conclude the 2021 Webinar Series with Dr. Lisa Mellon from the University of Medicine and Health Sciences in Ireland.
Dr. Mellon's presentation presents her findings of a Cochrane review examining the effects of interventions to improve immunosuppressant medication adherence after an organ transplant. Also to be discussed: issues with measuring adherence; the debate on relevant outcomes of non-adherence; and where to next in improving medication adherence post-transplant.
About Dr. Lisa Mellon
Dr. Lisa Mellon is a health psychologist, and has been a lecturer in RCSI since 2014. She has held postdoctoral research positions on projects assessing the quality of care for smoking cessation services in Irish hospitals, and with the ASPIRE-S Study (Action on Secondary Prevention Interventions and Rehabilitation in Stroke). Lisa has a BA in Psychology and an MSc in Health Psychology, both from NUI, Galway. Prior to commencing her PhD on the HRB PhD Scholars Programme in Health Services Research in RCSI, she worked in frontline hospital departments, and in the School of Public Health and Preventive Medicine in Monash University, Melbourne. She is currently a HRB Cochrane Fellow for a Cochrane Review entitled 'Interventions for improving medication adherence in solid organ transplant recipients'.
Click here to learn more on the CDTRP Webinar Series, "Diversifying Your Research".