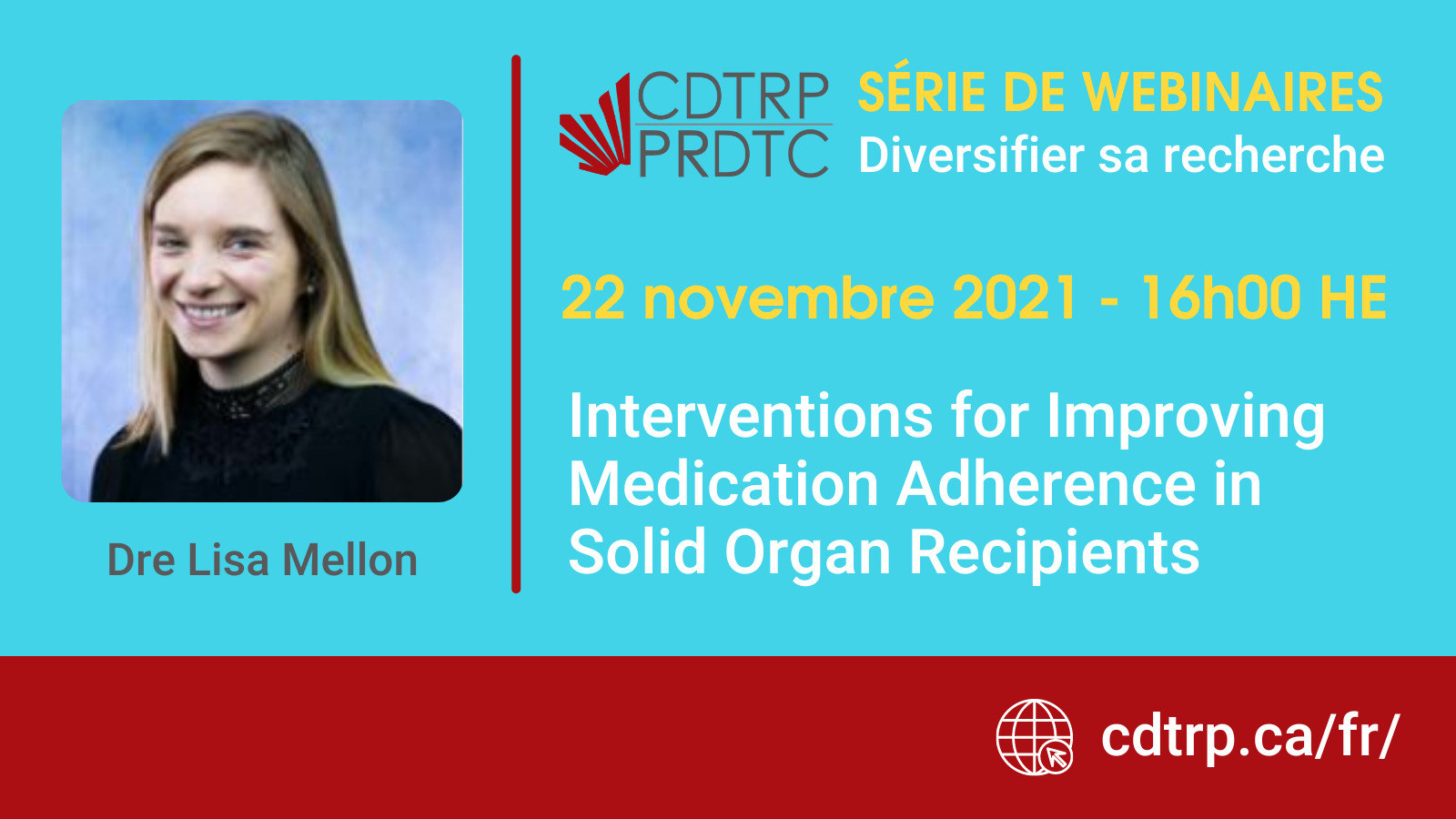 Prochain webinaire du PRDTC : Interventions pour améliorer l'adhésion aux médicaments chez les receveurs d'organes solides
Joignez-vous à nous le 22 novembre prochain à 13h HP | 14h HM |16h HE | 17h HA pour conclure la série de webinaires 2021 avec la Dre Lisa Mellon de l'Université de médecine et des sciences de la santé d'Irlande.
La présentation de la Dre Mellon portera sur ses conclusions d'une revue Cochrane examinant les effets des interventions visant à améliorer l'adhésion aux médicaments immunosuppresseurs après une transplantation d'organe. Seront également abordés les problèmes liés à la mesure de l'adhésion, le débat sur les résultats pertinents de la non-adhésion et les prochaines étapes pour améliorer l'adhésion aux médicaments après une transplantation.
À propos de Dre Lisa Mellon
La Dre Lisa Mellon est psychologue de la santé, et est conférencière au Royal College of Surgeons in Ireland (RCSI) depuis 2014. Elle a occupé des postes de recherche postdoctorale sur des projets évaluant la qualité des soins pour les services de sevrage tabagique dans les hôpitaux irlandais, et avec l'étude ASPIRE-S (Action on Secondary Prevention Interventions and Rehabilitation in Stroke). Lisa est titulaire d'une licence en psychologie et d'une maîtrise en psychologie de la santé, tous deux obtenus au NUI, à Galway. Avant de commencer son doctorat dans le cadre du HRB PhD Scholars Programme in Health Services Research au RCSI, elle a travaillé dans des services hospitaliers de première ligne et à l'école de santé publique et de médecine préventive de l'Université Monash à Melbourne. Elle est actuellement membre de l'équipe Cochrane de la HRB pour une étude Cochrane intitulée Interventions for improving medication adherence in solid organ transplant recipients.
Cliquez ici pour en apprendre davantage sur La série de webinaires du PRDTC : Diversifier sa recherche.