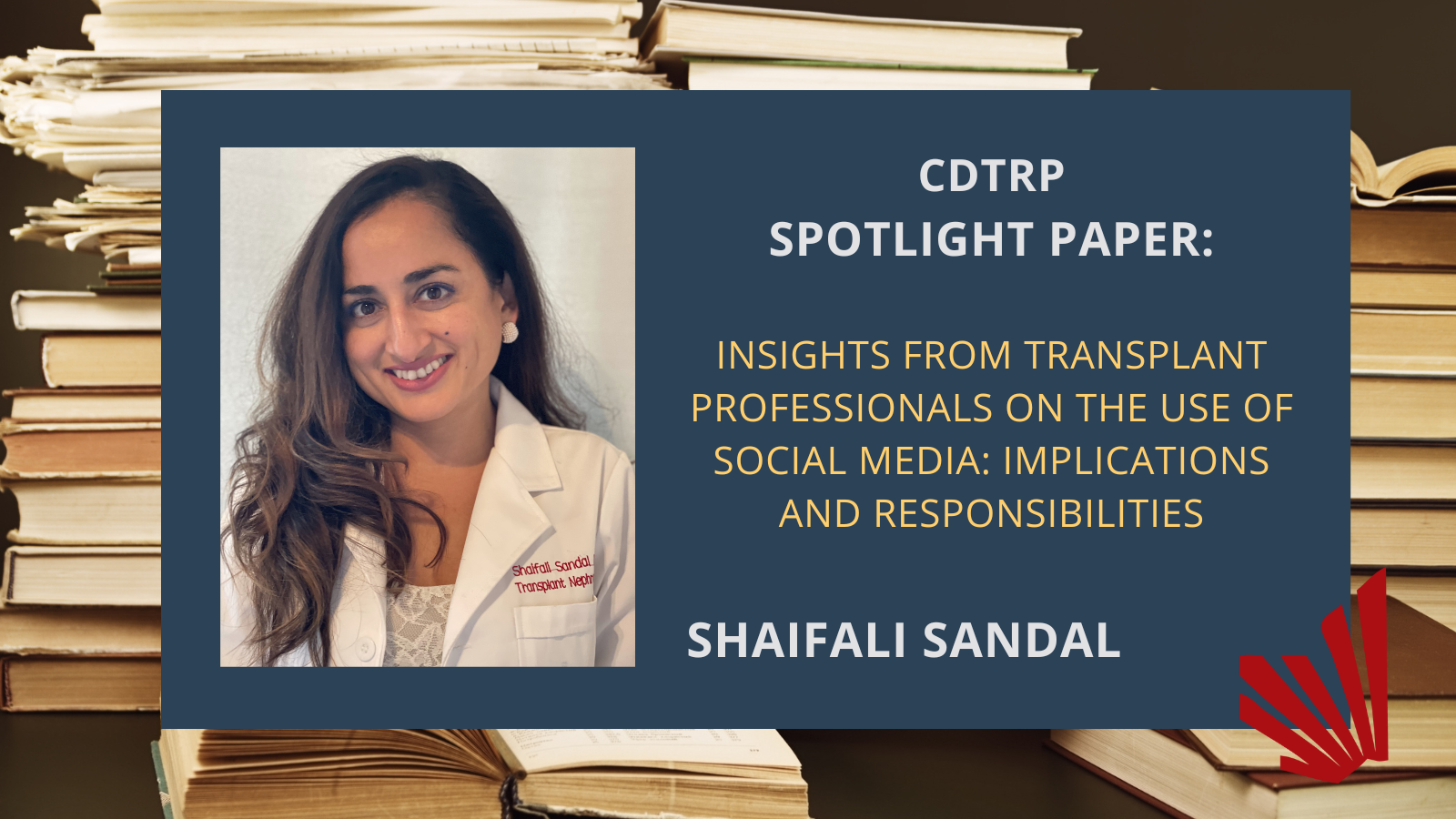 Spotlight paper in Transplant International: Dr. Shaifali Sandal
The CDTRP would like to congratulate Dr. Shaifali Sandal, Transplant Nephrologist and Associate Professor at the McGill University Health Center, for her publication entitled "Insights From Transplant Professionals on the Use of Social Media: Implications and Responsibilities" recently published in Transplant International! Our Communications Manager, Stéphanie Larivière, asked Shaifali a few questions about it that you can read below.
Summary of the study
Despite the several known benefits of social media (SoMe), there is still some hesitation among the transplant community to engage. Thus, in this expert opinion paper, we reached out to eight leaders in transplantation and specifically asked questions related to the opportunities and challenges of SoMe use. We also discussed implications for patients and in different political environments.
From your point of view, how can researchers benefit from using social media platforms?
Overall, the collective expertise of those interviewed suggested that a lack of SoMe engagement leads to several missed opportunities in advancing the interests of our patients, our field, and our careers. We concluded that transplant professionals should consider maintaining a SoMe presence, engaging with the transplant community, and debating hot topics however, it is important that they seek guidance on how to do so safely and effectively.
Which suggestions are most important for researchers who want to start engaging on Social media platforms?
The most important suggestion is to always be professional and avoid inflammatory content. We provide a list of other suggestions. In addition, we strongly suggest that professionals consider training in how to use SoMe platforms and how best to use it to benefit themselves, their patients and the field of transplantation in general.
How could the CDTRP support the future directions of this work?
CDTRP has an active SoMe presence with very engaging platforms; training opportunities for those interested may help solidify this web presence and broaden the reach to multiple stakeholders. In addition, it will be interesting to obtain quantitative assessment of how this has impacted outreach, awareness and donations in Canada.
About Dr. Shaifali Sandal 
Dr. Shaifali Sandal is a Transplant Nephrologist, an Associate Professor at the McGill University Health Center, and an Investigator at the Research Institute of the McGill University Health Centre. She received her post-graduate training at the SUNY Upstate Medical University and the University of Rochester followed by a Transplant Nephrology fellowship at the McGill University Health Center and a research fellowship at the Johns Hopkins Medical Center. Her clinical and research interests are to improve rates of and access to living donor kidney transplantation and re-transplantation using health system approaches. She has over 30 peer-reviewed publications and has received a Clinical Faculty Development Research Grant from the American Society of Transplantation, a Kidney Health Research Grant from the Kidney Foundation of Canada, and a Research Innovation Grant from The Canadian Donation and Transplant Research Program to support this work.
Back in April 2022, Shaifali also participated in the first CDTRP Media Workshop on ODT & Health Literacy. You can learn more here and watch the full recording below.