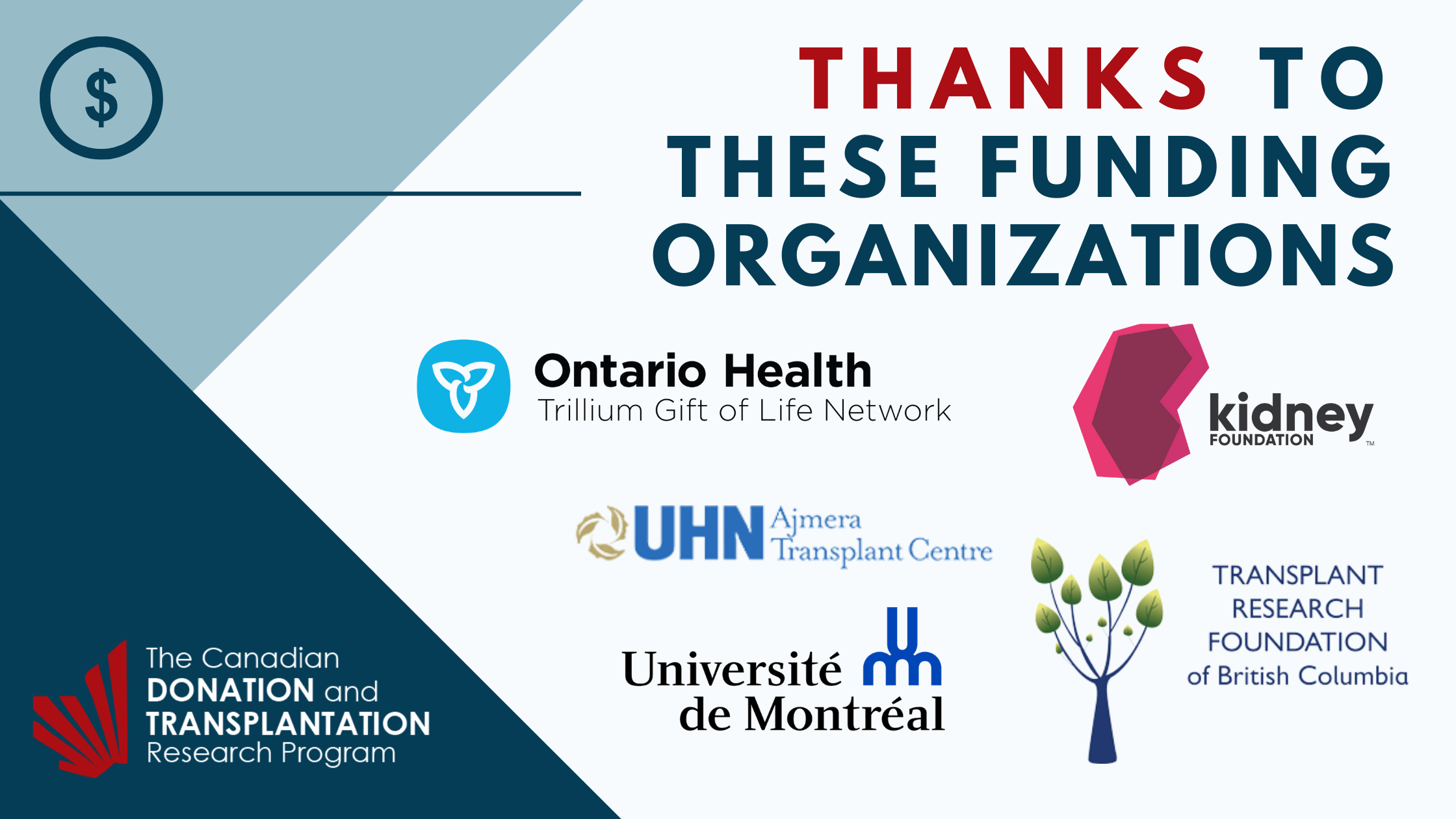 Announcing the results of the 2021 CDTRP Research Innovation Grant Competition – 11 new projects funded
The CDTRP is proud to share the results of the 2021 CDTRP Research Innovation Grant Competition and welcome 11 new projects into our national research structure.
This competition is made possible through the generous financial support, dedication and commitment from our national and regional partners, which include:
We would also like to thank and acknowledge everyone who contributed to the competition and peer review process, including New Initiatives Committee Chair Dr. Beth Foster, Peer Review Committee Chair Dr. Ian Rogers, our scientific reviewers and our patient, family and donor reviewers for participating in the review process and for upholding an excellent level of professionalism and quality. Special thanks to Kristi Coldwell for all of her work to integrate patient, family and donor reviewers into this process this year.
The new projects that will receive funding and will be added to the CDTRP are:
CDTRP Research Innovation Grant
Corinne A Hoesli & Steven Paraskevas

Title: Making every pancreatic islet count – engineering a vascularized transplantation system to treat type 1 diabetes
Michael Khoury – read article

Title: The MedBIKE™: Evaluating a Novel Telemedicine and Video Game-Linked Exercise Platform for Pediatric Heart Transplant Recipients
Amine Benmassaoud

Title: Does a 4-week prehabilitation program improve frailty in patients with cirrhosis undergoing liver transplantation? A feasibility trial
Tania Janaudis-Ferreira & Nicholas Bourgeois

Title: Virtual home-based pre-habilitation program in lung transplant candidates
CDTRP KFOC Research Innovation Grant
Amanda Vinson

Title: Identifying Sex-Based Disparities in Referral for Transplant, Activation on the Waitlist and Kidney Transplantation
Tom Blydt-Hansen

Title: Predictors and Patient Experiences that Enable Access to Care of Post-Traumatic Stress in Pediatric Solid OrganTransplant Recipients
Transplant Research Foundation of BC / CDTRP Venture Grant
Caigan Du – read article

Title: Evaluation of propyl gallate for limitation of cold ischemic injury in organ preservation
CDTRP TGLN Ontario Health Research Innovation Grant
Charles Weijer

Title: Pilot Study to Explore Ethical Issues and Stakeholder Trust in the Use of Normothermic Regional Perfusion in Organ Donation in Canada
CDTRP UdeM Research Innovation Grant
Chantal Bémeur

Title: Optimizing post-liver transplantation outcomes: targeting the muscle
CDTRP UHN Research Innovation Grant
Kirsten Wentlandt – read article

Title: Feasibility of Integrating Patient Reported Outcome Measures and Activity Metrics in a Palliative Care Transplant Program to Improve Function Pre- and Post-Lung Transplant
Ana Konvalinka – read article

Title: Investigating Kidney Tissue Responses to Donor Specific Antibodies in Antibody Mediated Rejection
Congratulations to all of the research teams! We will be featuring each of these projects in our newsletter over the next few months, and we look forward to hearing from the teams on upcoming Theme calls and other CDTRP events as the projects get underway.
We are already planning for the 2022 CDTRP Research Innovation Grant competition, so start sharpening your pencils and putting your best ideas and teams together for next year!