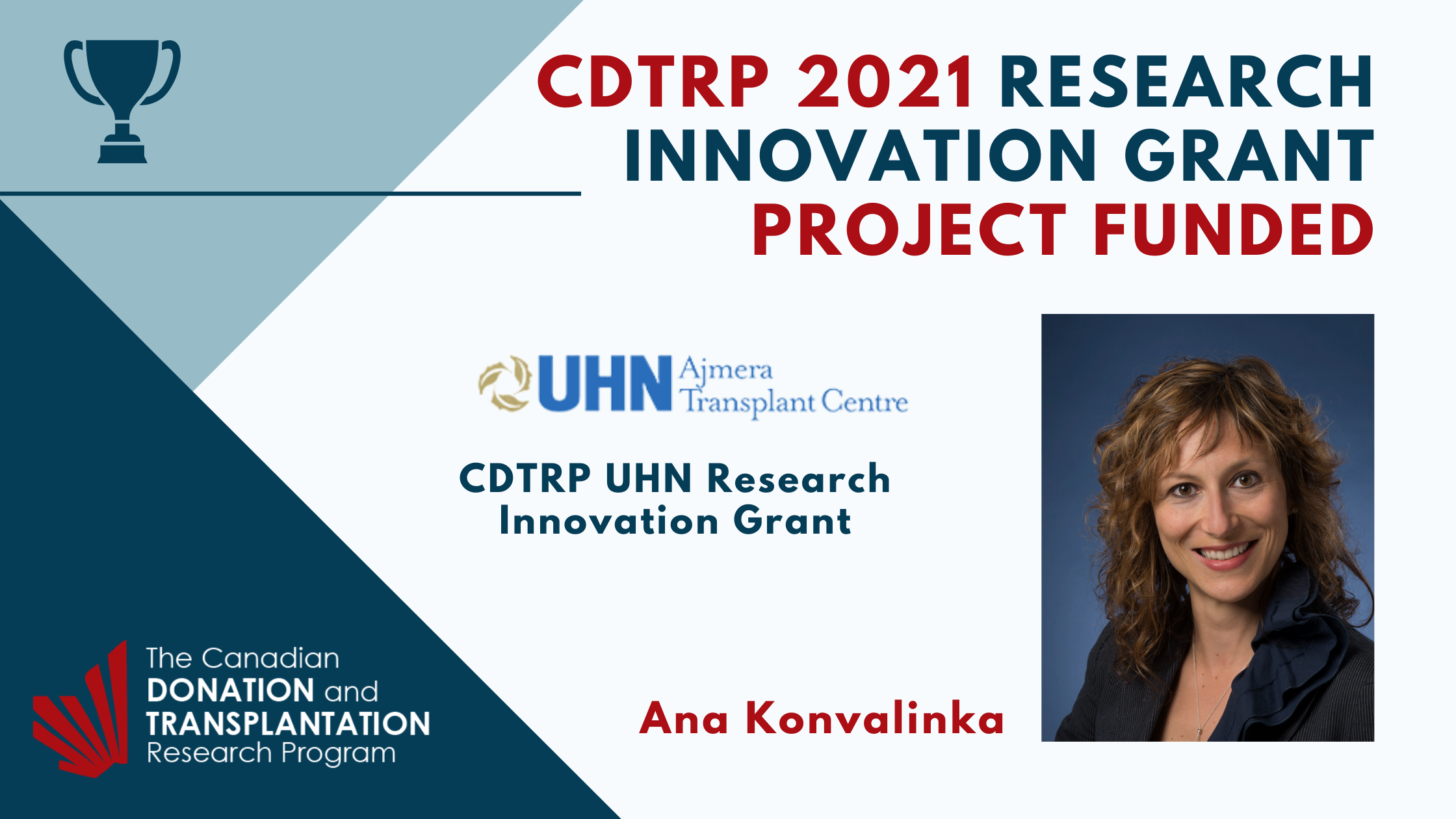 CDTRP UHN Research Innovation Grant awardee – Investigating Kidney Tissue Responses to Donor Specific Antibodies in Antibody Mediated Rejection (Ana Konvalinka)
Through collaboration with partner organizations, CDTRP is pleased to offer our annual Research Innovation Grant competition to fund exciting new project ideas. Over the coming weeks, we will be profiling all of the projects funded in the 2021 competition.
Funded through a CDTRP UHN Research Innovation Grant:
Title: Investigating Kidney Tissue Responses to Donor Specific Antibodies in Antibody Mediated Rejection
Principal investigator: Ana Konvalinka
Main affiliation: University Health Network
Part of Theme 5
Team: Igor Jurisica, Rohan John, Stephen Juvet
Abstract
PURPOSE: Kidney transplantation is the best treatment for end-stage kidney disease. However, most kidneys fail prematurely. The main cause of premature graft loss is antibody-mediated rejection (AMR), which is caused by antibodies against the donor that activate immune cells. Surprisingly, these antibodies cause rejection in about half of patients who develop them, while other patients tolerate them without developing rejection. Our goal is to study kidney tissue effects of antibodies that cause rejection compared to those that do not, in order to determine how to treat AMR better.
PROCEDURE: We will use innovative methods to study the consequences of antibody interactions with the immune cells. First, we will determine the effect of the antibodies on the kidney, from biopsies of patients with AMR. Second, we will identify immune cells present in kidneys with AMR compared to kidneys that did not develop AMR despite the presence of antibodies. We will examine the receptors that these immune cells use to respond to the antibodies.
OUTCOME: We expect to find that antibodies that caused AMR, compared to those that did not, will more readily activate and recruit immune cells in the kidney graft. We will be able to define details underpinning these differences and relate them to kidney injury.
RELEVANCE TO PATIENTS: Our project will determine the effects of harmful antibodies on the kidney AMR. Future studies may improve the lives of patients, because we may identify potential ways to treat AMR, which is the most important reason for premature kidney transplant loss.