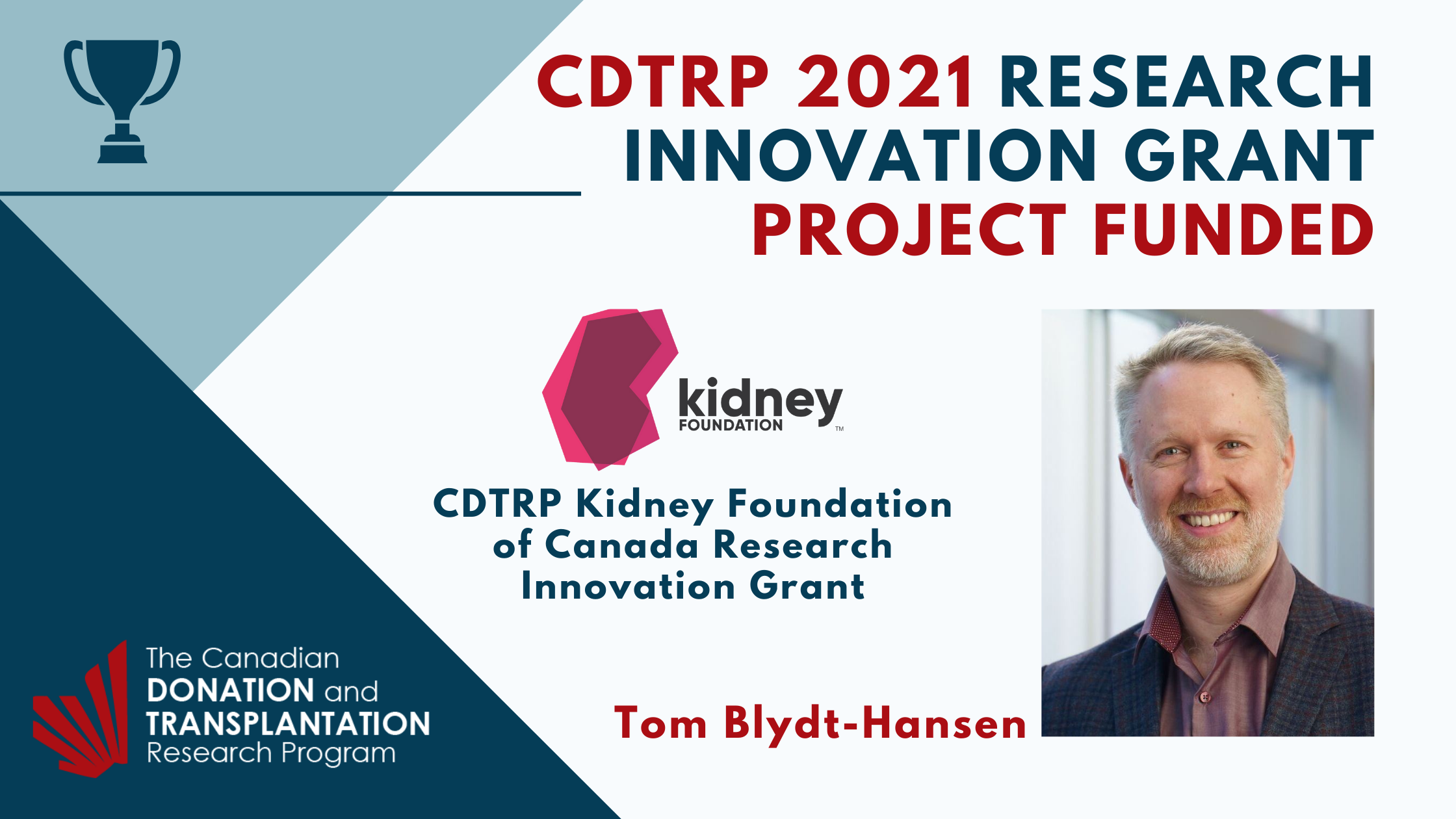 CDTRP KFOC Research Innovation Grant awardee – Predictors and Patient Experiences that Enable Access to Care of Post-Traumatic Stress in Pediatric Solid Organ Transplant Recipients (Tom Blydt-Hansen)
Through collaboration with partner organizations, CDTRP is pleased to offer our annual Research Innovation Grant competition to fund exciting new project ideas. Over the coming weeks, we will be profiling all of the projects funded in the 2021 competition.
Funded through a CDTRP Kidney Foundation of Canada Research Innovation Grant
"The Kidney Foundation is honoured to partner with the Canadian Donation and Transplantation Research Program in this year's innovation grant program.  Partnerships of this type allow the Foundation to provide funding towards novel, innovative research ideas may lead to direct benefit for the kidney community and beyond. The winners of this year's CDTRP-KFOC competition have brought forward exciting research proposals, and we look forward to contributing to build these innovative ideas and working with the research teams to disseminate their progress and results to our community".
-Dr. Leanne Stalker, National Director of Research, Kidney Foundation of Canada
Title: Predictors and Patient Experiences that Enable Access to Care of Post-Traumatic Stress in Pediatric Solid Organ Transplant Recipients
Principal investigator: Tom Blydt-Hansen
Main affiliation: University of British Columbia
Part of Theme 5
Lay Abstract
Living with end-stage organ disease is associated with an accumulation of traumatic medical and surgical events. Despite successful restoration of organ function by transplantation, many children and adolescents go on to develop post-traumatic stress (PTS) symptoms. Although this mental health condition is associated with long-term impairments in wellbeing, it continues to be overlooked by many transplant clinics. To address this prevalent issue, the objectives of this study are to identify risk factors and patient experiences that may be used to improve early identification and access to treatment of PTS symptoms in pediatric heart, kidney, and liver transplant recipients. First, clinical and demographic variables will be reviewed in the transplant database to develop a screening tool that predicts PTS. Trauma severity will be measured by the Child Trauma Score Questionnaire. Then, interviews with transplant patients and their families will be conducted to understand common experiences that impede or facilitate awareness of PTS, access to resources, and readiness to engage with mental health services. This exploration of patient and caregiver experiences with PTS will enable us to design and implement patient-centered mental health resources. By combining these approaches, we hope to establish a clear pathway for the early identification of transplanted children and their families living with PTS and facilitate their access to mental health services.