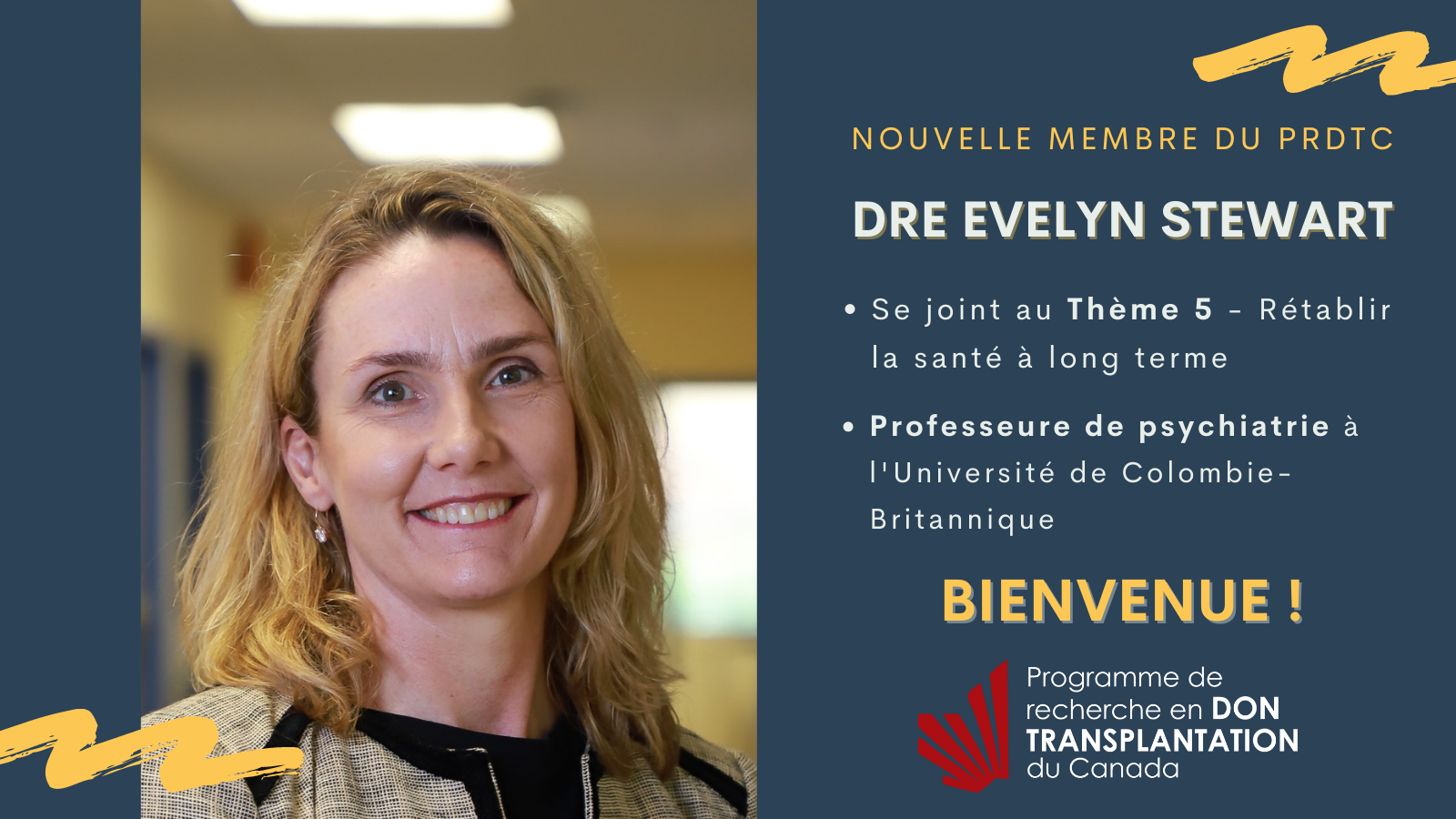 Profil de nouveau membre : Dre Evelyn Stewart, professeure de psychiatrie à l'Université de Colombie-Britannique
Le PRDTC est ravi d'accueillir de nombreux nouveaux membres au sein de son réseau. Nous partagerons des informations sur leur expertise et leurs intérêts de recherche à travers notre série de Profils de nouveaux membres. Veuillez vous joindre à nous cette semaine pour accueillir la Dre Evelyn Stewart de l'Université de Colombie-Britannique au Thème 5 (Rétablir la santé à long terme) du PRDTC ! 
Quels sont vos domaines d'expertise et vos intérêts en matière de recherche ?
Je suis psychiatre pour enfants et adolescents et mes recherches portent sur la santé mentale des enfants et des adolescents, le fonctionnement de la famille et la santé mentale des parents et des soignants. Plus.
Quels nouveaux domaines d'intérêt souhaitez-vous développer ou avec quelle(s) discipline(s) ou spécialiste(s) souhaitez-vous collaborer au sein du PRDTC ?
Je serais intéressé à collaborer à une recherche sur le bien-être des proches aidants.
Racontez-nous un fait amusant à votre sujet !
J'ai 2 chiots COVID !
Nous sommes heureux d'accueillir Evelyn qui est co-candidate à une subvention d'innovation pour la recherche CDTRP KFOC : Predictors and Patient Experiences that Enable Access to Care of Post-Traumatic Stress in Pediatric Solid Organ Transplant Recipients avec le Dr. Tom Blydt-Hansen. Lire l'article.
Cliquez ici pour voir les publications d'Evelyn.
Vous pouvez la suivre sur Twitter @sevelynstewart et la contacter à l'adresse suivante : estewart@bcchr.ca.
BIENVENUE DRE STEWART !