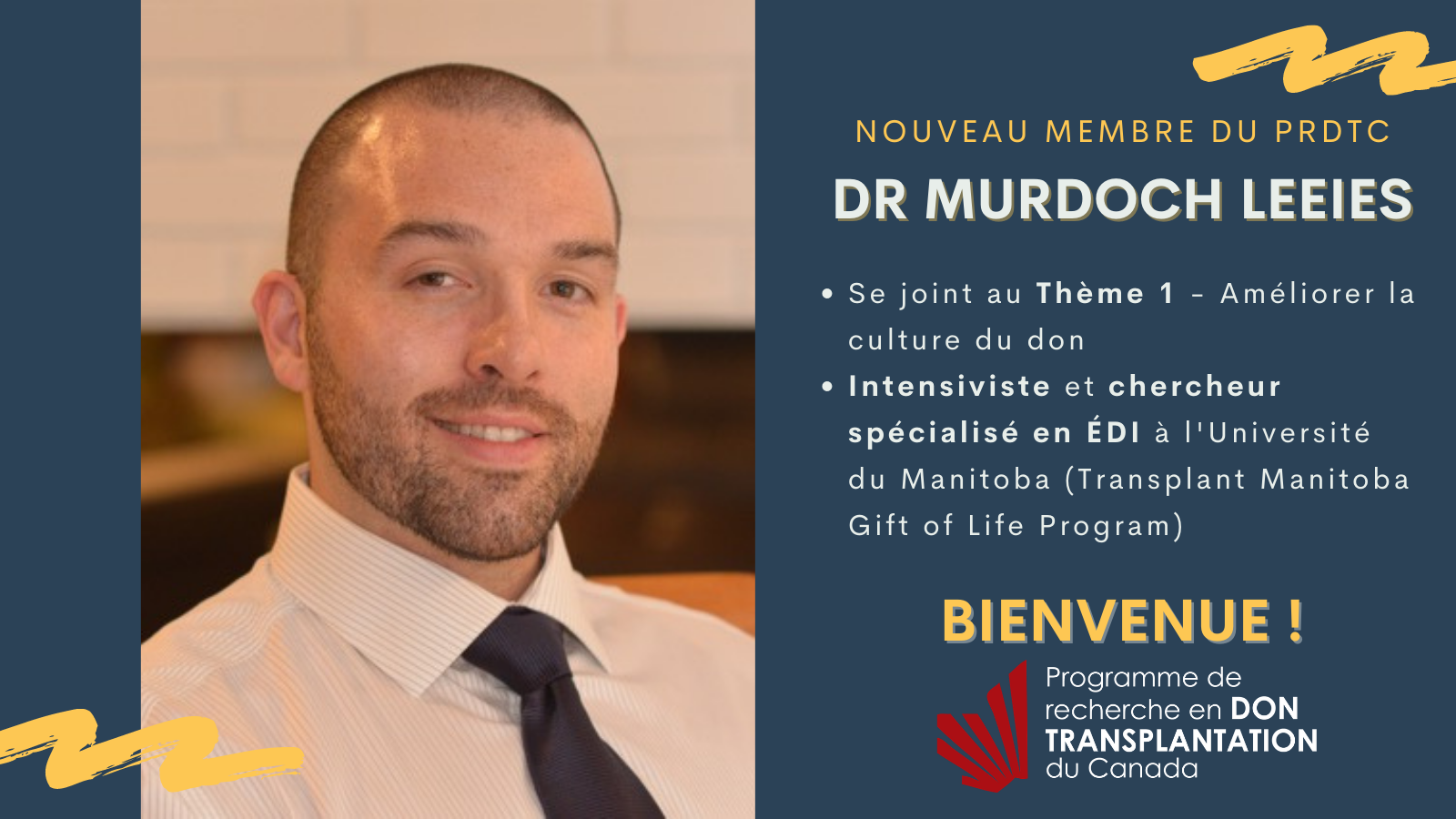 Profil de nouveau membre : Dr Murdoch Leeies, spécialiste des dons et de l'équité en santé
Le PRDTC est ravi d'accueillir de nombreux nouveaux membres au sein de son réseau. Nous partagerons des informations sur leurs expertises et leurs intérêts de recherche à travers notre série de Profils de nouveaux membres. Veuillez vous joindre à nous cette semaine pour accueillir le Dr Murdoch Leeies de l'Université du Manitoba (Transplant Manitoba Gift of Life Program) au Thème 1 (Améliorer la culture du don) du PRDTC ! 
Quels sont vos domaines d'expertise et vos intérêts en matière de recherche ?
Je pratique cliniquement la médecine d'urgence, la médecine des soins intensifs et la médecine spécialisée dans le don d'organes. Je suis basé à l'Université du Manitoba, où je suis directeur de la recherche au département de médecine d'urgence et spécialiste du don d'organes en milieu hospitalier dans le cadre du programme Transplant Manitoba – Gift of Life. J'ai une formation en épidémiologie clinique et en sciences de la santé communautaire et mon programme de recherche est axé sur la promotion de l'équité, de la diversité et de l'inclusion dans le domaine du don et de la transplantation d'organes. Outre l'équité en matière de santé, mes autres domaines d'intérêt en matière de recherche comprennent les thérapies immunomodulatrices dans le choc septique et la gestion avancée des voies respiratoires.
Quels nouveaux domaines d'intérêt souhaitez-vous développer ou avec quelle(s) discipline(s) ou spécialiste(s) souhaitez-vous collaborer au sein du PRDTC ?
Je suis particulièrement désireux de tirer parti de l'expérience des chercheurs du PRDTC en matière d'engagement des patients et de la communauté afin de guider l'élaboration de notre propre stratégie d'engagement. J'ai également hâte de représenter le Manitoba en tant que collaborateur dans d'autres projets du PRDTC.
Racontez-nous un fait amusant à votre sujet !
Je suis une personne à chiens !