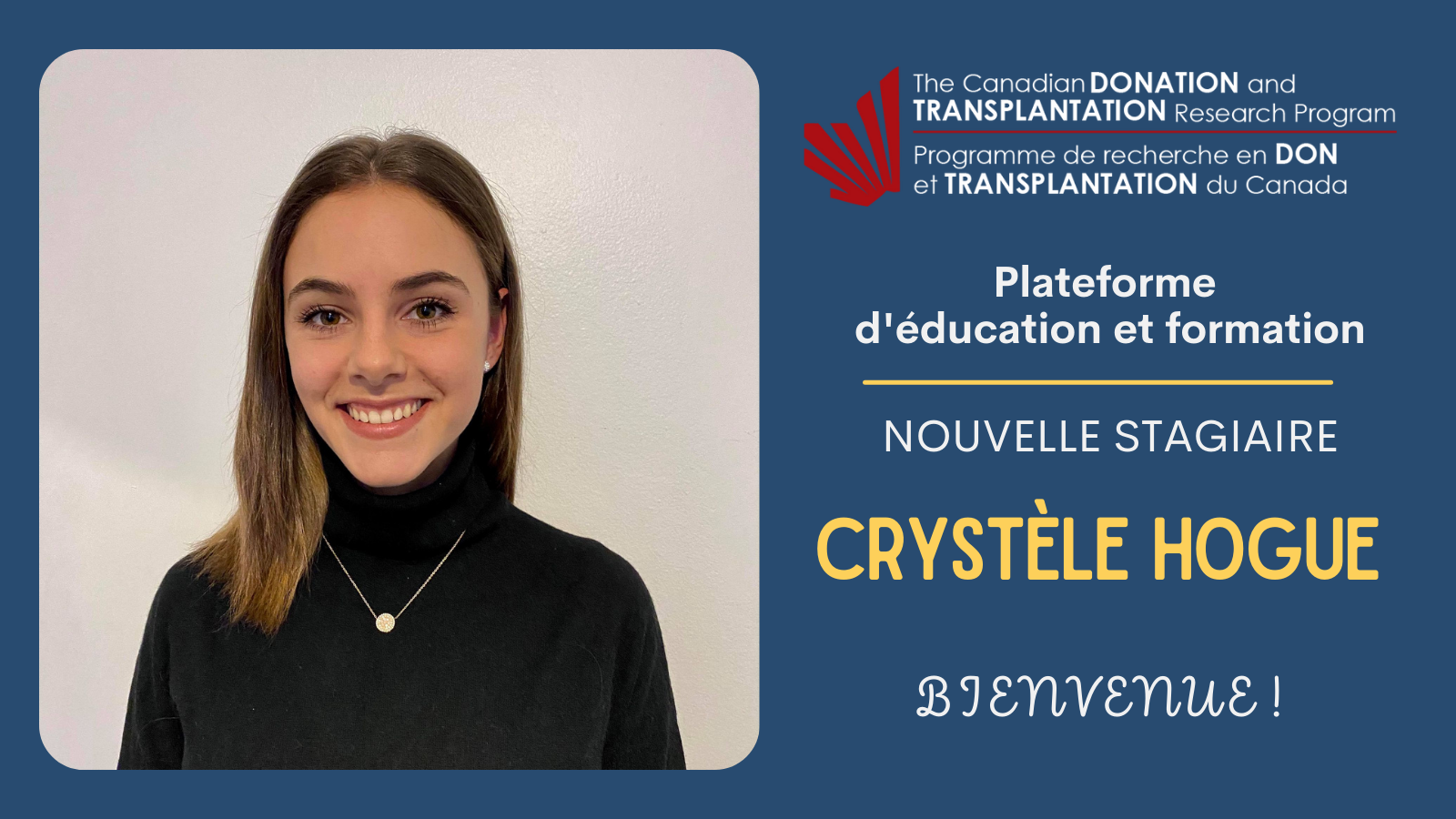 Nouvelle stagiaire du PRDTC : Crystèle Hogue
La Plateforme d'éducation et de formation du PRDTC s'agrandit et nous sommes heureux d'accueillir notre nouvelle membre, Crystèle Hogue. Crystèle est étudiante à la maîtrise en nutrition à l'Université de Montréal et fait partie du Thème 5 – Rétablir la santé à long terme. Son projet de recherche s'intitule Characterize the state of the evidence for lifestyle modifications strategies in adults and children following liver transplantation et est supervisée par la Dre Chantal Bémeur. Le responsable de la Plateforme d'éducation et formation, Manuel, s'est récemment entretenu avec Crystèle pour mieux comprendre ses objectifs en tant que stagiaire au sein du PRDTC.
Quels sont vos domaines d'expertise et vos intérêts en matière de recherche ?
Je suis titulaire d'un baccalauréat en nutrition et je suis actuellement en deuxième année de maîtrise en nutrition clinique. Je m'intéresse particulièrement aux maladies chroniques et aux moyens de les prévenir ou de réduire leur impact sur la santé grâce à la nutrition.
Quels sont les nouveaux domaines d'intérêt que vous aimeriez développer ou avec quels autres disciplines ou spécialistes aimeriez-vous collaborer au sein du PRDTC ?
Mon travail précédent était davantage axé sur les maladies cardiaques, mais j'aimerais approfondir mes connaissances sur les maladies hépatique et sur la manière dont la nutrition peut favoriser la santé après une transplantation. J'ai vu que le PRDTC collabore avec des patients partenaires et c'est aussi quelque chose qui m'intéresse beaucoup.
Racontez-nous un fait amusant à votre sujet !
J'ai cette drôle (ou mauvaise) habitude de chanter des chansons de Noël toute l'année quand je suis à la maison
À propos de la Plateforme d'éducation et formation
La Plateforme d'éducation et formation fournit des formations et des ressources en éducation et en développement de carrière, et comprend des programmes de formation qui donnent aux stagiaires un aperçu global des connaissances et des questions liées au don d'organes et à la transplantation ainsi que des outils pour être de meilleurs communicateurs, gestionnaires, étudiants, professionnels par l'entremise de webinaires, de programmes de mentorat et de réunions en personne.