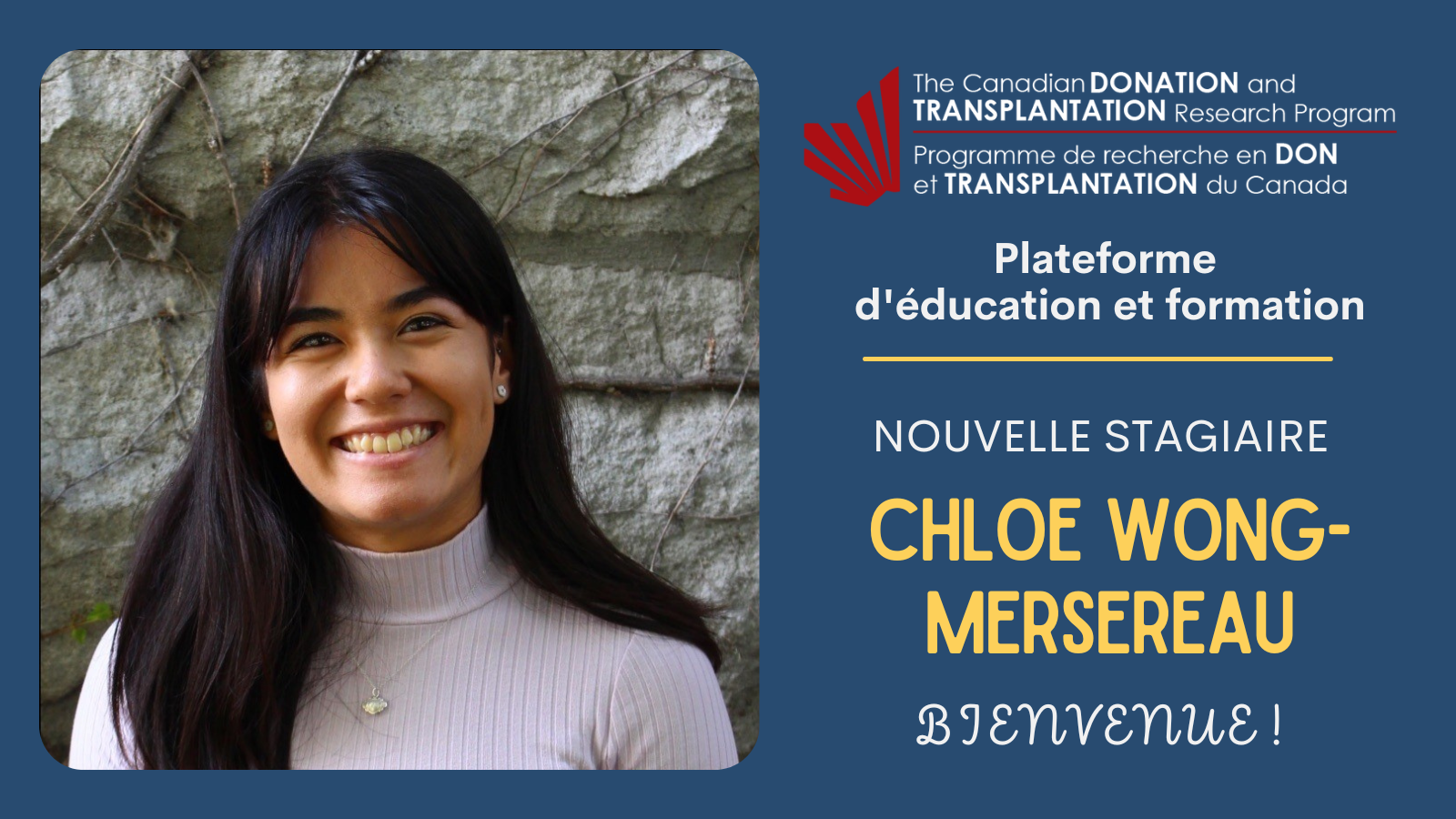 Nouvelle stagiaire du PRDTC : Chloe Wong-Mersereau
La Plateforme d'éducation et de formation du PRDTC s'agrandit et nous sommes heureux d'accueillir notre nouvelle membre, Chloe Wong-Mersereau. Chloé a complété sa maîtrise en anthropologie médicale à l'Université de Toronto et fait partie du Thème 1 – Améliorer la culture du don. Son projet s'intitule « Temporalities of Cure : A qualitative study of psychosocial support needs and long-term survivorship in liver transplantation » et elle est supervisée par Dre Suze Berkhout.
Le responsable de la Plateforme d'éducation et formation, Manuel, s'est récemment entretenu avec Chloe pour mieux comprendre ses objectifs en tant que stagiaire au sein du PRDTC.
Quels sont vos domaines d'expertise et vos intérêts en matière de recherche ?
J'ai récemment terminé ma maîtrise en anthropologie socioculturelle à l'Université de Toronto sur les récits de crise et l'expérience vécue de travail en temps de crise avec des personnes vulnérables par le biais de la Croix-Rouge canadienne pendant la pandémie de COVID-19. Mes intérêts de recherche comprennent des méthodologies de recherche qualitatives et ethnographiques innovantes qui associent l'analyse critique du discours des documents aux expériences vécues et aux récits des personnes. En tant que Canadienne d'origine chinoise, je suis particulièrement intéressée par la mise en avant des voix et des perspectives des communautés PANDC et des personnes marginalisées au sein des systèmes et institutions de santé.
Quels sont les nouveaux domaines d'intérêt que vous aimeriez développer ou avec quels autres disciplines ou spécialistes aimeriez-vous collaborer au sein du PRDTC ?
Je suis impatiente de collaborer avec des personnes ayant une expérience vécue du don et de la transplantation afin de développer des moyens interdisciplinaires et multimodaux de produire et de partager des connaissances par le biais de récits sensoriels et ethnographiques ainsi que de méthodes artistiques. J'espère entrer en contact avec des personnes de diverses disciplines et domaines pour co-créer et co-produire des projets de recherche qui comblent le fossé entre les sciences sociales, les sciences et les arts.
Racontez-nous un fait amusant à votre sujet !
Entre mes études de premier cycle et de maîtrise, j'ai lancé un podcast intitulé (R)aging Asians pour discuter avec des personnes d'origines diverses afin d'ébranler les stéréotypes et les catégories d'« Asianness ». Dans une série communautaire de dix épisodes, les gens parlent de leur expérience du vieillissement et de l'évolution de leur identité et de leurs liens avec leur communauté.
À propos de la Plateforme d'éducation et formation
La Plateforme d'éducation et formation fournit des formations et des ressources en éducation et en développement de carrière, et comprend des programmes de formation qui donnent aux stagiaires un aperçu global des connaissances et des questions liées au don d'organes et à la transplantation ainsi que des outils pour être de meilleurs communicateurs, gestionnaires, étudiants, professionnels par l'entremise de webinaires, de programmes de mentorat et de réunions en personne.