La Semaine du don vivant 2020 – Sessions en vedette : Les populations défavorisées
Ne manquez pas les sessions de chercheurs et patients-partenaires du PRDTC lors de la Semaine du don vivant 2020 : Improving Access to Liver Transplantation in Diverse Communities et The Future of Transplantation and Living donation.
A.C.T.I.O.N.: Improving access and equity in Living Donor Kidney Transplantation in ACB & South Asian Communities
Lundi 14 septembre à 11h10 HE
La semaine du don vivant commence par l'accès et l'équité en matière de don vivant et de transplantation rénale. S'appuyant sur les travaux du projet A.C.T.I.O.N., dirigé par le Dr Istvan Mucsi, de l'UHN et le Dr Jag Gill, du Providence Health Care, ce panel discutera des obstacles à la transplantation de reins de donneurs vivants (TRDV) au Canada et dans le monde.
L'accès à la TRDV est considérablement réduit parmi les groupes ethno-raciaux minoritaires au Canada et dans d'autres parties du monde. À ce jour, aucune intervention visant à remédier à ces inégalités n'a été menée au Canada. L'A.C.T.I.O.N. vise à identifier les obstacles à la TRDV pour les communautés africaines, caribéennes et noires en Ontario, et les communautés sud-asiatiques en Colombie-Britannique.
Le premier séminaire de la semaine est divisé en deux parties. La première partie, présidée par le Dr Istvan Mucsi, examinera les perspectives internationales sur l'accès et l'équité en matière de TRDV.
La deuxième partie, présidée par la Dre Sunita Singh, directrice médicale du Living Kidney Donor Program de l'UHN, discutera de l'amélioration de l'accès et de l'équité en matière de TRDV dans le contexte canadien.
Présentateur en vedette : Dr Istvan Musci
Istvan Mucsi, MD, PhD, est un clinicien chercheur financé par les IRSC, néphrologue spécialisé dans les greffes au sein du programme de transplantation multi-organes et de la division de néphrologie du réseau de santé universitaire de Toronto. Il est professeur agrégé de médecine à l'Université de Toronto. Le Dr Mucsi est un « conseiller expert » du Programme canadien de recherche sur le don et la transplantation d'organes.
Il a obtenu son diplôme de médecine (1988) et sa certification en médecine interne (1993) à Budapest, en Hongrie, et a suivi une formation en néphrologie à l'université de Toronto (1994-1997). Au départ, il travaillait comme néphrologue généraliste, mais il s'est ensuite installé à Montréal pour travailler comme néphrologue spécialisé dans les transplantations à l'université McGill. Il a déménagé à Toronto en avril 2014.
Ses recherches actuelles portent sur la compréhension et la réduction des barrières ethnoculturelles et des disparités dans l'accès à la transplantation de reins et à la transplantation de reins de donneurs vivants. Il a collaboré avec de nombreux organismes communautaires et organisations religieuses pour développer une éducation sur la transplantation rénale culturellement et religieusement compétente pour de nombreuses communautés ethnoculturelles en Ontario.
Il a adapté un programme d'éducation des patients, appelé Explore Transplant, pour l'utiliser en Ontario. Ce programme est un outil éducatif clé dans le cadre de l'initiative provinciale Enabling Access to Kidney Transplant-Living Kidney Donation (ENAKT-LKD) gérée par le Réseau rénal de l'Ontario et le Réseau Trillium pour le don de vie. Le Dr Mucsi a codirigé le pilier éducatif de cette initiative.
Il s'intéresse également beaucoup aux déterminants psychosociaux de la santé, aux troubles du sommeil, aux études sur la qualité de vie et aux résultats rapportés par les patients. Le Dr Mucsi testera l'efficacité de la mesure systématique des résultats rapportés par les patients dans les soins cliniques quotidiens des patients atteints de maladies rénales chroniques et des receveurs de greffes d'organes solides, afin d'améliorer les résultats cliniques et la qualité de vie.
Il a publié plus de 140 articles revus par des pairs, son indice H est de 46.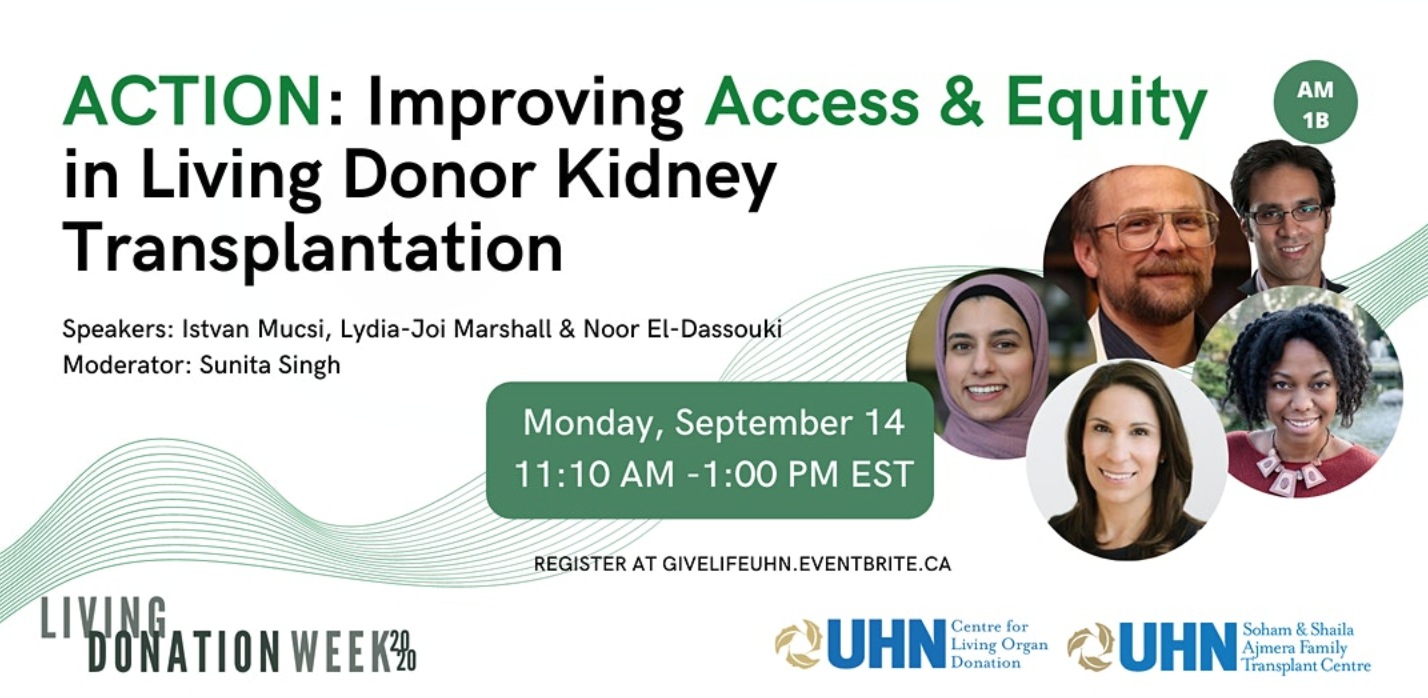 Living Donor Kidney Transplantation & Indigenous Communities (AM5)
Vendredi 18 septembre à 9h00 HE
…
Présentatrice en vedette: Mary Beaucage
Originaire de la Première nation de Nipissing, près de North Bay (Ontario), Mary Beaucage est Anishnaabekwe. Elle vit avec une maladie rénale chronique et a reçu une greffe don vivant de son cousin, qui vit dans le nord du Manitoba. Mary a reçu le don de son cousin au Toronto General Hospital (TGH) en 2015. Depuis sa transplantation, Mary s'est engagée activement auprès des patients. Elle apporte une richesse de connaissances, d'enthousiasme et de passion à son travail d'éducation et de défense des droits en matière de santé autochtone, de recherche sur la MCC et de sensibilisation au don et à la transplantation d'organes.
Mary est impliquée dans Can-SOLVE CKD depuis 2016. Elle a récemment accepté le rôle de coprésidente du Indigenous Peoples Engagement Research Council (IPERC) et a contribué de façon importante aux efforts de l'IPERC pour s'assurer que les connaissances et les perspectives autochtones sont intégrées dans tous les aspects du réseau Can-SOLVE CKD. Elle siège actuellement au groupe de travail Wabishki Bizkiko Skaanj Learning Pathway, qui améliore les connaissances des chercheurs et les sensibilise aux préjugés raciaux, aux voix et aux histoires autochtones, à l'impact de la colonisation sur la santé autochtone et aux pratiques de recherche culturellement sûres.
En plus de ses rôles au sein du CIRR, Mary est engagée dans un large éventail d'activités au sein du réseau Can-SOLVE CKD. Elle est coprésidente du Patient Governance Circle (PGC) et siège à plusieurs comités. Mary est également une patiente partenaire de quatre équipes de projet de recherche Can-SOLVE CKD. Mary joue un rôle de premier plan au sein des centres de soins palliatifs de l'Ontario Health, notamment l'Ontario Renal Network (ORN), et participe également au Programme de recherche en don et transplantation du Canada (PRDTC), à la Fondation du rein, à l'Organ Donation and Transplantation Collaborative (ODTC) et à l'Internationals Society of Nephrology (ISN) dans les domaines de l'équité, du partenariat avec les patients et de la sensibilisation du public.
Mary est actuellement coordinatrice provinciale du Transplant Ambassador Program (TAP), un projet de recherche qui réunit des patients atteints d'IRC, des receveurs de reins et des donneurs vivants afin de partager des histoires et d'améliorer l'éducation concernant le don vivant de reins. Le TAP est l'un des 18 projets de recherche du réseau Can-SOLVE CKD, ainsi qu'un pilier de l'ENAKT-LKD (Enabling Access to Kidney Transplant-Living Kidney Donation), une initiative provinciale gérée par le RRO et le Trillium Gift of Life Network (TGLN).
Elle a été conférencière principale, a participé à des panels et a fait présenter son affiche sur « Patient Engagement in Knowledge Translation (KT) » lors de conférences nationales et internationales sur la néphrologie. Mary a trouvé la force de parler aux autres et estime qu'il est essentiel de partager les expériences vécues grâce à sa culture de récit indigène, afin de donner à tous les intervenants une perspective claire du parcours du patient.