Living Donation Week 2020 – Spotlight Sessions: Under privileged populations
Do not miss CDTRP's investigators and patient-partners' sessions at the Living Donation Week 2020: "Improving Access to Liver Transplantation in Diverse Communities" and "The Future of Transplantation and Living donation."
A.C.T.I.O.N.: Improving access and equity in Living Donor Kidney Transplantation in ACB & South Asian Communities
Monday, September 14 at 11:10am ET
Living Donation week begins with Access & Equity in Living Kidney Donation & Transplantation. Building on the work of the A.C.T.I.O.N. Project, led by Dr. Istvan Mucsi, UHN and Dr. Jag Gill, Providence Health Care, this panel will discuss barriers to living donor kidney transplantation (LDKT) in Canada and internationally.
Access to LDKT is dramatically reduced among ethno-racial minority groups in Canada and other parts of the world. To date, no interventions to address these inequities have been carried out in Canada. A.C.T.I.O.N. aims to identify barriers to LDKT for African, Caribbean and Black (ACB) communities in Ontario, and South Asian Communities in B.C.
The first seminar of the week is divided into two parts. Part one, chaired by Dr. Istvan Mucsi, will examine international perspectives on access and equity to LDKT.
Part two, chaired by Dr. Sunita Singh, Medical Director of the Living Kidney Donor Program at UHN, will discuss improving access and equity to LDKT in the Canadian context.
Speaker Spotlight: Dr. Istvan Musci
Istvan Mucsi, MD, PhD is a CIHR funded clinician investigator, transplant nephrologist at the Multi-Organ Transplant Program and Division of Nephrology at the University Health Network in Toronto. He is an Associate Professor of Medicine at University of Toronto. Dr. Mucsi is an "expert advisor" of the Canadian Donation and Transplant Research Program.
He received his medical degree (1988) and his certification in internal medicine (1993) in Budapest, Hungary and completed nephrology training at the University of Toronto (1994-1997). Initially he had been working as a general nephrologist but later moved to Montreal to work as a transplant nephrologist at McGill University. He has moved to Toronto in April 2014.
His current research focuses on understanding and reducing ethnocultural barriers and disparities in access to kidney transplantation and living donor kidney transplantation. He has been collaborating with multiple community agencies and religious organizations develop culturally and religiously competent kidney transplant education for multiple ethnocultural communities in Ontario.
He has adapted a patient education program, called Explore Transplant, for use in Ontario. This program is a key educational tool in the Enabling Access to Kidney Transplant-Living Kidney Donation (ENAKT-LKD) provincial initiative managed by the Ontario Renal Network and Trillium Gift of Life Network. Dr. Mucsi has been co-leading the education pillar of that initiative.
He also has a strong interest in psychosocial determinants of health; sleep disorders; quality of life studies and patient reported outcomes. Dr. Mucsi will test the effectiveness of routinely measuring Patient Reported Outcome Measures in the everyday clinical care of patients with chronic kidney disease and solid organ transplant recipients, to improve clinical and quality of life outcomes.
He published more than one 140 peer reviewed articles, his H index is 46.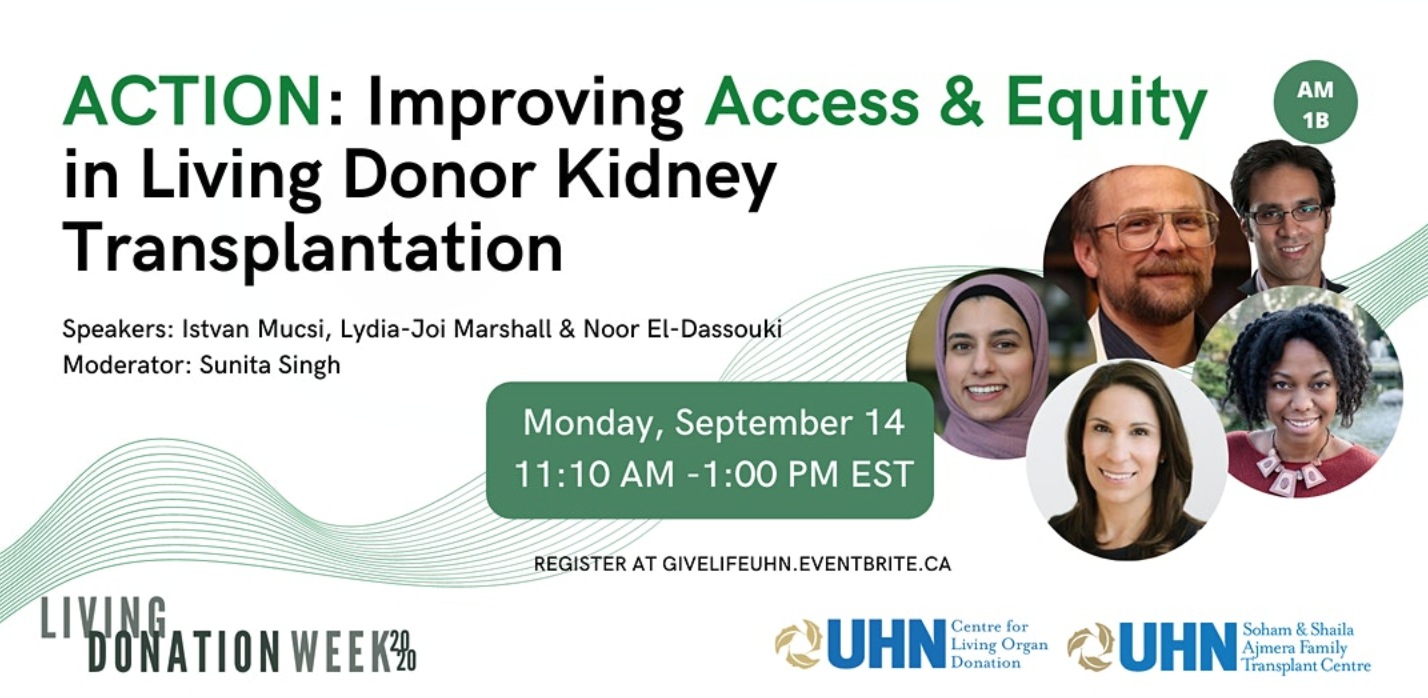 Living Donor Kidney Transplantation & Indigenous Communities (AM5)
Friday, September 18 at 9:00am ET
…
Speaker Spotlight: Mary Beaucage
Hailing from Nipissing First Nation near North Bay ON, Mary Beaucage is Anishnaabekwe. She lives with Chronic Kidney Disease and received a living donor transplant from her cousin, who lives in Northern Manitoba. Mary received her cousin's gift at Toronto General Hospital (TGH) in 2015. Since her transplant, Mary has been active in patient engagement. She brings a wealth of knowledge, enthusiasm and passion to her work in educating and advocating in matters of Indigenous health, CKD research, and organ donation and transplantation awareness.
Mary has been involved with Can-SOLVE CKD since 2016. She's recently accepted the role of co-chair of the Indigenous Peoples Engagement Research Council (IPERC), and has been a key contributor to IPERC's efforts to ensure Indigenous knowledge and perspectives are incorporated into all aspects of the Can-SOLVE CKD Network, and currently sits on the Wabishki Bizkiko Skaanj Learning Pathway Working Group, which enhances researchers knowledge and awareness of racial biases, Indigenous voices and stories, the impact of colonization on Indigenous health, and culturally safe research practices.
In addition to her roles with IPERC, Mary is engaged in a wide range of activities across the Can-SOLVE CKD Network. She is a co-chair of the Patient Governance Circle (PGC) and sits on several committees.Mary is also a patient partner on four Can-SOLVE CKD research project teams. Mary has leadership roles with provincial level PFACs at Ontario Health, including the Ontario Renal Network(ORN), and is also involved with the Canadian Donation Transplant Research Program (CDTRP), The Kidney Foundation of Canada (KFoC), the Organ Donation and Transplantation Collaborative (ODTC), and the Internationals Society of Nephrology (ISN) in the areas of equity, patient partnership and public awareness.
Mary is currently a Provincial Coordinator with the Transplant Ambassador Program (TAP), which is a research project bringing CKD patients together with kidney recipients and living donors to share stories, and increase education regarding living kidney donation. TAP is one of the 18 research projects in the Can-SOLVE CKD Network, as well as a pillar of the Enabling Access to Kidney Transplant-Living Kidney Donation (ENAKT-LKD), a provincial initiative managed by the ORN and Trillium Gift of Life Network (TGLN).
She has been a keynote speaker, presented on panels, and has had her poster on "Patient Engagement in Knowledge Translation (KT)" presented at nephrology conferences nationally and internationally. Mary has found strength in talking to others and feels it's vital to share lived experiences through her culture of Indigenous storytelling, to give all stakeholders a clear perspective of the patient journey.