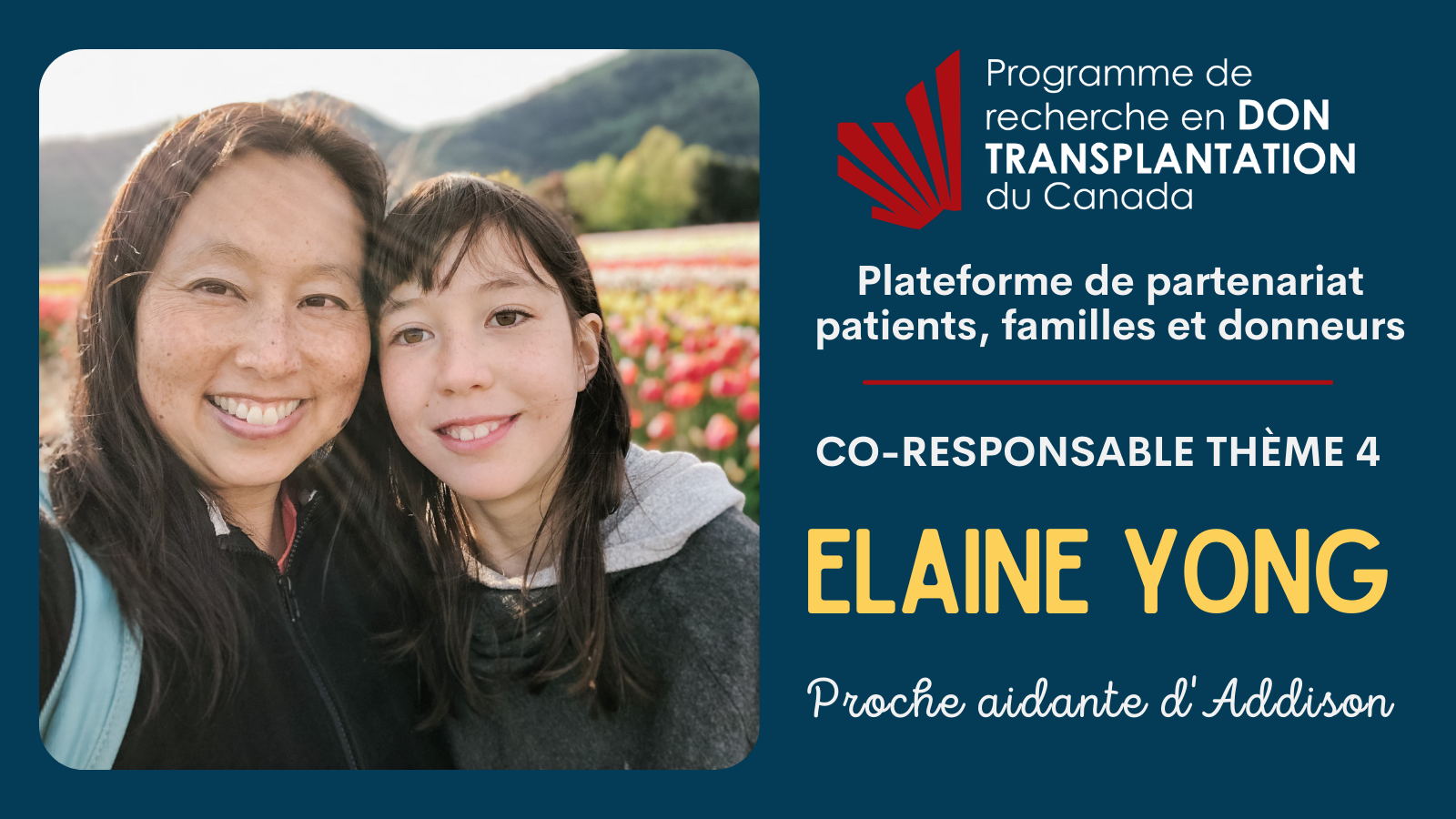 Apprenez à connaître notre co-responsable PFD du Thème 4, Elaine Yong !
Chacun des thèmes de recherche du PRDTC est dirigé par un patient, une famille ou un donneur (PFD), qui apporte une contribution essentielle et un leadership dans le cadre du thème, en lien avec leurs expériences vécues et en s'appuyant souvent sur leurs antécédents professionnels. Notre responsable de la plateforme PFD, Manuel Escoto, s'est récemment entretenu avec Elaine Yong, co-responsable du Thème 4 (Un système immunitaire adapté à chaque patient) afin de mieux comprendre ce qui motive son travail avec le PRDTC.
Qu'est-ce qui vous a amené à la Plateforme de partenariat patients, familles et donneurs du PRDTC ?
Ma fille aînée Addison a reçu une transplantation cardiaque lorsqu'elle avait trois semaines. Nous étions si reconnaissants pour cette seconde chance de vivre pour Addison. Mais nous avons vite compris que la transplantation n'est pas un remède et que son avenir reste incertain. Les statistiques de survie à long terme sont plutôt sombres, avec environ 60 % de survie 20 ans après une transplantation chez les enfants. Je veux que cela change. Je veux que la transplantation soit un remède pour la vie. La seule façon d'y parvenir est de veiller à ce que la recherche pertinente se poursuive et s'épanouisse. Je fais partie du PRDTC depuis six ans maintenant parce que je m'engage à aider de toutes les manières possibles, notamment en promouvant et en soutenant la recherche sur la transplantation pédiatrique.
Quels sont vos domaines d'intérêt et votre expérience en matière de recherche partenariat patient ?
La recherche sur la transplantation pédiatrique est particulièrement importante pour moi. Je pense également que davantage de travaux doivent être réalisés pour aider tous les receveurs d'organes, et pas seulement des recherches sur des organes spécifiques. J'essaie toujours de m'assurer que les chercheurs ont pris en compte la population pédiatrique, dans la mesure du possible.

Je finance également la recherche par l'intermédiaire du Addison Fund for Pediatric Transplant Research, qui fait partie de la Transplant Research Foundation of British Columbia. Mon mari et moi voulions faire notre part pour soutenir la recherche pédiatrique qui pourrait un jour aider Addison et d'autres enfants comme elle.

Je suis une patiente partenaire active dans plusieurs initiatives de l'hôpital pour enfants de la Colombie-Britannique, ainsi qu'une patiente partenaire dans des études spécifiques, et une bénévole de BC Transplant. Je suis également coprésidente de la Transplant Research Foundation of British Columbia. De plus, j'ai un emploi à temps plein dans le domaine des communications, ce qui me permet de transférer de nombreuses compétences au rôle de patient partenaire.
Quels sont les nouveaux domaines d'intérêt que vous souhaitez explorer, et quelles sont les compétences que vous aimeriez renforcer ?
Je suis toujours intéressée à en apprendre davantage et à entrer en contact avec de nouveaux chercheurs. J'ai beaucoup appris au cours de ces six dernières années et j'ai hâte de poursuivre dans cette voie.
Dites-nous un fait amusant sur vous !
J'ai voyagé sur tous les continents. Addison est allée sur cinq continents jusqu'à présent.
Vous pouvez suivre Elaine sur Twitter: @ElaineYongYVR.
La Plateforme du partenariat de recherche patients, familles et donneurs (PFD) est un des volets importants du PRDTC. Elle donne une voix aux patientes, aux proches aidants et aux donneurs vivants tout en offrant un environnement favorisant la collaboration entre les familles, les chercheurs, les responsables de projets et les liens avec les thèmes du PRDTC. La participation des patients, des familles et des donneurs à l'échelle nationale est une priorité dans tous les projets de recherche du PRDTC, et contribue au transfert des connaissances en plus d'avoir un impact positif sur la transplantation et le don au Canada.