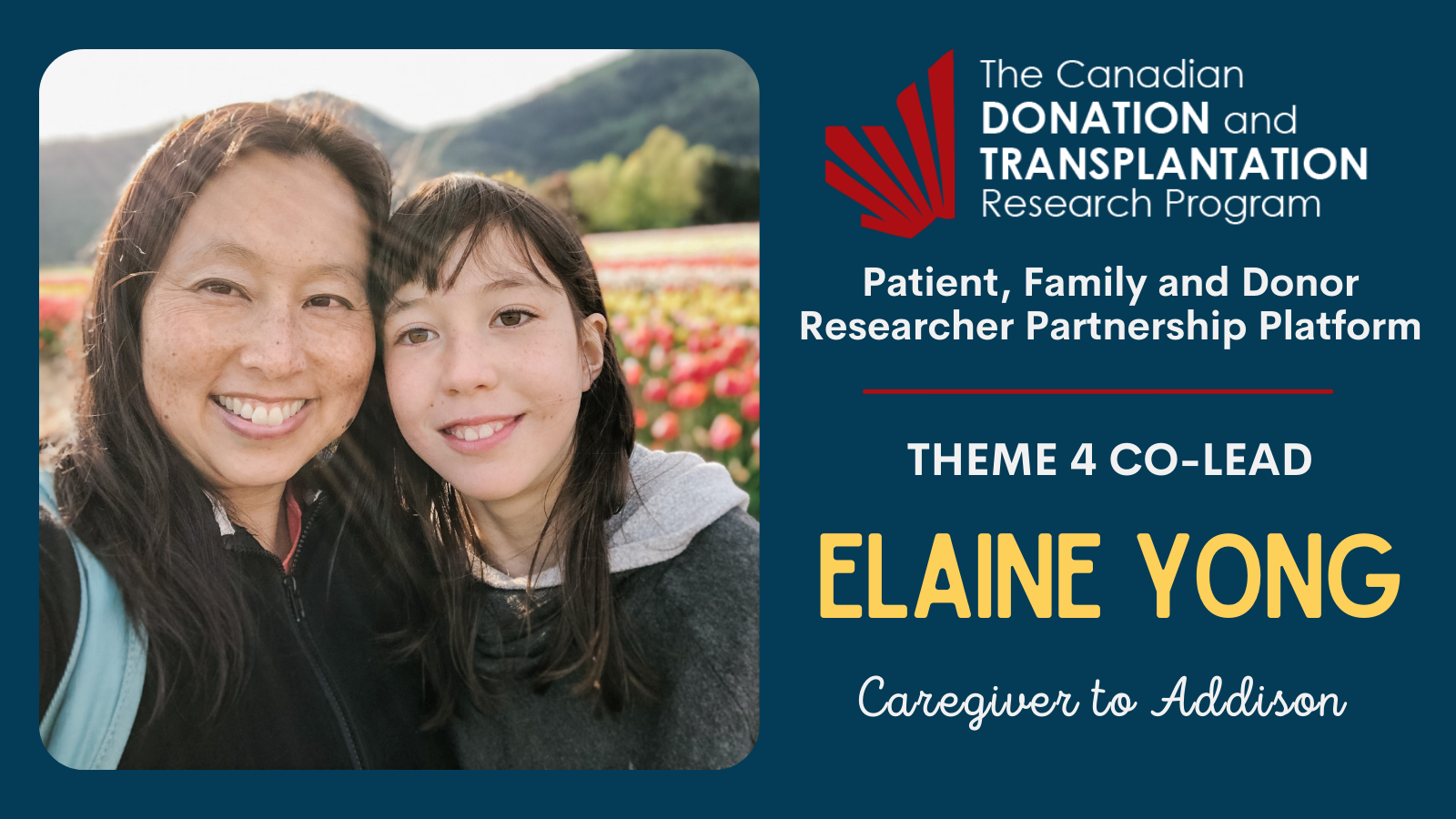 Get to know our Theme 4 PFD Co-Lead, Elaine Yong!
Each of CDTRP's Research Themes have a patient, family or donor co-lead, who offer critical input and leadership within the theme, tied to their lived experience and also often drawing on their professional backgrounds. Our PFD Platform Manager, Manuel Escoto, caught up recently with Elaine Yong, co-lead of Theme 4 (Tailor an Optimal Immune System for Each Patient) to understand more about what drives her work with the CDTRP.
What brought you to CDTRP's Patient, Family, and Donor Research Platform?
My eldest daughter Addison received a heart transplant when she was three weeks old. We were so grateful for this second chance at life for Addison. But we quickly realized transplant isn't a cure, and her future remains uncertain. Long-term survival statistics are rather bleak with about 60% survival 20 years post-transplant for pediatric recipients. I want that to change. I want transplant to be a cure. The only way that is going to happen is by ensuring relevant research continues and flourishes. I have been part of the CDTRP for six years now because I am committed to helping anyway I can, especially in promoting and supporting pediatric transplant research.
What are your areas of research interest and experience in patient research?
Pediatric transplant research is especially important to me. I also believe there needs to be more work done that will help all organ recipients, not just organ-specific research. I always try to ensure researchers have considered the pediatric population, wherever possible.

I am also a funder of research through the Addison Fund for Pediatric Transplant Research, part of the Transplant Research Foundation of BC. My husband and I wanted to do our small part to support pediatric research that might one day help Addison and other children like her.

I am an active patient partner in several initiatives at BC Children's Hospital, as well as a patient partner on specific studies, and a volunteer with BC Transplant. I am also the co-chair of the Transplant Research Foundation of BC. Plus I have a full-time job in communications, which has many transferable skills to the role of patient partner.
What new areas of interest do you want to explore, and which skills would you like to build on?
I am always interested in learning more and connecting with new researchers. I have learned so much in these last six years and I look forward to continuing that.
Tell us a fun fact about yourself!
I have travelled to every continent. Addison has been to five continents so far.
You can follow Elaine on Twitter: @ElaineYongYVR.
About the Patient, Family and Donor Partnership Platform
A strong, central feature of the CDTRP, the Patient, Family and Donor (PFD) Partnership Platform gives patients, caregivers and living donors a voice while offering an environment to collaborate between families, investigators, project leads and CDTRP Themes. Nationwide patient, family and donor participation is a research priority in all CDTRP projects, contributing to the transfer of knowledge and positive impact on transplantation and donation in Canada.