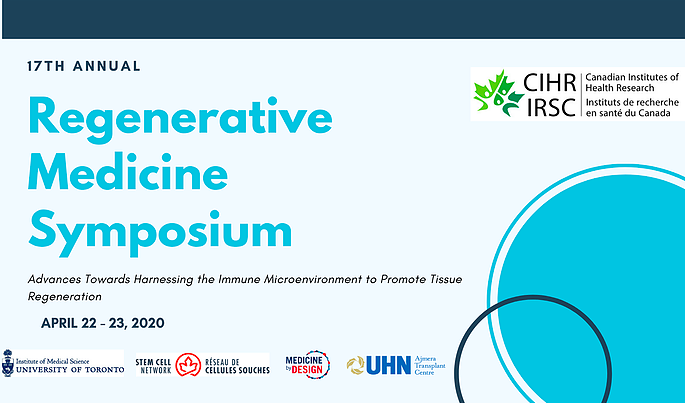 17ème Symposium Annuel de Médecine Régénérative du Training Program in Regenerative Medicine
Les 22 et 23 avril 2020 se tiendra EN LIGNE le 17ème Symposium Annuel de Médecine Régénérative – Advances Towards Harnessing the Immune Microenvironment to Promote Tissue Regeneration.
Uyen Nguyen, stagiaire du PRDTC et étudiante à la maîtrise dans le laboratoire de Megan Levings à UBC, présentera un Essai CARE – Continuous Alloreactive T Cell Depletion and Regulatory T Cell Expansion for the treatment of steroid-refractory or dependent chronic GVHD.
Les conférenciers principaux incluent David Mooney de l'Université Harvard qui parlera des Biomatériaux pour la Mécanorégénération et Melody Swartz, de l'Université de Chicago, qui donnera la conférence principale sur le ciblage des vaisseaux lymphatiques pour la vaccination et l'immunothérapie du cancer.
Pour vous inscrire ou voir le programme (en anglais), cliquez ici.