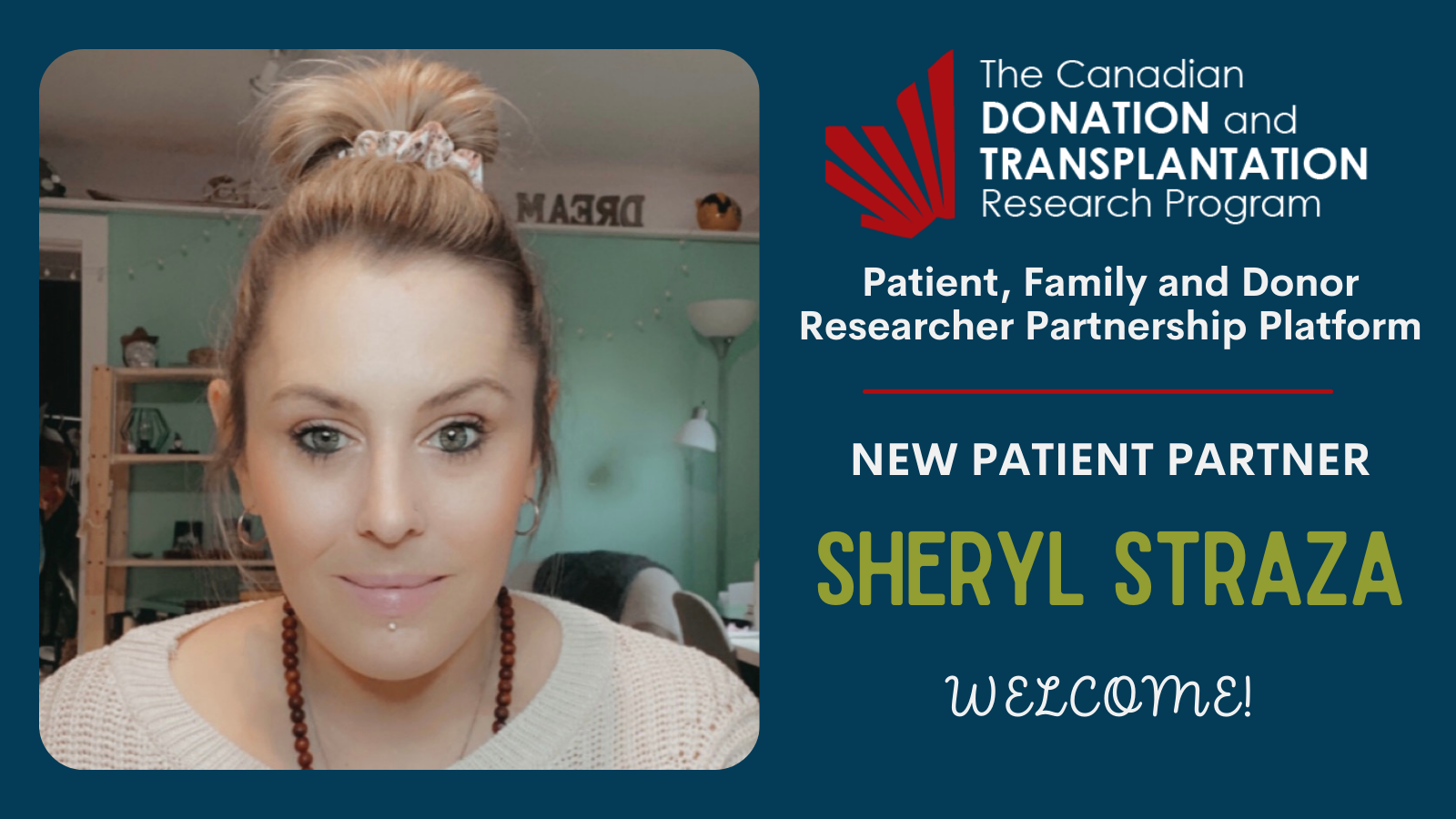 Welcome to new Patient, Family, Donor Partner: Sheryl Straza
The CDTRP's Patient, Family and Donor (PFD) Partnership Platform is growing and we're pleased to welcome our newest member, Sheryl Straza. Our PFD Platform Manager, Manuel Escoto, caught up recently with Sheryl to understand more about what his goals are for being a patient partner with the CDTRP.
What brought you to CDTRP's Patient, Family, and Donor Research Platform?
A few things brought me to CDTRP. I wanted to get further volunteer experience as well as meet other people who have gone through similar experiences as I have. I consider myself to be a chronic illness advocate and enjoy being of service to others. I enjoy learning new things and felt that I was a good fit for CDTRP.
What are your areas of research interest and experience in patient research?
The areas of research that I am interested in are, improving the culture around organ donation, immunosuppressive drugs and their side effects as well as improving long-term health post-transplant.
What new areas of interest do you want to explore, and which skills would you like to build on?
Areas I am interested in include educating people about the importance of organ donation, making new connections, continuing my learning/education regarding transplant and life after transplant and improving the quality of life for people after transplant, to name a few. Skills I would like to build include, public speaking, advocacy, being a good support system and building my knowledge around the transplant process.
Tell us a fun fact about yourself!
I am currently studying for a business degree, majoring in HR Management. I have a 10-year-old chihuahua min pin cross named Dozer and I plan to travel extensively and move abroad after I graduate from university.
About the Patient, Family and Donor Partnership Platform
A strong, central feature of the CDTRP, the Patient, Family and Donor (PFD) Partnership Platform gives patients, caregivers and living donors a voice while offering an environment to collaborate between families, investigators, project leads and CDTRP Themes. Nationwide patient, family and donor participation is a research priority in all CDTRP projects, contributing to the transfer of knowledge and positive impact on transplantation and donation in Canada.