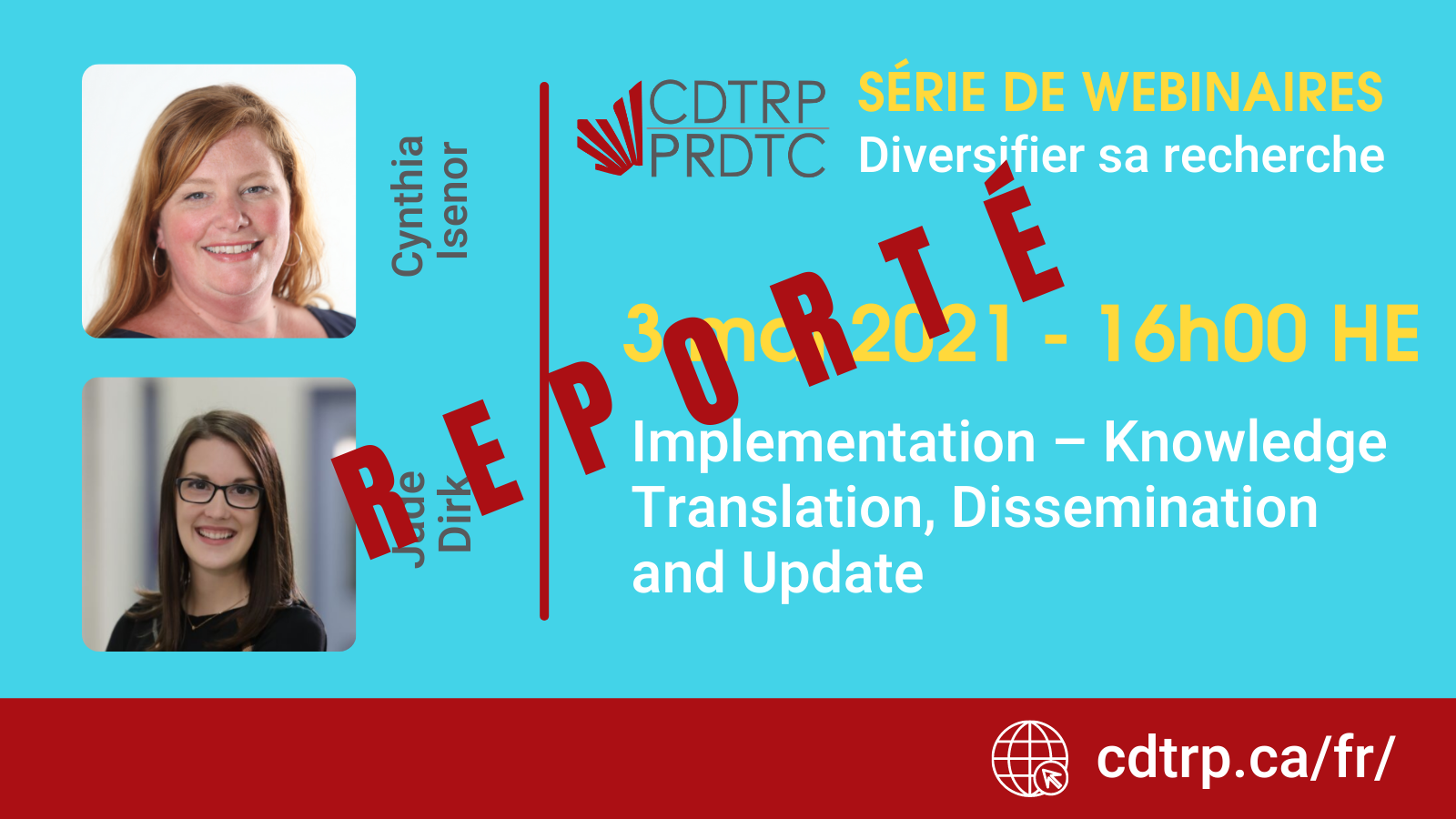 REPORTÉ – Prochain webinaire du PRDTC : Implémentation – Application, diffusion et mise à jour des connaissances
Le prochain webinaire avec Cynthia Isenor et Jade Dirk intitulé : Implementation: Knowledge Translation, Dissemination and Uptake est reporté à une date ultérieure.
À propos de Cynthia Isenor
Cynthia Isenor est la directrice des services de santé pour les services de soins intensifs et Legacy of Life à Nova Scotia Health. Avant de s'installer en Nouvelle-Écosse, Cynthia a travaillé en Ontario en tant qu'infirmière autorisée. Elle a commencé sa carrière dans le domaine des soins intensifs à l'hôpital général de Kingston, puis à l'hôpital St. Depuis 2005, elle a développé sa carrière dans le domaine du don d'organes et a été membre à part entière d'un certain nombre de projets clés au sein du Réseau Trillium pour le don de vie de l'Ontario. À l'heure actuelle, Cynthia assure la supervision stratégique et agit à titre de chef des opérations pour le groupe tertiaire/quaternaire des unités de soins intensifs de la région d'Halifax et pour le programme provincial de don d'organes.
À propos de Jade Dirk
Jade Dirk est gestionnaire de projet au sein du Nova Scotia Health Research & Innovation et gère actuellement le programme Legislative Evaluation : Assessment of Deceased Donation Reform (LEADDR), qui vise à évaluer la mise en œuvre de la transformation du système de santé de la Nouvelle-Écosse en matière de dons de personnes décédées. Avant de déménager en Nouvelle-Écosse en 2018, elle était au programme de recherche sur le rein, la dialyse et la transplantation de l'ICES. À ce titre, Jade a fait partie intégrante de l'obtention de plus de 12 millions de dollars de financement pour divers projets et initiatives de recherche médicale et a coordonné plus de 30 projets ayant donné lieu à 18 publications.
Cliquez ici pour en apprendre davantage sur La série de webinaires du PRDTC : Diversifier sa recherche.
Vous avez manqué el dernier webinaire intitulé Virtual Research Ethics: Ethical Issues Conducting Research in the COVID-19 Pandemic ?