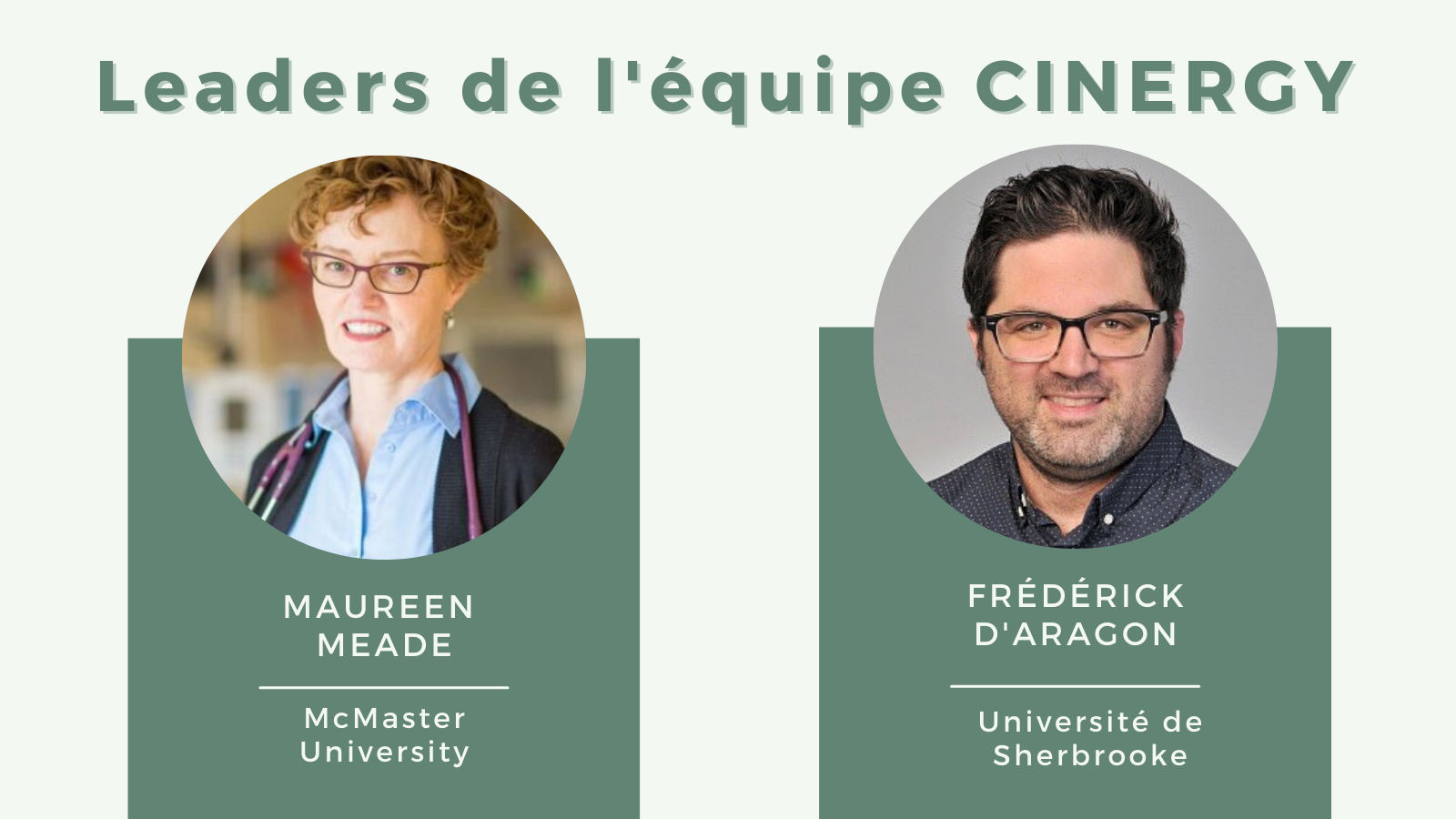 Nouveau financement : Félicitations à l'équipe CINERGY
Le PRDTC tient à féliciter l'équipe CINERGY, dirigée par Fréderick D'Aragon et Maureen Meade, pour le financement reçu dans le cadre du concours d'automne 2020 des IRSC.
Nous leur avons posé quelques questions sur le processus :
Comment le PRDTC a-t-il contribué à ce travail ?
Le PRDTC soutient l'étude CINERGY depuis sa création. La structure de recherche nationale du PRDTC a fourni des occasions uniques aux chercheurs en don et en transplantation de partout au Canada de connecter entre eux, de faire du remue-méninges et de collaborer à la recherche comme jamais auparavant. Les réunions régulières des Thèmes permettent un examen scientifique de haut niveau et la participation de cliniciens et de chercheurs chevronnés. La force unique du programme de partenariat patient, famille et donneur au sein du PRDTC permet la contribution de ces intervenants clés dans la recherche sur le don et la transplantation en ce qui concerne la conception de l'étude, les questions éthiques liées au consentement à la recherche et les considérations importantes sur les résultats de l'étude. Le Concours de subventions à la recherche et l'innovation du PRDTC a soutenu la recherche qualitative en cours de route afin d'améliorer la compréhension des points de vue des receveurs de greffe en ce qui concerne leur rôle de participants à la recherche clinique impliquant des donneurs d'organes. À bien des égards, le PRDTC a été un fervent partisan de l'innovation en matière de soins aux donneurs d'organes dans l'unité de soins intensifs.
Comment le PRDTC a-t-il aidé à la demande de financement ?
Les récents succès de financement n'auraient peut-être pas été possibles sans le soutien spécifique du PRDTC. L'équipe de gestion a aidé à présenter ce travail et à obtenir des lettres de soutien de presque tous les programmes de transplantation d'organes en Ontario et au Québec. De plus, le PRDTC a fourni sa propre lettre de soutien stratégique au projet. Il s'est également engagé à fournir des espaces réels et virtuels pour les réunions des chercheurs, ainsi qu'un soutien financier pour nos patients, familles et donneurs partenaires dans cette aventure passionnante, maintenant financée par les Instituts de recherche en santé du Canada.
Résumé de l'étude CINERGY (en anglais)
In Canada, most life-saving transplants involve vital organs from deceased organ donors. When organs are removed from organ donors, they are transported with great care to transplant centres in other hospitals, or cities, and even distant provinces. Any interval in time in which a donated organ is preserved without blood circulation may result in organ injury. The time without blood flow can cause organ injury and the re-establishment of blood flow during transplantation may lead to severe injury, called ischemia reperfusion injury, or IR injury. IR injury threatens the viability of organ transplants in the short term, and the long term. Several treatments for transplant recipients aim to reduce the risk of IR injury. Similarly, there are treatments for the organ, itself, before transplant, that aim to mitigate IR injury. There are no treatments, however, provided to organ donors with a view to purpose of reducing IR jury and improving the health of organ transplant recipients. The CINERGY Pilot Trial, in Ontario and Quebec, will test the feasibility of a future national study that tests a drug for administered to organ donors to reduce IR injury in organ recipients. The drug is tacrolimus, a common transplant medication that has never been provided to organ donors. However, animal studies consistently suggest that the "preconditioning" of organ donors with tacrolimus will improve transplant function.