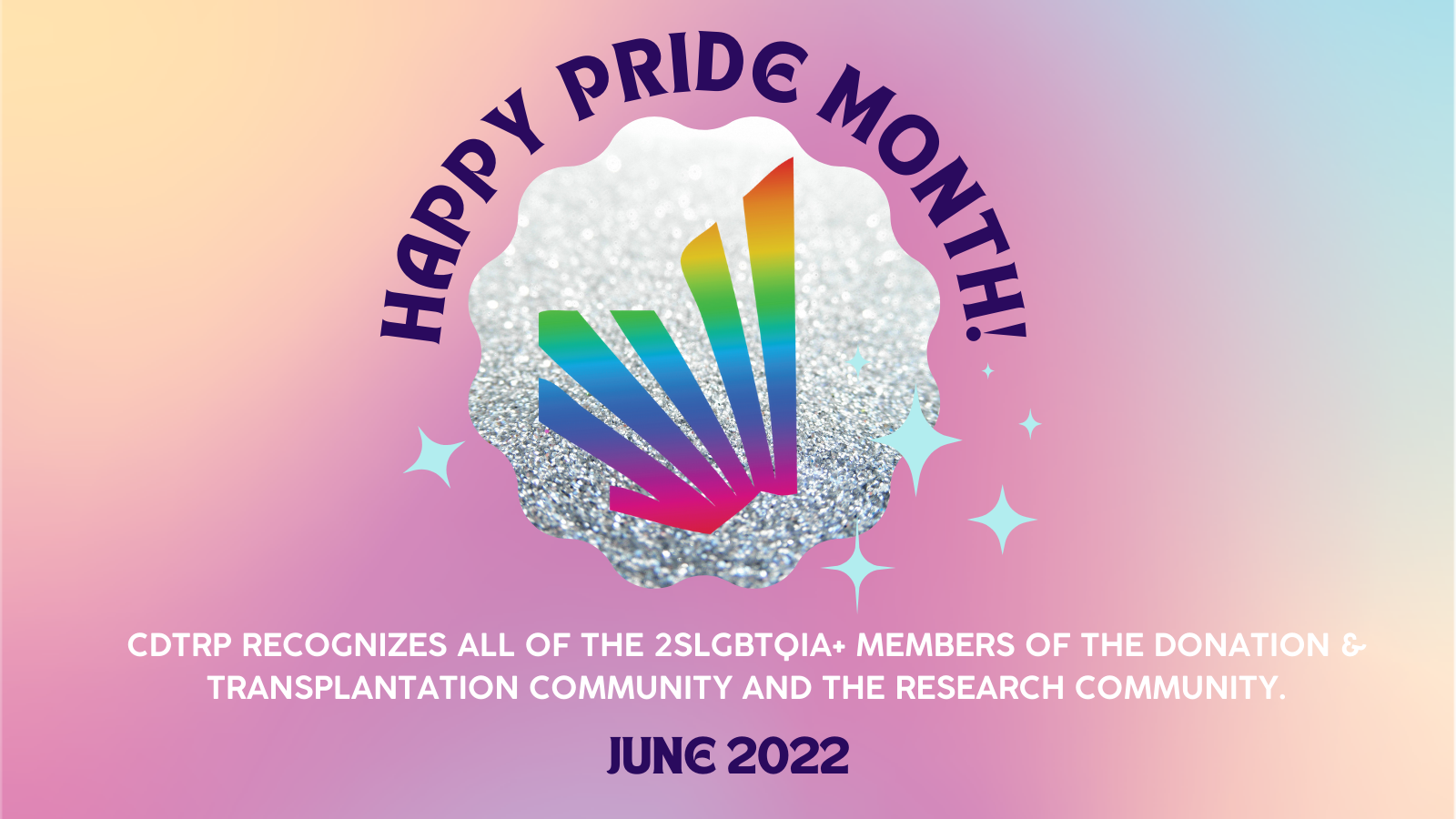 Pride Month 2022: Interview with Drs Warren Fingrut and Murdoch Leeies
June is Pride Month and the CDTRP recognizes all of the 2SLGBTQIA+ members of the donation and transplantation community and the research community. The CDTRP seeks to increase equity, diversity and inclusion in all of its activities, including research, education and career development, patient, family and donor partnerships, and network management. We are are grateful to work with researchers who value these issues and are working to improve the disparities still existing in the donation and transplantation community.
CDTRP's Communications Manager Stéphanie, recently caught up with Dr. Warren Fingrut, Transplant Hematologist, founder and Director of Stem Cell Club and Dr. Murdoch Leeies, an organ donation, critical care medicine and emergency medicine specialist physician and Director of Research for the Department of Emergency Medicine at the University of Manitoba. Both researchers are actively working to include equity, diversity and inclusion components in their work and make sure everyone has an equal opportunity for access to organ, cell and tissue donation and transplantation.
Part of your work focuses on equity, diversity, and inclusion in donation and transplantation in Canada. What motivated you to develop research in this area?
Dr. Warren Fingrut
When I first started as a volunteer at bone marrow drives in 2009, I was moved by the stories of patients who needed a stem cell transplantation but could not find a donor anywhere in the world. And I learned that patients from diverse ancestral backgrounds faced disparity in access to unrelated stem cell donors. I founded Stem Cell Club in 2011 to address this disparity. I assembled teams at campuses across Canada, developed recruiter training and resources to support efforts to scale up, and, in the decade that followed, oversaw recruitment of greater than 22,000 donors, over half of whom were from non-European backgrounds. I became interested in learning more about the barriers to donation faced by specific racialized/ethnic communities, and working to address them. I led my teams to develop and evaluate multimedia resources to address barriers to donation, including a whiteboard video series, a stem cell donation story library called Why We Swab, and a TikTok channel – all of which feature diverse peoples encouraging their communities to be donors.

I am currently leading efforts to arrange these multimedia into campaigns focused on the recruitment of specific demographic groups, in collaboration with volunteers and partners from these communities (e.g. Black Donors Save Lives, East Asians Save Lives, South Asians Save Lives, Iranian Donors Save Lives). Additionally, Stem Cell Club's Saving Lives with Pride campaign lets gay, bisexual, and other men who have sex with men (gbMSM) know that they are eligible to donate stem cells– work that concurrently supports a more inclusive donor registry and engages donors from needed demographic groups who may not otherwise have enlisted. Spearheading these campaigns has required a lot of different skills – in addition to conveying complex medical and scientific information in a manner that can be easily understood, the materials also need to be optimized to each group and address specific barriers to donation. This work is meaningful for me, and it has also been rewarding to highlight the lifesaving contributions of racialized and underserved demographic groups through these campaigns.
Dr. Murdoch Leeies
I work clinically as an organ donation specialist physician with the Transplant Manitoba Gift of Life program. Through that work I realized that our health system structurally supports practices and procedures that are racist, homophobic, transphobic, and HIV stigmatizing. These issues also intersect with differences in access to health services based on geography, socioeconomic status as well as levels of education and health literacy.  I believe every Canadian (and every person) has the same fundamental right to receive an equal benefit from our health system that helps them achieve their maximum potential for health and wellness.

This was my motivation for developing a program of research focused on exploring and better understanding current inequities in the organ and tissue donation and transplantation system in Canada with an ultimate goal to develop evidence-based strategies to mitigate these inequities.

What are the most significant barriers for 2SLGBTQIA+ members in donation and transplantation, and how could research help overcome them?
Dr. Warren Fingrut
2SLGBTQIA+ people have faced a long history of barriers to donation and transplantation. Over the past ten years we have seen evolving policies in Canada regarding blood donation eligibility for gay, bisexual, and other men who have sex with men (gbMSM), though these policies still deferred the majority of gbMSM from being blood donors. However, since 2009, gbMSM have been eligible to register as stem cell (and organ & tissue) donors, and donate to patients in need – but few from the 2SLGBTQIA+ community (and few Canadians overall) are aware of this. To address this, in 2018 and 2019, Stem Cell Club spearheaded a pilot campaign to recruit donors at Pride events across Canada. Then in 2021, we launched the Saving Lives with Pride campaign which features an array of multimedia resources to raise awareness about stem cell donation for 2SLGBTQIA+ members, especially gbMSM. The campaign also highlights that members of these communities are already saving lives through donation (e.g. William Ashby-Hall, a gay man who donated his stem cells to save the life of Montreal-based patient Susan Doherty; see story on Instagram).

To guide this effort, we conducted focus groups with eligible gbMSM potential donors, and one theme that emerged was the worry that 2SLGBTQIA+ donors would be treated poorly by the healthcare system – as has been and continues to be the case for these communities in many healthcare settings. Based on this learning, we collaborated with transplant hematologists to develop video statements emphasizing that donors from all sexual orientations and gender identities will be treated with dignity and respect, recognizing the heroism of their donation (e.g. YouTube video). Participants in subsequent focus groups noted that this messaging helped reassure them that they will be treated well as donors. Similar work is needed across donation: healthcare providers need to come together to let 2SLGBTQIA+ peoples know they are eligible, wanted, and will be respected as donors. Research can inform how best to address these barriers to donation.

There also significant barriers to inclusion for gbMSM downstream from recruitment. In many jurisdictions including Canada, gbMSM stem cell and organ & tissue donors who match to a patient in need are not allowed to proceed with a donation without explicit acceptance of both the transplant center and collection unit. This unequal treatment is unjust, and further stigmatizes gbMSM donors. More work is needed to revise such policies so they prioritize health equity alongside patient safety.

Additionally, transgender and gender non-binary peoples also face barriers to inclusion. For example, most donor registries are not currently collecting and listing both sex (relevant due to biological considerations including differences in the immune system) and gender identity (important information to ensure that donors are treated with dignity and respect). Research is needed to develop and evaluate approaches to engage and include Trans* and gender non-binary peoples as donors, in partnership with members of these communities.
Dr. Murdoch Leeies
This is a big question! I will start by saying that I have a number of projects underway and in the planning stages to better understand the inequities that 2SLGBTQIA+ populations experience but our preliminary work has already revealed a number of issues.

One major structural inequity is the differential treatment of men who have sex with men (MSM) as potential organ donors. Regulations and processes for MSM in the organ and tissue donation and transplantation system in Canada are based on an outdated understanding of the risk of blood borne infections like HIV, hepatitis C and hepatitis B. Rather than identify potential organ and/or tissue donors at increased risk of transmitting these infections based on behaviors that truly place those persons at increased risk, we have upheld policies that discriminate against individuals based on sexual orientation. A direct example would be that our current system would reject a man who was negative for HIV and hepatitis and in a long-term monogamous relationship with another man who wished to donate his corneas and other tissue after death but would accept the same tissues from a heterosexual man who had unprotected sex with multiple high-risk female partners. The same system would potentially accept the homosexual man's solid organs for donation but label them as 'increased risk organs' (even if he was in a long-term monogamous relationship and with no blood borne infections) without a standardized or transparent informed consent process with respect to the differential treatment of those organs.

Additionally, insufficient planning for privacy may lead to inadvertent outing of 2SLGBTQIA+ potential living donors. Outdated methods of clinical documentation of sociodemographic variables for patients may lead to differential treatment of cis-gender and trans-gender persons with mis-application of criteria that were intended to be based on biological sex. There are also overlapping issues of discrimination against persons with HIV (as well as sero-discordant HIV negative partners of persons with HIV).

Our research program starts with exploratory work to better understand and characterize current inequities and importantly, we are engaging 2SLGBTQIA+ individuals as research partners from the very beginning. This will help inform research questions that are relevant to the populations they are intending to serve and to plan research methods that are culturally sensitive and help us to select outcomes that are relevant to 2SLGBTQIA+ people.
Recently, Canadian Blood Services (CBS) announced that Health Canada approved their request to remove eligibility criteria specific to men who have sex with men and instead focus on sexual behaviors. From your perspective, what work still needs to be done to increase donations from 2SLGBTQIA+ communities?
Dr. Warren Fingrut
This upcoming change to gender neutral (and sexual-behaviour based) blood donor eligibility criteria is an important step towards a more equitable blood system. However, once this change comes into effect, significant efforts will be needed to educate gay, bisexual, and other men who have sex with men (gbMSM) about their eligibility, invite them to participate as blood and plasma donors, and let them know they will be respected as donors. There is also a stigma towards gbMSM donation. Campaigns celebrating these donors and highlighting their lifesaving contributions will help reduce this barrier and increase 2SLGBTQIA+ donations.
Dr. Murdoch Leeies
This landmark change was a huge step towards an equitable risk assessment strategy for potential blood donors in Canada. I partner with CBS in much of my research on organ donation and they have been strong supporters of research focused on improving access and outcomes for equity-deserving populations. This shift from a group membership-based discriminatory policy to a behavioral risk-based approach is the result of a targeted investment of resources into research in this field. This investment has led to this landmark policy change that promotes equity for Canadians while maintaining the safety of the blood supply.

A result of this step forward in the blood donation realm is a widening gap between 2SLGBTQIA+ organ and tissue donors and transplant recipients and 2SLGBTQIA+ blood donors and recipients in terms of evidence-based equitable treatment within our health system. There is an enormous amount of overlap in the risk-assessment for blood donors and organ/tissue donors and the lessons learned from investments in the assessment of risk for blood borne infections in 2SLGBTQIA+ blood donors will directly inform that same assessment for potential organ and tissue donors. A similar investment in research on the impact of 2SLGBTQIA+ membership on organ and tissue donation and transplantation is needed now to ensure we are providing these health services equitably.

Organ and tissue donation is truly the gift of life and I believe whole-heartedly that it benefits not only the recipient but the donor and their families as well. The exclusive focus of our work in this area, however, should not be on increasing donations from 2SLGBTQIA+ communities. We should partner with 2SLGBTQIA+ persons on a path of discovery and reconciliation. We must acknowledge the harms of the past and the current structural discrimination that these persons face. Only then can we honestly and collaboratively move forward in reforming our organ and tissue donation and transplantation system into one that is equitable for all Canadians. This will be a system that increases donations from 2SLGBTQIA+ donors who wish to donate but also addresses inequities in access and enhances the safety of 2SLGBTQIA+ persons.
How could the CDTRP support the future directions of your work?
Dr. Warren Fingrut
Patients from racialized/ethnic communities face disparities in their representation across donor pools for blood, stem cells, and organs & tissues. One approach to address these disparities will be to develop campaigns which address specific barriers to donation relevant across donation products – for example, extending Stem Cell Club's Black Donors Save Lives campaign to discuss donation of blood and organs & tissues alongside stem cells. There is also a need to expand Stem Cell Club's Saving Lives with Pride campaign to highlight the lifesaving contributions of 2SLGBTQIA+ peoples who donate blood, plasma, and organs & tissues as well as stem cells. I am now pursuing both of these avenues, and I look forward to collaborating with the CDTRP and its members on this work.
Dr. Murdoch Leeies
I welcome communication and collaboration with other health-equity and social justice-minded investigators in the CDTRP network. As we embark on our patient and community engagement process I hope the CDTRP can connect our Manitoba group with other jurisdictions. I would be grateful for the CDTRP to amplify our results through their own communications and social networks. I would also ask the CDTRP grants program to keep us in mind through future applications to support research on 2SLGBTQIA+ and other populations who currently experience inequities and deserve structural health system changes in order for us to provide optimal, equitable care.

Equity, Diversity and Inclusion in Patient Engagement
Do not miss Drs Fingrut and Leeies at the CDTRP Patient, Family and Donor Research Forum on Wednesday, June 22, 2022 during the Equity, Diversity and Inclusion in Patient Engagement block from 11 am to 1 pm EDT.