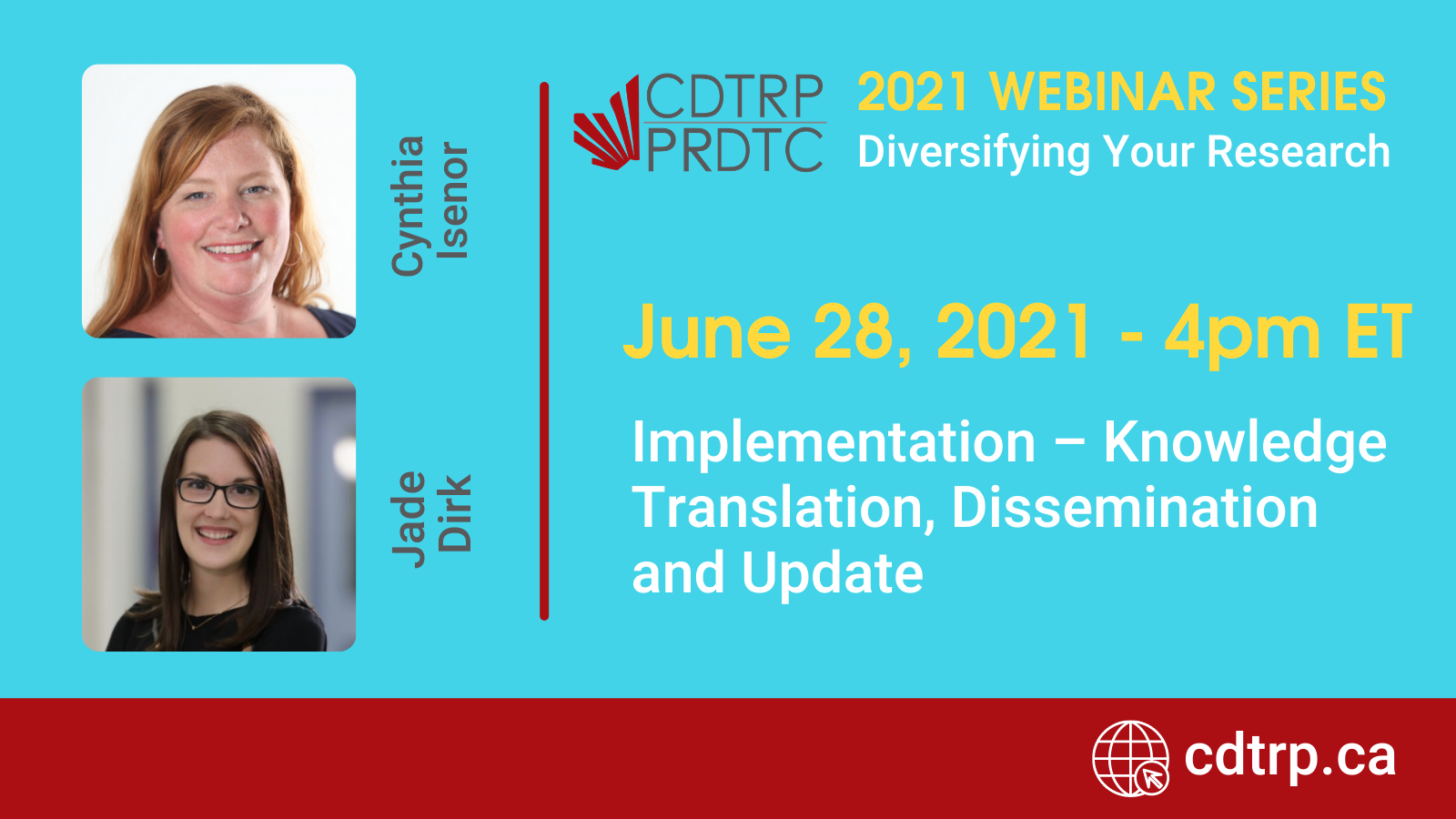 Next CDTRP Webinar: Implementation – Knowledge Translation, Dissemination and Update
Join us on Monday, June 28 at 4 pm EST for the next webinar by Cynthia Isenor and Jade Dirk, "Implementation: Knowledge Translation, Dissemination and Uptake."
About Cynthia Isenor
Cynthia Isenor is the Health Services Director for Critical Care Services and Legacy of Life at Nova Scotia Health. Prior to moving home, Cynthia worked in Ontario as a registered nurse, beginning her critical care career in Kingston General Hospital and moving on to St. Michael's Hospital. Since 2005, she has developed her career in deceased donation and was an integral member on a number of different pivotal projects within Ontario's Trillium Gift of Life Network. Currently, Cynthia provides strategic oversight and acts as the operations leader for the tertiary/quaternary group of critical care units in the Halifax Region and the provincial organ donation program.
About Jade Dirk
Jade Dirk is a Project Manager with the Nova Scotia Health Research & Innovation and is currently managing the Legislative Evaluation: Assessment of Deceased Donation Reform (LEADDR) Program to evaluate the implementation of the Nova Scotia Health System Transformation in deceased donation. Before moving to Nova Scotia in 2018, she was at ICES Kidney, Dialysis, and Transplantation Research Program. In that role, Jade was an integral member in securing over $12 million in funding for various medical research projects and initiatives and coordinated over 30 projects resulting in 18 publications.
Click here to learn more on the CDTRP Webinar Series, "Diversifying Your Research".
Click here to access past CDTRP webinar recordings.