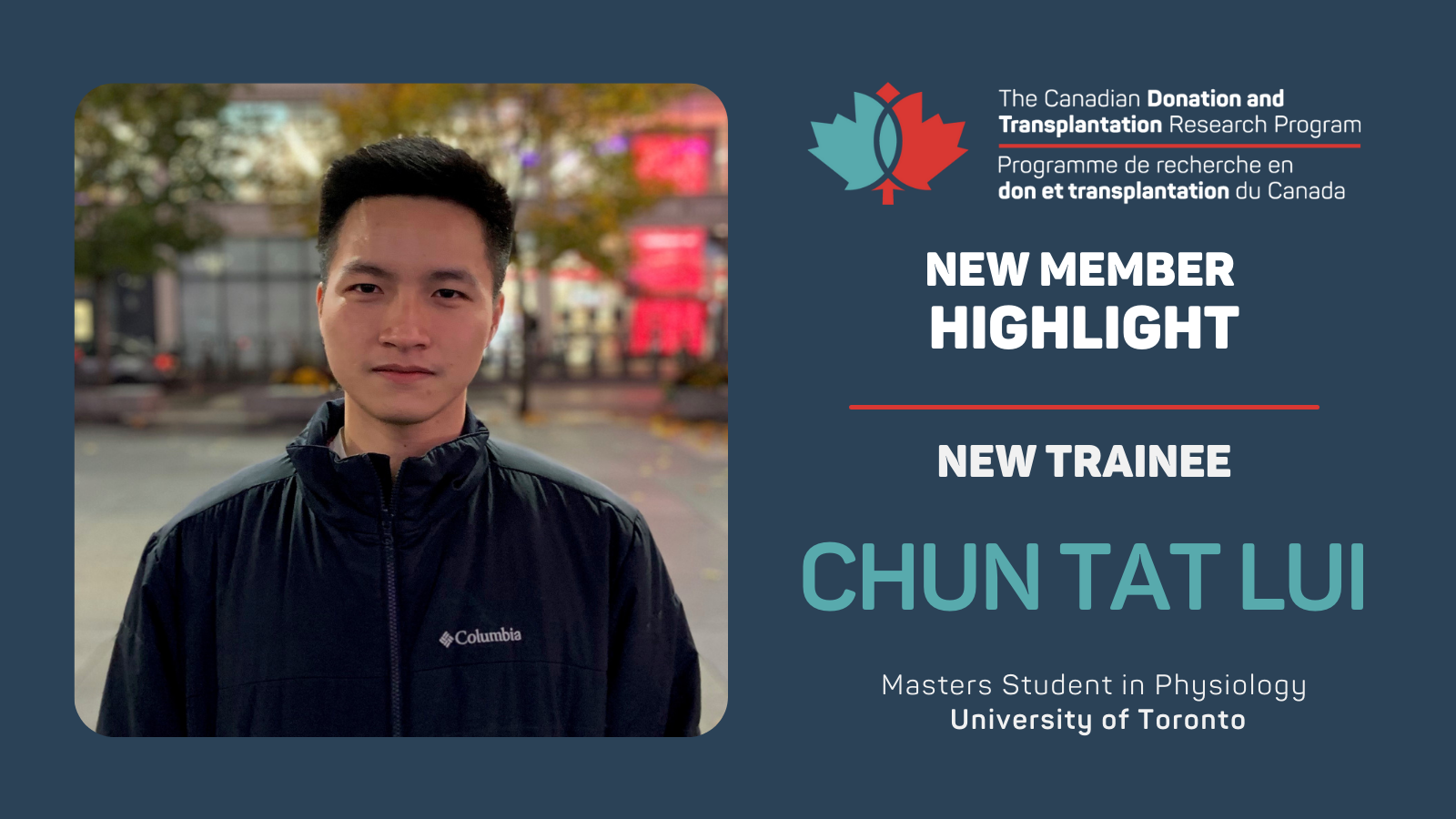 New Trainee Profile: Chun Tat Lui – Masters Student in Physiology at University of Toronto
We are happy to welcome to the Canadian Donation and Transplantation Research Program (CDTRP) new members of diverse areas to join our community of researchers, clinicians, patient/family/donor partners and trainees who are dedicated to improving the lives of organ donors and recipients. As a new member, people are an essential part of our mission to advance the science of donation and transplantation and develop innovative, evidence-based approaches to improve outcomes for patients in Canada and around the world.
We are thrilled to have Chun Tat Lui joining CDTRP Education and Career Development Platform, as a new trainee.Chun Tat is a Masters student in Physiology, under the supervision of Dr. Ian Rogers at University of Toronto.
We have asked Chun Tat a few questions that you can read below.
What are your fields of expertise and interests in research?
Currently, I am studying for my master's degree in Dr. Rogers' lab after completing my undergraduate studies at the University of Toronto. I am a curious person with a keen interest in stem cell regeneration, decellularization and recellularization, and ex-vivo perfusion. At present, I am working on an exciting project that involves culturing a native pig kidney using an ex-vivo perfusion system. Through focused experimentation and rigorous analysis of results, I aim to contribute to the development of new and innovative technologies in the field of organ regeneration.
What new areas of interest would you like to develop or with which different disciplines or specialist(s) would you like to collaborate within the CDTRP?
Organ Preservation
Regenerative Medicine
Tissue Engineering
Ischemia-Reperfusion Injury
Biomimetic Models
Recellularization
About the Education and Career Development Platform
The Education and Career Development Platform provides continuing education opportunities, training, and resources to meet the diverse education and career development needs of our trainee community. The Platform focuses on providing trainees with a broad overview of knowledge and issues related to the practice of donating and transplantation, while providing them with tools on how to be better communicators, managers, scholars, and professionals. Trainees are provided with the opportunity to join national and international CDTRP initiatives, network with each other and experts in numerous disciplines, and present their work to a national audience.