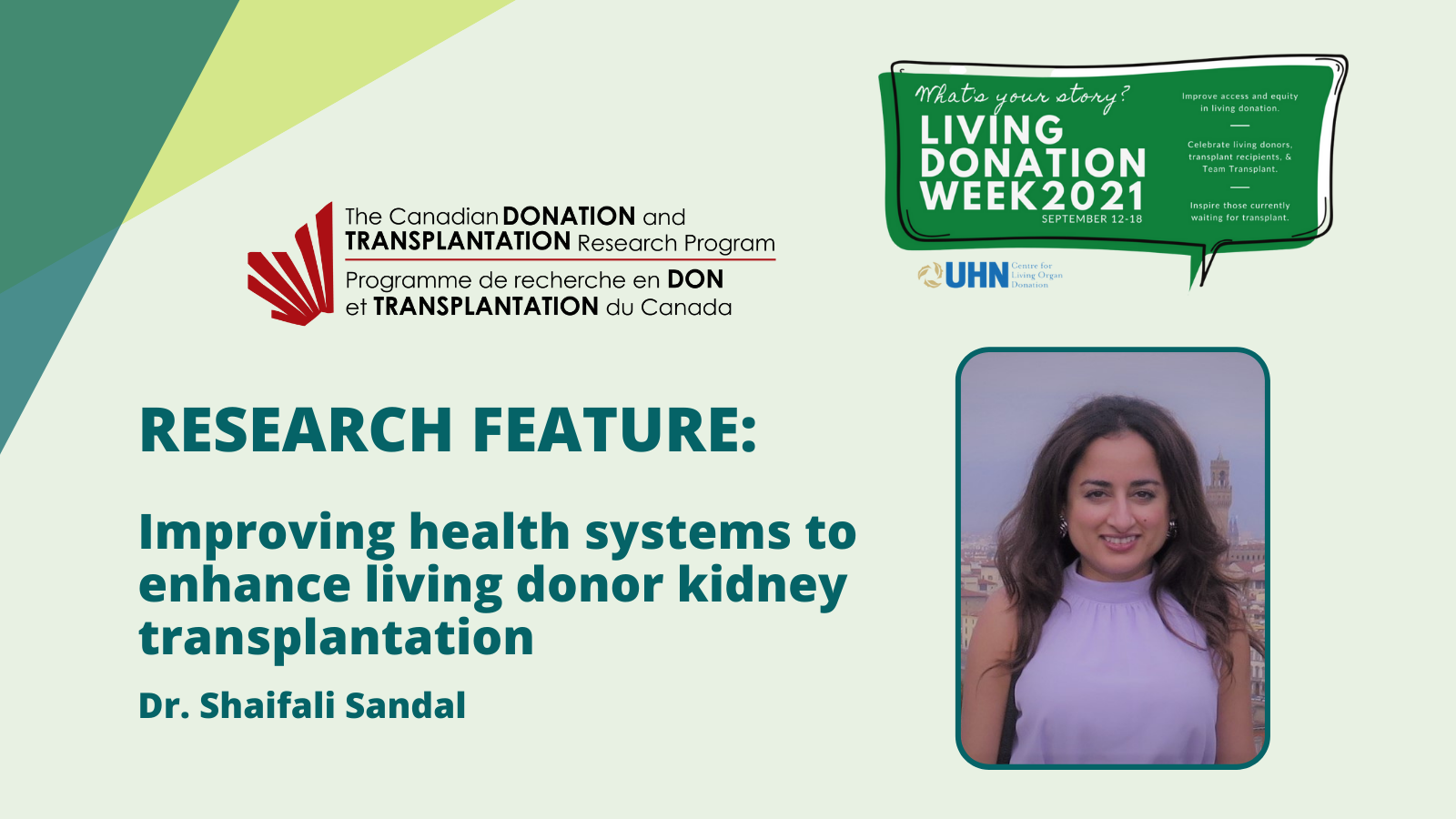 Research Feature: Improving health systems to enhance living donor kidney transplantation
Did you know?
Living organ donation offers a shorter wait for transplant. The wait time for a living donor kidney transplant is about 1 year while those waiting for a deceased donor transplant wait 4 years or more depending on blood type and other factors. (Source)
Dr. Shaifali Sandal is a transplant nephrologist and assistant professor whose research program at McGill University and the Research Institute of the McGill University Health Centre focuses on living kidney donation.
Shaifali and team recently published a systematic review and meta-analysis entitled "Efficacy of Educational Interventions in Improving Measures of Living-donor Kidney Transplantation Activity" This work synthesizes the knowledge gained over the last two decades about how effective educational tools likebrochures, videos, website, teaching sessions, and apps are at increasing successful living-donor kidney transplants. The team found that educational tools specific to living donation can more than double living-donor kidney transplant rates.
We caught up with Shaifali for her perspectives on research priorities in the field.
From your point of view, what are the key outstanding research questions in living donation?
While there is a lot of work being conducted with respect to donor health and long-term outcomes, providing equitable access to all patients with kidney failure is the key outstanding research question. While disparities in access to living donor kidney transplantation is well recognized, not much has been done to address these disparities.

Most of the current efforts to increase living donor kidney transplantation entail identifying and addressing patient-level barriers. Ethicists have argued that this has created an inequitable two-tier system, favoring those patients who have the socioeconomic means to learn the process and find donors. This has been systematically shown by our colleagues from Australia, where a socioeconomically advantaged quartile of patients was 34% more likely to receive living donor kidney transplantation when compared with the most disadvantaged quartile. Thus, there is a need to revisit these strategies as they are amplifying – perhaps causing – disparities in access to living donor kidney transplantation.
How is your research program addressing these questions?
My group and I are conducting a comparative case analysis of different provinces of Canada. This entails a systematic comparison of health systems that govern living donor kidney transplantation. We started with a case study of British Columbia, which is recognized to be the best performing province in Canada with respect to living donor kidney transplantation. Using qualitative methods, we analyzed what processes and attributes facilitate living donor kidney transplantation and what creates barriers. We are in the process of conducting similar case studies in Ontario and Quebec, and identifying health system barriers and facilitators.

The novelty of our approach is that we are proposing a paradigm shift towards understanding health systems – moving away from current models where individual levels (patients, providers, organizations) operate in silos to one where a health system is made up of dynamic, nested, and interconnected levels, with the patient at its core. This framework was adapted from the one suggested by the Institute of Medicine (US) and influenced by approaches used by the Centers for Population Health and Health Disparities (US) when employing multilevel interventions to address disparities in cardiovascular disease or cancer.
Interested in the latest work from Dr. Sandal's group on this topic?
We believe that there is a need for a comprehensive health system approach to understanding the organization and delivery of living donor kidney transplantation and to identify barriers that exist at all levels of a health system, not just at the level of the patient. For example, many health professionals have identified barriers to discussing living donor kidney transplantation with their patients. Thus, our approach will help design more comprehensive and tailored strategies to increase and improve access to living donor kidney transplantation using multi-level interventions. We believe this will help inform organizational frameworks and policies and is the first step towards equitably delivering living donor kidney transplantation to all our patients.
The CDTRP is proud to be supporting Dr. Sandal's work through a 2018 Research Innovation Grant, funded in partnership with Astellas Pharma Canada.
You can find Shaifali on Twitter @ShaifaliSandal and as a part of CDTRP Research Theme 1: Create a culture of donation.