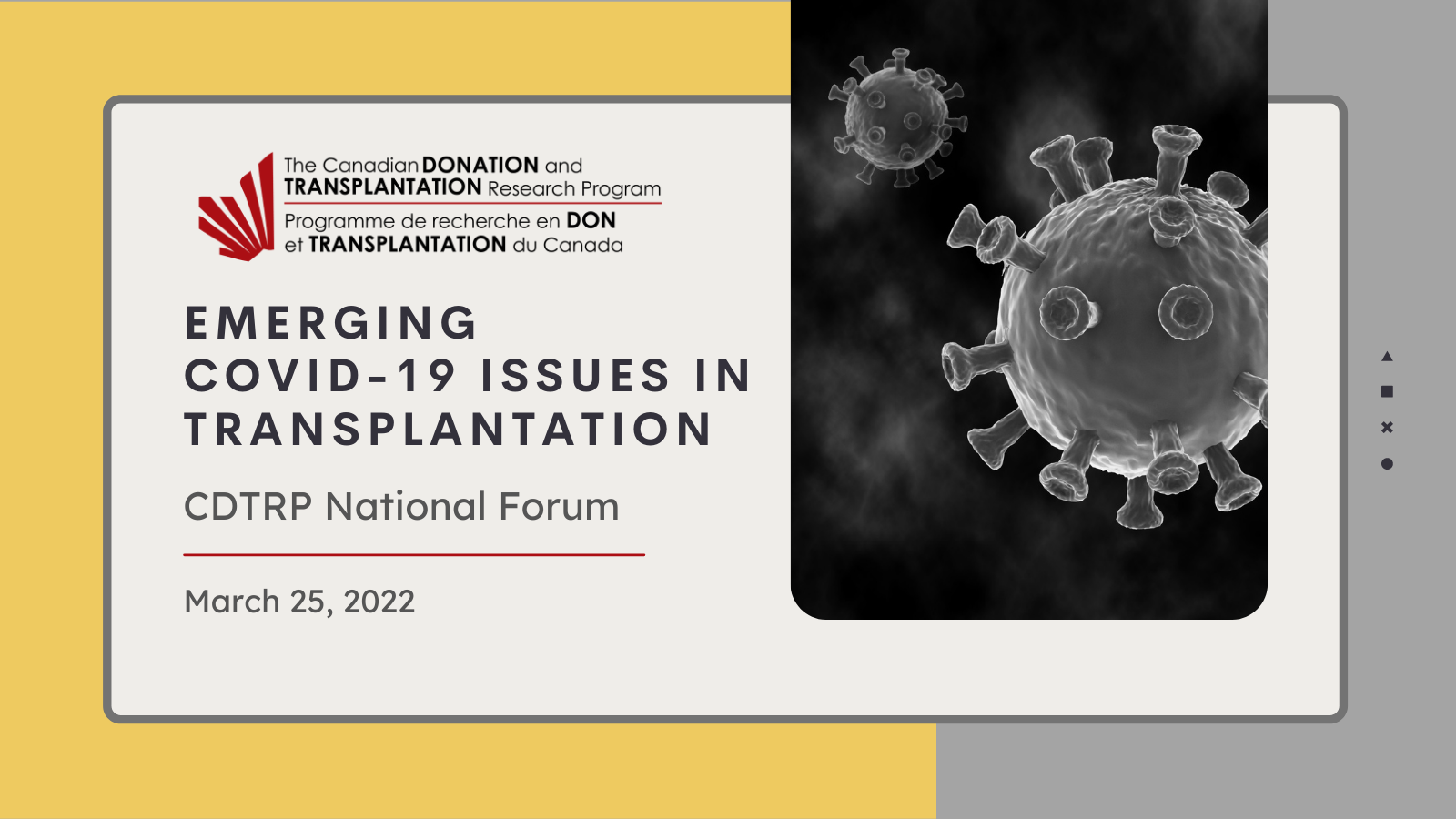 Report on CDTRP National Forum: Emerging COVID-19 Issues in Transplantation
On March 25, 2022, the CDTRP organized and hosted a National Forum: Emerging COVID-19 Issues in Transplantation. The objective of this Forum was to develop an agreement on a national research agenda to address the issues of immunocompromised patients who are at an increased risk of contracting severe COVID-19 disease. We were pleased that over 30 participants attended the Forum who were expert clinicians, scientists, stakeholders, patients, and families. The Forum's report can be downloaded below.
This Forum highlighted significant mental health issues that the transplant community is experiencing. The CDTRP Mental Health and Wellness Hub is currently developing a research proposal to address these issues. We are looking forward to keeping our community informed.
To access reports from other CDTRP national initiatives around COVID-19, visit our website.
PRospective Evaluation of COVID-19 Vaccine in Transplant Recipients (PREVenT-COVID): A National Strategy
With the lead investigator, Dr. Deepali Kumar at the Ajmera Transplant Center, a part of the University Health Network (UHN) in Toronto, and the help of the CDTRP infrastructure and numerous investigators from Ontario, Québec, British Columbia, and Alberta, the PREVenT-COVID study aims to examine the immunogenicity and safety of COVID-19 vaccines in both solid organ and hematopoietic stem cell transplants.
With the collaborative efforts of CDTRP, this study brings together both adult and pediatric solid organ and hematopoietic stem cell transplant recipients from across the nation.