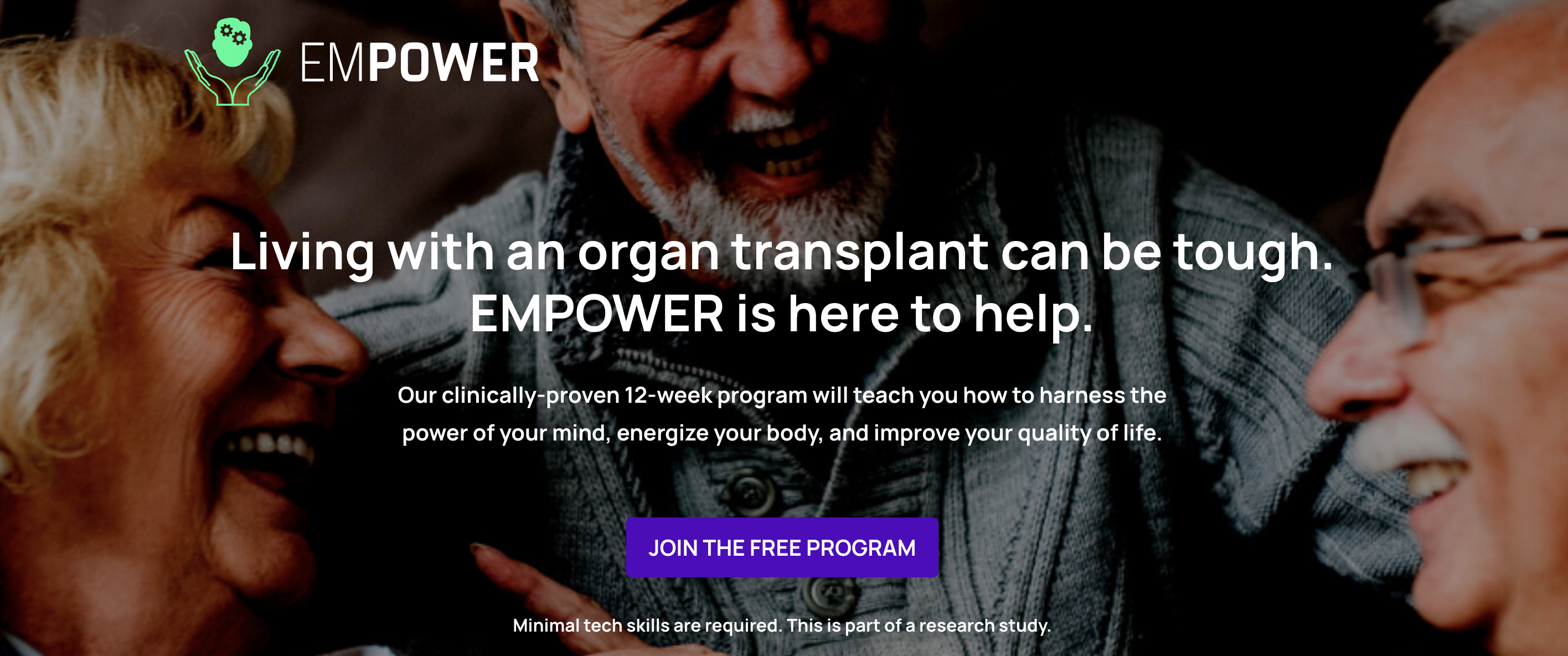 CDTRP Project Highlight – The EMPOwer Program: A 12-week online wellness program for people 50+ who have received an organ transplant
More than 2,000 Canadians receive an organ transplant each year. Life after transplant can be challenging for physical, emotional, and mental health. Symptoms of anxiety, stress, and depression can be high, and support may be limited.
With this in mind, a team of researchers led by Dr. Puneeta Tandon, a hepatologist at the University of Alberta, developed an online program focused on movement, relaxation, and stress reduction. This important initiative is supported by the Government of Canada through CIHR in partnership with CDTRP. This program has been tested in other chronic conditions, including autoimmune liver disease and inflammatory bowel disease.
Each of the 12 weeks of the program contains two core components with science-based practices:
Energize

Weekly guided movement routines with breathwork and meditation integrated throughout

Four different types of movement: Low Intensity Chair exercise, Chair exercise, Standing Yoga, Advanced Yoga, or Tai Chi

Life Skills

A Weekly 'Tip from your care team': A short video by clinical experts in organ transplantation, nutrition or psychology

Coping Skills Program – Weekly Psychology Tips

Core concepts include Pacing, Sleep, finding out your Values & Goal Setting!
Two participants of the EMPOwer program recently shared how it positively impacted not only their physical health, but also their mental well-being. Through the program, participants learned healthy habits and received support to manage their mental health. The impact was significant, and the participants credit the program with empowering them to make positive changes in their lives. Read their testimonials below.
"In March, 2014, I had an emergency liver transplant. Weeks before being admitted to the U of A Hospital, I was an energetic full-time school teacher, a basketball coach, a skilled martial artist and an avid mountain biker. After being discharged from the hospital post transplant, I was lost!!!! Re-emerging back into society, fearing getting sick, fearing organ rejection, lacking physical strength and suffering mentally, took a huge toll on my physical and mental health. I could no longer do things that I once enjoyed and I, subsequently, lost my purpose and identity. Then, along came the EMPOwer Program, a program that literally changed my life and was the missing piece I had been longing for. The movements were modified to meet my unique physical needs. I felt empowered, strengthened and balanced after completing the program. My friends and family commented that I looked stronger and more confident. The program would significantly benefit all new and experienced post-transplant patients."
"The EMPOwer Program was birthed years after my transplant; however, the meditation and yoga skills learned are what I craved and sought to support my mental health and build resilience in my daily coping skills. Video tips and strategies presented by experts in their field reminds us and highlights the importance in daily living. As my sleep and coping tolerance increased, my irritability melted away."
Join the 12-Week EMPOwer Program Now!
The clinically-proven program focuses on movement, breathwork, mindfulness, and psychology tips to help you live your best life. You will also receive weekly educational tips from expert clinicians, and have the opportunity to join an online community of others who have received an organ transplant. The group is currently recruiting adults 50+ to participate in their research study, and they ask for a minimum time commitment of 90-120 minutes spread across each week.
Join today and see the difference EMPOwer can make in your life!
About Dr. Puneeta Tandon
Dr. Puneeta Tandon (MD, FRCP(C), MSc(Epi)) is a Gastroenterologist, Transplant Hepatologist and Faculty member at the University of Alberta since 2007. She is founder and co-director of the Cirrhosis Care Clinic and is currently appointed as a Professor in the Division of Gastroenterology, Department of Medicine at the University of Alberta.
Dr. Tandon is an active researcher who is driven by the desire to empower people with chronic conditions with practical tools for improving knowledge, physical and mental well-being. At both the national and international levels, she is frequently invited to speak about areas including cirrhosis, nutrition, exercise, mental health and chronic disease symptom management.