Patient, Family and Donor Research Forum Feature – Donna Hart
As part of our Patient, Family and Donor Research Forum October 15-16, the CDTRP is delighted to have Donna Hart as a panelist in the session "Research 101: Transplant Recipient Focus". Donna is a heart transplant recipient, a CDTRP patient partner, and a passionate advocate for an active lifestyle after transplantation. She is a member of CDTRP Theme 5 and the Canadian Donation and Transplantation Exercise Hub, a working group for targeted discussion of exercise, prehabilitation, rehabilitation and sarcopenia and how they relate to the transplant patient. The Hub works to focus project support, allow for collaborative grant development, and advance and elaborate new initiatives.
We caught up with Donna recently to hear about her latest adventures and her thoughts on the upcoming Forum.
Tell us about your latest adventure!
"I love adventure, finding people to come with me on my hiking adventures can be tricky.    
This past weekend a friend and I hiked 35.5 km over two days on the Blue Mountain section of the Bruce Trail. 16+ km, day one and 19+ km, day 2. We stayed overnight in Creemore, Ontario so that we could be close to the trail. The weather was near perfect, sunny, warm and a bit windy. The leaves were starting to turn colour making the vistas beautiful. The 'thing' about the Bruce Trail is that if you go down a hill you can pretty much guarantee that you will be going up another one soon enough. The elevation gain was 409 m, day 1 and 404 m, day 2. I like to hike as the earth curves, but day 2, I questioned whether we were actually going mostly downhill.    
Hiking the Bruce trail was something that I did prior to getting heart disease and my subsequent heart transplant. At that time, I would usually hike 20+ km a day. I hiked 30 km one day but found that a little too long. Getting back into shape and conquering 19 km with something still left in the tank was very encouraging for me. It is quite possible that I still have it in me to go back to 20+ km a day. 😊  
Usually in September my husband and I go on a cycling vacation. This year we did day trips. We cycle with a bunch of friends from our cycling club. They are all faster than me but are content to go my speed; on the flats I can certainly do my part and keep up with them. This year we cycled the Cambridge to Paris rail trail (50 km) G2G trail from Monkton to Guelph over two days (105 km). We cycled around Niagara–on–the–Lake (50 km) and we cycled from St. Catharines to Burlington (63 km) with consistent 30 km winds in our face. That was the toughest ride of the season.   
I had a canoe trip planned to canoe from Whitehorse to Dawson City in the Yukon but that trip was one of the many casualties of COVID19.  " 
Why do you think exercise is important for a transplant recipient?
"Exercise is important to me.  It is a way to decompress and reset. This year there was nothing to train for – I really enjoyed riding just for the sheer fun of getting together with friends who share a common goal.   
The benefits of adding fitness into your life for all of us is well documented. After my transplant I was very weak. Walking a kilometer was a major undertaking that required careful planning with a pre and post rest. At home, I started walking 3 house lengths and back. Then I got so I could go around my street. I remember the first time I walked 1.9 km. I wasn't confident that I could go that far but I made it home. I was nervous to break into the 2 km range, so I started by just walking the two streets around where I live. Walking was the hardest activity to get back into. Cycling was easier because you sit on a bike and you can glide. I swim as well and likewise with swimming, you glide, plus each length offered an opportunity to rest.    
As a transplant patient, I am on prednisone. One of the side effects I can have is trouble both getting to sleep and staying asleep. Even a bit of exercise (20-minute brisk walk) each day helps mitigate the side effects. Another side effect of prednisone is weight gain. Cycling really helps maintain my weight where I would like it to be and feed the desire to eat that one has while on prednisone. When I first started with my recovery, it felt like the heart was saying "What are we doing!!" and "Are we doing this again!!". I could feel the resistance. My heart is stronger now, but still never knows what is going on. "Should I be beating fast or resting?", "What are we doing now and for how long?" are the questions I feel it now asks me. 
Most winters I swim with a club and since my transplant, I take ski lessons. It is hard to predict with COVID how any of that will play out right now.   
As a transplant patient I was gifted with a second chance at life. I don't want to waste opportunities. I don't want to look back and think, oh I should have… I want to be in the best shape possible to live as normal and healthy a life as I can.    
More than once I have set off on an adventure wondering if I had overestimated my abilities; my experience is that if I can dream it, I can probably do it.  " 
Are you excited to participate in the upcoming Patient Family and Donor Research Forum?
"I am excited about the upcoming Patient Family and Donor Research Forum! I hope I can encourage people to see their life as one of opportunities and not limitations.  "
You can find Donna on Twitter (@recycleyourself), Instagram (@donnaeleanoe), Facebook and Strava (Donna Hart).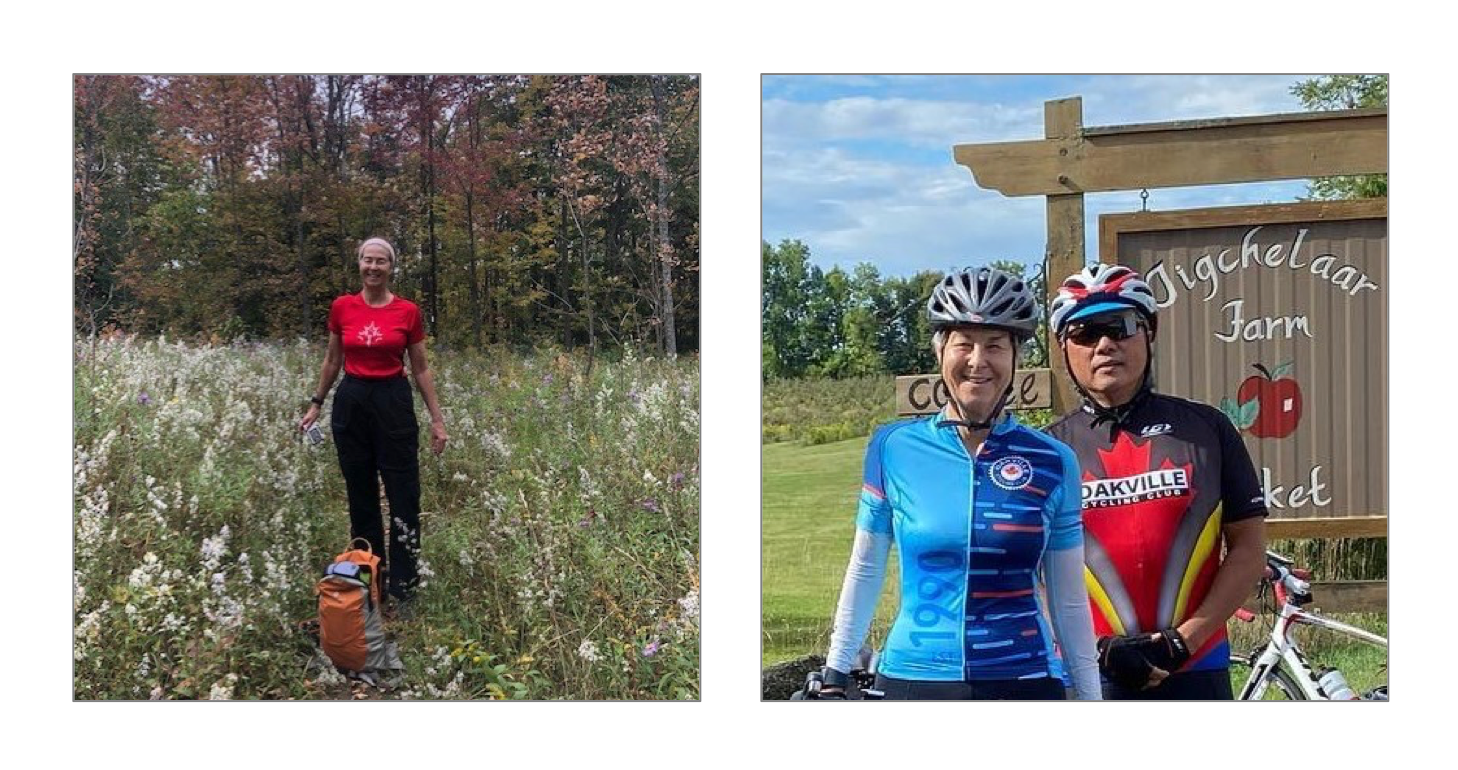 CDTRP Patient, Family and Donor Research Forum – October 15-16, 2020
The CDTRP is happy to invite all patients, family members and living donors interested in donation and transplantation research to attend this two-day event. The event will be separated in four blocks:
Family-caregivers;
Transplant recipients;
Living donors;
Future avenues for research.
#PFDRF
Supporters
The CDTRP would like to thank the Support of the following organizations (in alphabetical order):