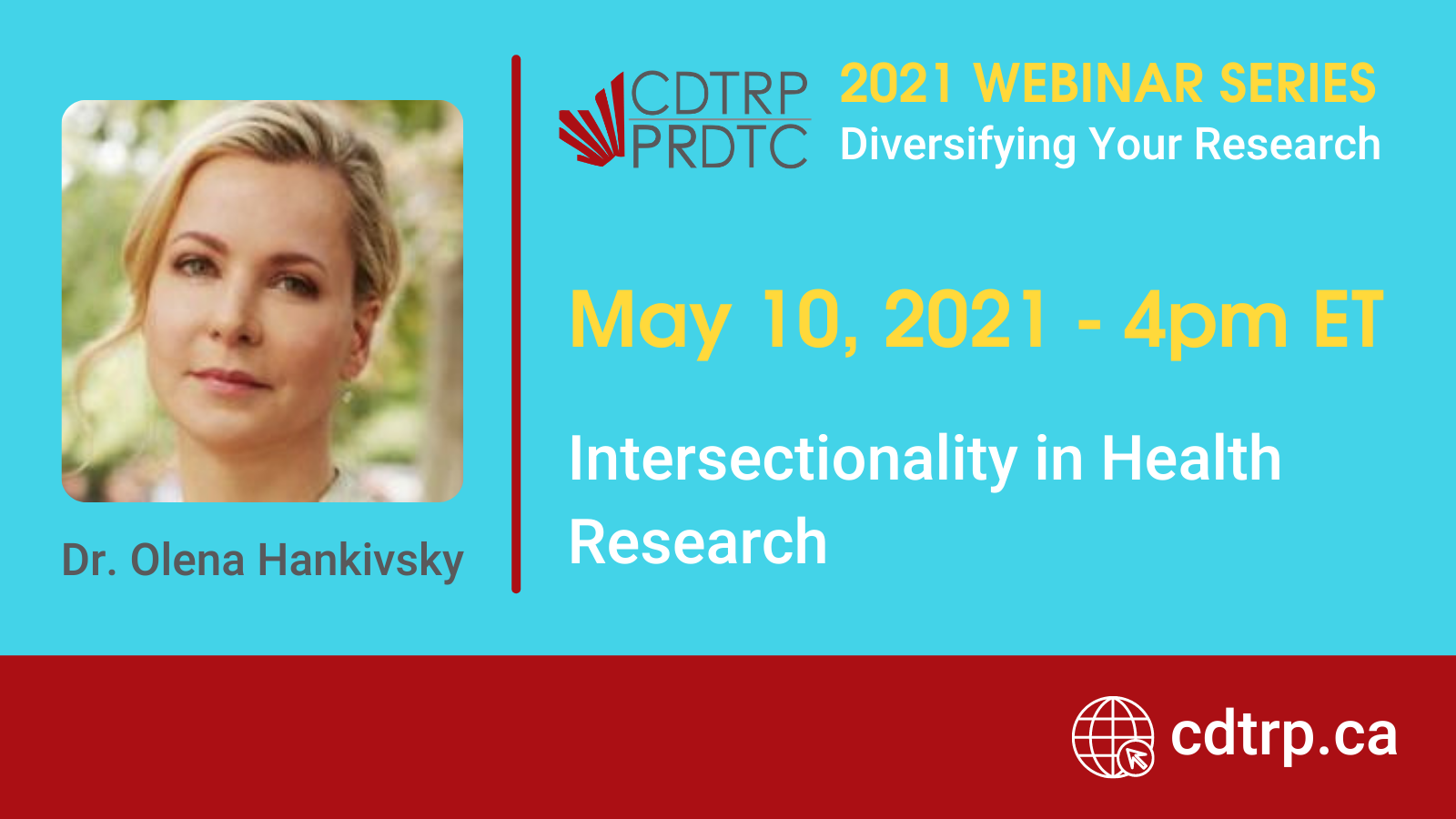 Next CDTRP Webinar: Intersectionality in Health Research
Join us on May 10 at 4 pm EST for the next webinar by Dr. Olena Hankivsky, "Intersectionality in Health Research."
About Dr. Olena Hankivsky
Dr. Olena Hankivsky (Professor) B.A. (Toronto), M.A. PhD (Western Ontario) specializes in public policy and political theory and has a particular interest in gender, intersectionality, and social and health policy. She is a Canadian Institutes of Health Research Gender and Health Research Chair and a Michael Smith Foundation for Health Research Senior Scholar.
Dr. Hankivsky is the editor of Health Inequities in Canada: Intersectional Frameworks and Practices (2011, UBC Press), and co-editor of Women's Health in Canada: Critical Perspectives on Theory and Policy (2007, University of Toronto Press) and Gender, Politics and the State in Ukraine (University of Toronto Press). She is also the author of Social Policy and the Ethic of Care (2004, University of British Columbia Press) and co-author of The Dome of Silence: Sexual Harassment and Abuse in Sport (2000, Fernwood & Zed Publications). Her research has been published in journals such as Journal of Health and Social Policy, Critical Social Policy, International Journal of Health Services, Canadian Public Policy, International Journal for Equity and Health, and Social Science and Medicine (for which she is co-editor of a Special Issue on Gender and Health, forthcoming 2021).
Click here to learn more on the CDTRP Webinar Series, "Diversifying Your Research".
The webinar planned on May 3 with Cynthia Isenor and Jade Dirk has been postponed.