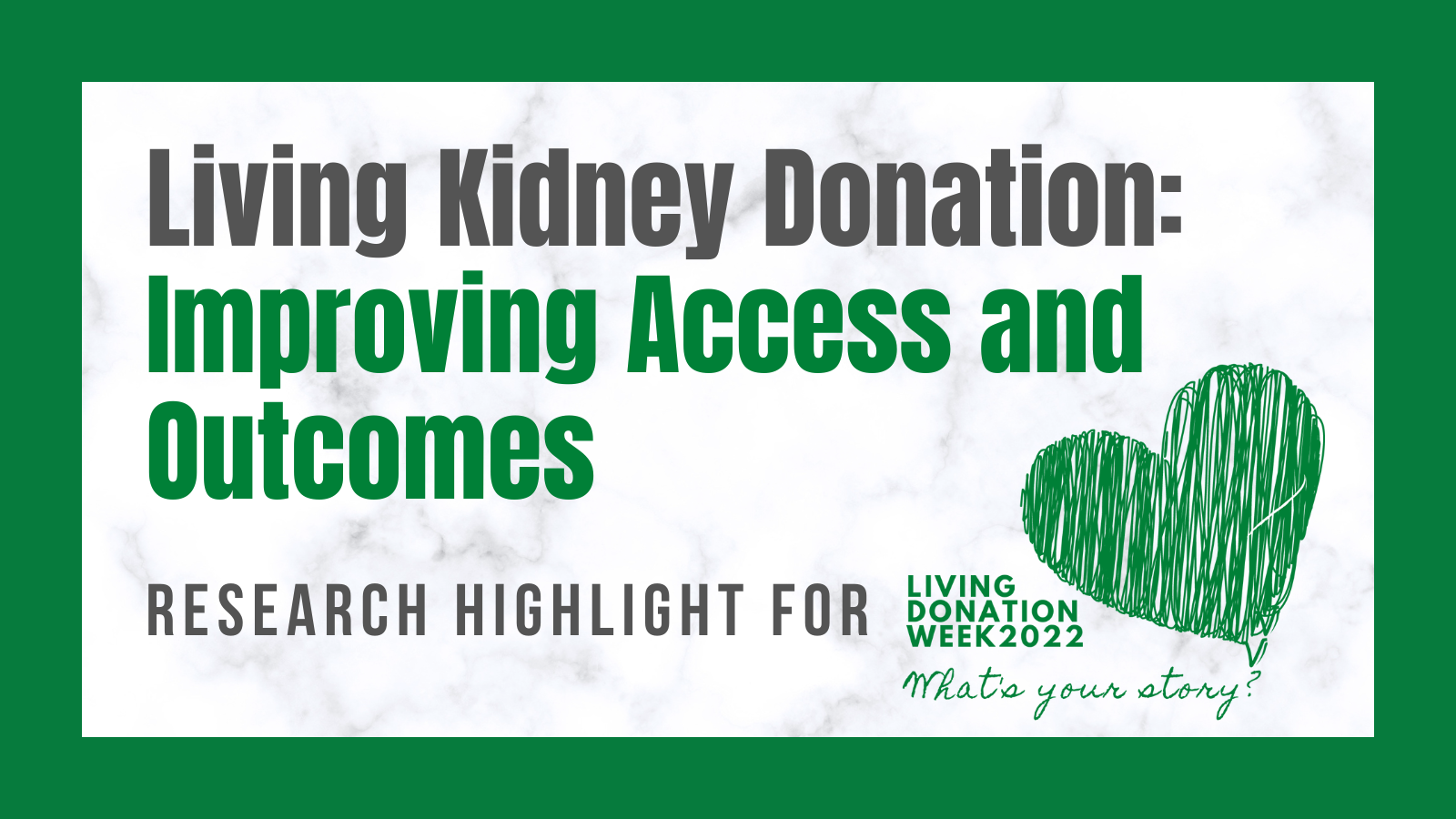 Research Highlight – Living Kidney Donation: Improving Access and Outcomes
As part of Living Donation Week, CDTRP is pleased to highlight a group of researchers dedicated to living kidney donation research. This group is comprised of Dr. Amit Garg, Dr. Kyla Naylor, Susan McKenzie and Dr. Seychelle Yohanna.
This research team has been working together for several years to improve access to kidney transplant. Dr. Amit Garg is a clinician-scientist working as a nephrologist at London Health Sciences centre and a professor of medicine at Western University in London, Ontario. Dr. Kyla Naylor is an epidemiologist who is an adjunct research professor at Western University and a staff scientist at ICES. Susan McKenzie is a recipient of a kidney from a living donor, patient partner, and she co-founded the Transplant Ambassador Program which connects patients with kidney disease to individuals who've undergone transplants to provide guidance and support. Dr. Seychelle Yohanna is a nephrologist at St. Joseph's Healthcare Hamilton and an assistant professor of medicine at McMaster University in Hamilton, Ontario.
The group is focused on improving access and outcomes of living kidney donation. There are three main research themes the group has been working on:
Improving the efficiency of the living kidney donor evaluation, including testing solutions to improve the efficiency and satisfaction of the donor evaluation process.

Increasing access to kidney transplantation, including living kidney donation through an Ontario-wide quality improvement intervention. The quality improvement intervention is now active at all Regional Renal Programs in the Province.

Understanding the long-term health of living kidney donors. They completed a series of projects several years ago examining health outcomes of living kidney donors, comparing living kidney donors to non-donors of comparable health. They are now repeating these projects with a longer follow-up period, allowing them to better understand donor health. Some outcomes of interest, include fracture, cardiovascular disease, pregnancy, and kidney function.
For many patients with kidney failure, kidney transplantation is the best treatment option. Transplantation offers patients a longer life with improved quality, at a lower cost than dialysis. Unfortunately, there are too few deceased donors to meet the demand with many patients who would benefit from a kidney transplant not receiving one. The alternative is receiving kidney from a living donor, which offers many advantages including superior graft and patient survival. However, the rate of living kidney donation in Canada has stagnated for several years and is lower than several other Western nations. The group hopes that their research will ultimately result in more patients with kidney failure receiving a kidney from a living donor.

Publications
This prolific group of researchers has published several articles about living kidney donation and transplantation in the last couple years. See the complete list below and check out the articles.
Efficiency of the living kidney donor evaluation
Improving access to kidney transplant
A Quality Improvement Intervention to Enhance Access to Kidney Transplantation and Living Kidney Donation (EnAKT LKD) in Patients With Chronic Kidney Disease: Clinical Research Protocol of a Cluster-Randomized Clinical Trial – LINK
Partnering with Patients to Enhance Access to Kidney Transplantation and Living Kidney Donation – LINK
Protocol for a Process Evaluation of the Quality Improvement Intervention to Enhance Access to Kidney Transplantation and Living Kidney Donation (EnAKT LKD) Cluster-Randomized Clinical Trial – LINK
Health outcomes of living kidney donation