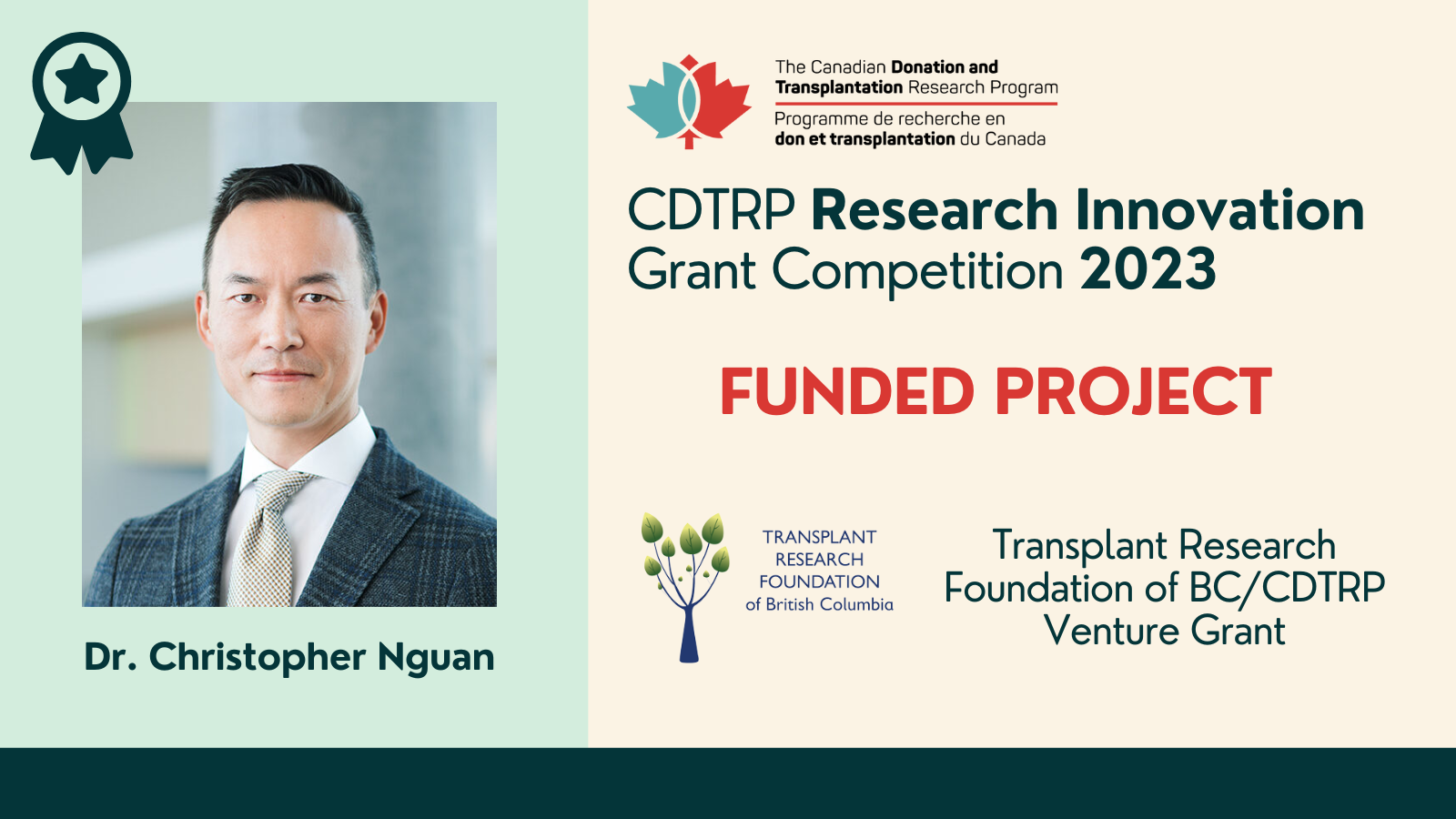 CDTRP 2023 Research Innovation Grant Competition Results
CDTRP is thrilled to announce the results of the CDTRP 2023 Research Innovation Grant Competition, made possible through our partnership with various esteemed organizations. We are proud to showcase all of the exciting projects that have been funded in this year's competition.
We would like to extend our warmest congratulations to Dr. Christopher Nguan and his team for being awarded the Transplant Research Foundation of BC/CDTRP Venture Grant. We wish them all the best as they embark on their innovative project!
"The Transplant Research Foundation of BC is thrilled to support such a wide depth and breadth of research that will lead to important new discoveries to truly transform organ donation and transplantation in British Columbia and Canada."

– Elaine Yong, TRFBC Co-Chair
Transplant Research Foundation of BC/CDTRP Venture Grant: Dr. Christopher Nguan
Machine learning enabled optimization of perioperative hemodynamics in renal transplantation
Main affiliation: University of British Columbia
Theme 3 – Engineer and Allocate Better Grafts
Lay abstract
Kidney transplant is the best treatment for people with kidney failure, but there are never enough organs for transplant for everyone who needs them. Making kidney transplants last as long as possible is a goal we are interested in. In order to get a kidney transplant though, the patient needs to have major surgery, and our research is geared towards making an artificial intelligence for the operating room that can take all the data from the kidney donor, the kidney itself and the kidney recipient and make the best plan for how to optimize the many drugs and IV fluids used in the OR and afterwards to make the kidney work right away. Our AI will be able to make personalized plans for each patient having an operation, no matter how sick they are, or what quality of donor kidney they receive. Before our research, these types of calculations could not be done because there are too many factors to keep track of, but with artificial intelligence, the computer can be trained to help doctors improve kidney transplant survival for the long term.