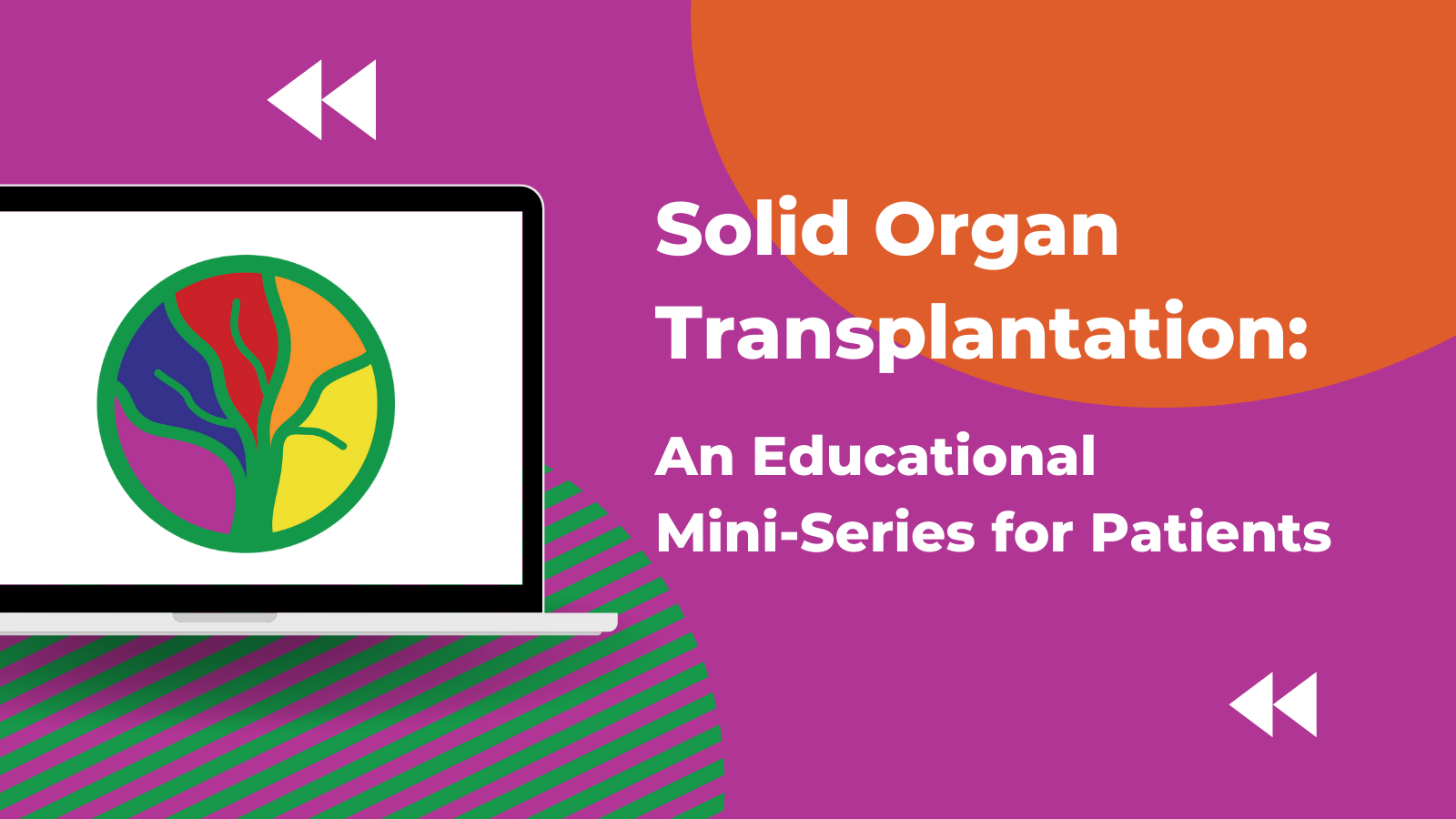 Solid Organ Transplantation: An Educational Mini-Series for Patients
Kidney transplantation can be overwhelming. Patients and caregivers must learn new information and navigate the healthcare system. Patients must undergo a series of tests and appointments to be deemed suitable for transplant. The journey does not end after the transplant. Transplant recipients must take immunosuppressive medications and commit to new lifestyle changes.
Dr. Holly Mansell, Nicola Rosaasen and team created a six-part video series to help patients and caregivers learn about kidney transplant. Health care providers share their knowledge, and people living with kidney disease share their experiences. It is their hope that these videos will help patients to learn what they can do to have a successful transplant. You can watch the videos below or here. They are accessible with English, French and Cree subtitles.
Copyright © University of Saskatchewan, 2017. All rights reserved.
These videos are intended only for use by patients, caregivers, family members, and transplant care providers. Unauthorized use or modification to any of the images or content of any type is strictly prohibited without permission of the copyright holder.
Study 1 Results: "A Randomized Controlled Trial of a Pre-Transplant Education Intervention"
Project Co-Leads: Holly Mansell, Nicola Rosaasen
Creative Team: Rahul Mainra, Paraag Trivedi, Azaad Kukha-Bryson, Raj Padmanabh 
Study Site Leads/Facilitators: Jenny Wichart, Michele Hoffert, Kevin Wen, Anita Wong, Patty West-Thielke, Bita Biteni, Cindy Luo, Ahmed Shoker
Summary of the study
162 adult participants were enrolled in the study from Saskatoon, Regina, and Calgary
Participants were 'randomized' like flipping a coin, into one of two groups. The health care team did not know which group the participants were in.

One group received the usual education provided by their transplant center.
The other group also received a set of 6 educational videos that participants could watch at home, whenever they wanted, on the internet or a DVD. The videos were developed by health care providers and patients.

132 participants completed the study by filling out two questionnaires (one at study enrolment and the other approximately one month later). The questionnaires asked about transplant knowledge, education satisfaction, quality of life and self-efficacy (how a person's beliefs affect their actions).
Nearly 80% (50/64) of those who were provided with the videos watched them
Participants who watched the videos had more improvement in their transplant knowledge. They were also more satisfied with their transplant education.
Video development
 The content for these videos was informed by a needs assessment with patients and health care providers. This process has been documented in the following publications:
Video Evaluation
The videos were studied with patients who were awaiting a transplant and those who have received a transplant. Results of the first study are now available.
*Mansell H, Rosaasen N, West-Thielke P, Wichart J, Daley C, Mainra R, Shoker A, Liu J, Blackburn D. Randomised controlled trial of a video intervention and behaviour contract to improve medication adherence after renal transplantation: the VECTOR study protocol. BMJ Open 2019;9:e025495. doi: 10.1136/bmjopen-2018-025495 https://bmjopen.bmj.com/content/9/3/e025495
Rosaasen N, Taylor J, Mainra R, Shoker A, Blackburn D, *Mansell H. Development and Validation of the K-TUT (Kidney Transplant Understanding Tool). Transplantation Direct. 2017. DOI:10.1097/TXD.0000000000000647. 99868
*Mansell H, Rosaasen N, Wichart J, Mainra R, Shoker A, Hoffert M, Blackburn DF, Liu J, Groot B, Trivedi P, Willenborg E, Amararajan M, Wu H, Afful A. A Randomized Controlled Trial of a Pretransplant Educational Intervention in Kidney Patients. Transplant Direct. 2021 Sep 7;7(10):e753. doi: 10.1097/TXD.0000000000001202. PMID: 34514108; PMCID: PMC8425830. https://www.ncbi.nlm.nih.gov/pmc/articles/PMC8425830/