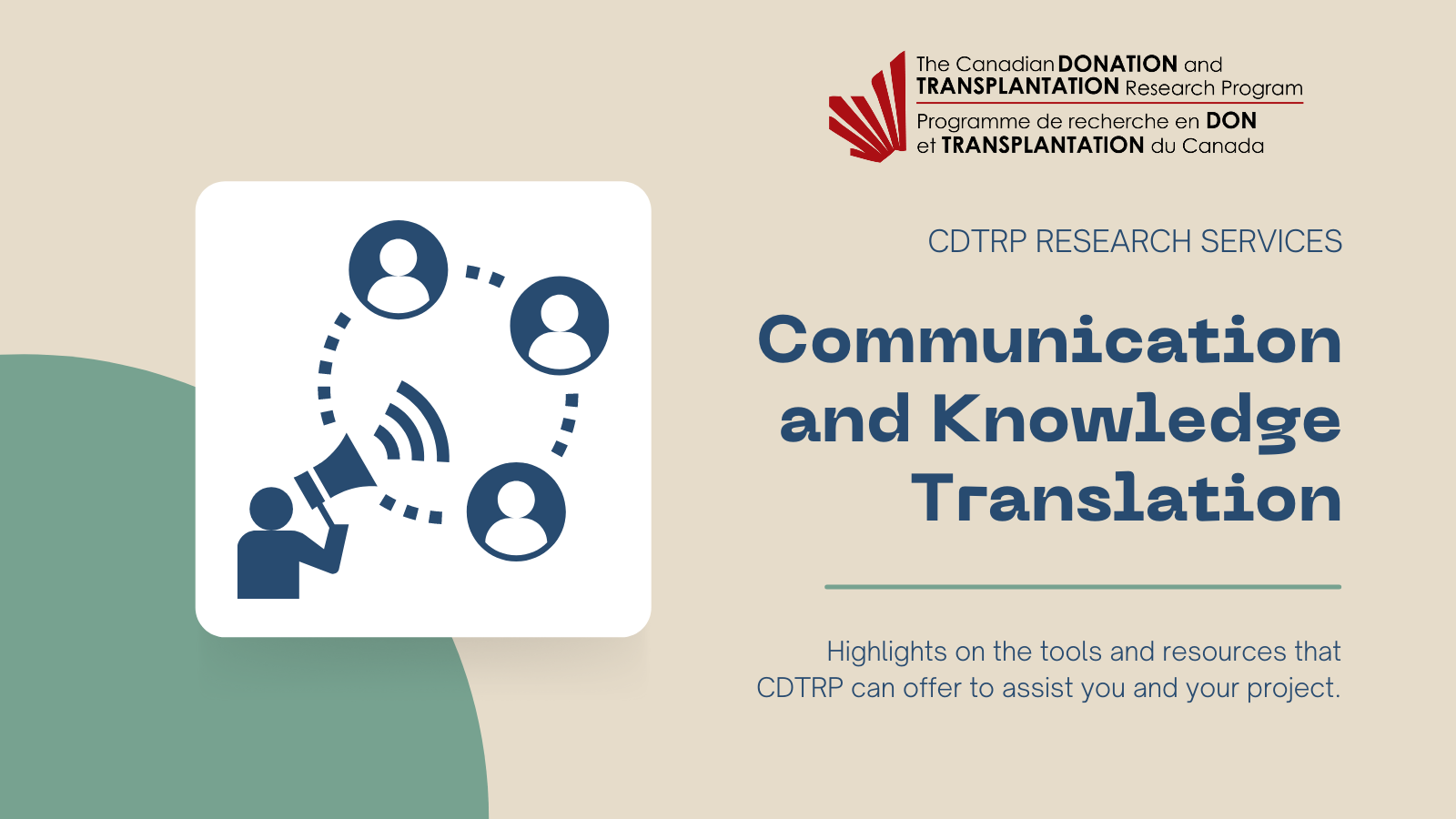 CDTRP Research Services for the community
Since 2013, the CDTRP has supported research and innovation that addresses barriers within the fields of donation and transplantation, with the goal of advancing long-term health outcomes and quality of life for Canadian transplant patients. Over the course of the next few weeks, we will highlight the tools and resources that CDTRP can offer to assist you and your project for the upcoming spring grant competitions.
Communication and Knowledge Translation Support
The CDTRP Communications Team helps teams plan, develop and disseminate their research outputs. For engagement, we can organize the development, translation (French/English) and distribution of FAST FACTS documents on your research topic. Your project's outputs can also be distributed through our various communication channels which includes social media and educational materials and resources developed for patients, families, and donors that can be posted on our Patient Portal. In 2021, 39 ongoing or proposed projects requested KT assistance.
For more information, please contact Stéphanie Larivière, CDTRP's Communications and Data Manager at slariviere@cdtrp.ca or Kristian Stephens, CDTRP's Knowledge Translation Coordinator at kstephens@cdtrp.ca.
CASE STUDY 1
Knowledge Translation support to drive research impact: Advancing public awareness and trust in the donation system
The pan-Canadian DePParT study, led by Dr. Sonny Dhanani of the CHEO Research Institute, was published in the New England Journal of Medicine (January 28, 2021), one of the most impactful peer-reviewed medical journals. Families who choose organ donation must trust that death has really happened and that it is permanent. Yet, stories persist about people "coming back to life" following a declaration of death, and there was little evidence to inform the medical understanding of dying. DePParT, the largest international deceased donation clinical study in the world, was only made possible by the CDTRP's collaborative framework and the involvement of donor family partner and paper co-author Heather Talbot. The study showed that cardiac activity often stops and re-starts several times during the dying process – and that no patient regained sustained circulation or consciousness – and that the current standard to wait five minutes after the heart stops before declaring death and proceeding to organ donation is appropriate.
"CDTRP was a foundational support for the DePPaRT study. From the development of the proposal to the knowledge translation of the publication, the organization and its connections were key to this projects success."
– Dr. Sonny Dhanani
Collaborating with the lead institution's communications officer, the CDTRP Communications Team led the preparation of a press kit, organized a media availability for Dr. Dhanani, Dr. West, and Ms. Talbot, developed a press release and pitched the story to media outlets. As a result, 22 mainstream news articles and radio featured this research, including the National Post, The Star, Reuters Health, Vice, and CBC. CDTRP's social media outreach efforts reached an audience of over 6000 within a week. Families and health care teams can trust that when death is determined, it is safe to begin the organ donation process, and through KT support, CDTRP has worked to build public awareness of the research evidence behind this clinical practice.
CASE STUDY 2
PRospective Evaluation of COVID-19 Vaccine in Transplant Recipients (PREVenT-COVID): A National Strategy to advance research and communication within the donation and transplantation community
The Canadian Donation and Transplantation Research Program (CDTRP) is coordinating a national research strategy to better understand COVID-19 vaccination issues in transplant recipients, including how effective they are and questions around transplant-specific safety. The process began with an expert panel to identify key knowledge gaps. Held on January 6, 2021, the panel included experts in solid organ and stem cell transplantation, transplant infectious diseases, immunization, public health, and patient and family partners.
On January 29, 2021, CDTRP hosted a Stakeholder Workshop with expert and community stakeholders, with the goal of seeking the input of the Canadian stakeholder community about priority topics for study and how to move the priority research ideas forward to implementation in an aligned and coordinated way. In addition to directly connecting with public health authorities and policymakers regarding research on vaccination in transplant recipients, CDTRP remains committed to ongoing dialogue with patients, families, and donors throughout the research process. On April 23, 2021, CDTRP hosted a second National Workshop, focused on communication of research with patients and families. Kristi Coldwell (heart recipient) and Nem Maksimovic (Canadian Liver Foundation) co-chaired the workshop, which included 18 patient, family, and donor partners and representatives from partner organizations with education or communications roles. These participants represented a diverse group from across Canada and included different transplant recipients, age groups, cultural backgrounds, and gender representation, as well as caregivers of pediatric recipients.