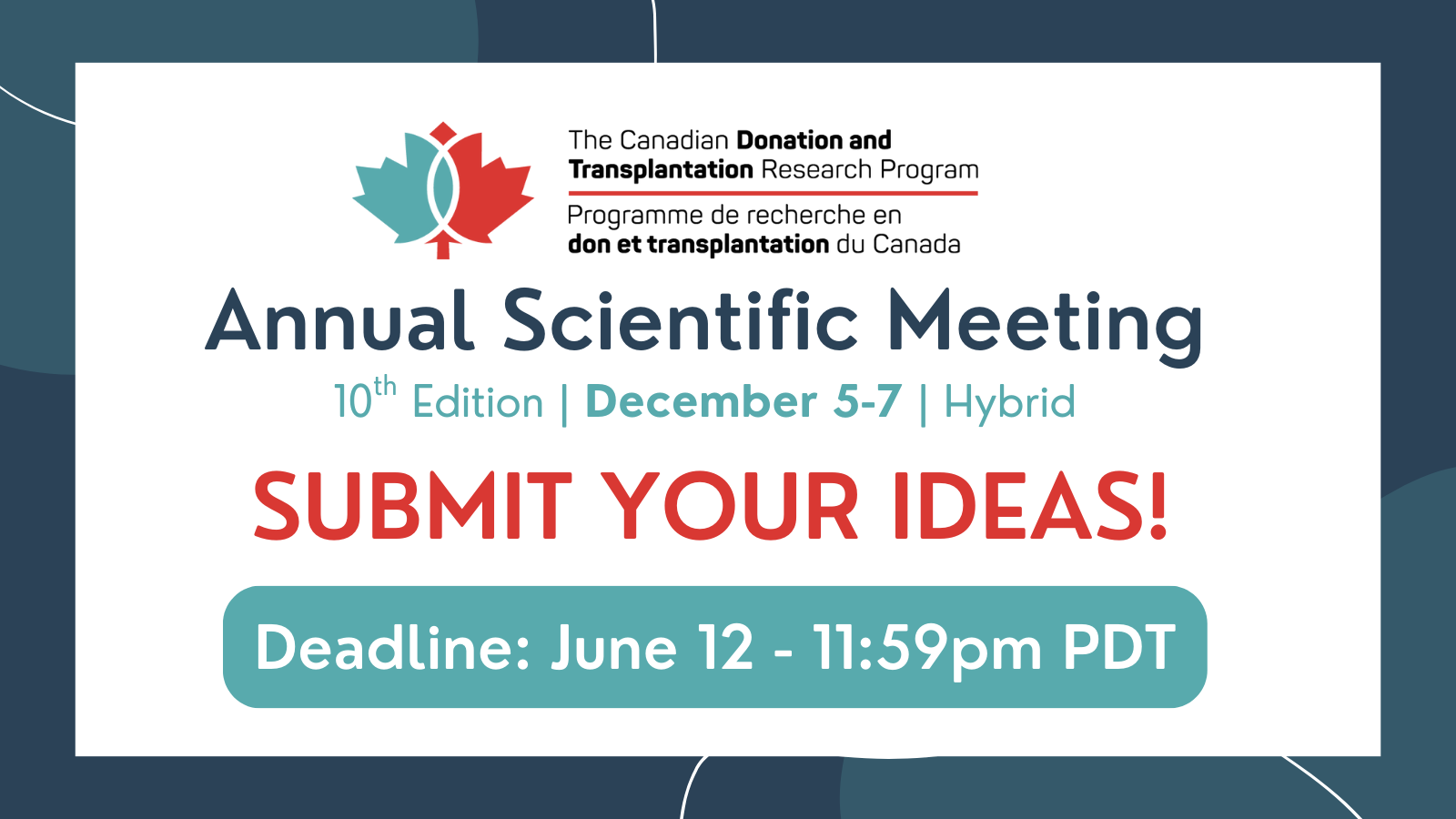 Submit your ideas for CDTRP 10th Annual Scientific Meeting!
The Annual Scientific Meeting aims to promote interdisciplinary collaboration among CDTRP members, including investigators, trainees, and patient, family, and donor partners in all areas of donation and transplantation research. We seek to engage senior and junior researchers to share their ideas, work in progress, and research achievements and connect with CDTRP's diverse, multi-disciplinary national community. The rich and varied program will feature presentations, panel discussions, interactive workshops, and networking sessions. It will also provide a venue for national research teams and working groups to collaborate and advance project planning, fostering collaboration and innovation.   
Whether you're a seasoned researcher, a trainee just starting, or someone with lived experience, this event provides a unique working space to explore the forefront of the art, science, and policy of donation and transplantation.  
BE PART OF THE PROGRAM
Bring us your problems: CDTRP's Education and Career Development Platform will host pre-peer review workshops. These workshops will provide the opportunity to present ongoing or proposed work to receive feedback on specific issues. Have questions about the best methodology to use? Don't know if your results should be combined into one manuscript or split between two? Looking for collaborating sites? Can't figure out exactly how to involve a patient, family, or donor partner in your project? This is where you can bring all these questions and more. The goal is to help CDTRP members – trainees and researchers alike – address issues before submitting a grant or a manuscript to strengthen the submission. Researchers or trainees interested in participating should complete their respective forms below. Researchers with expertise relevant to common questions may be asked to participate as mentors in this event.  
CALLING ALL RESEARCHERS & PFD PARTNERS
Bring us your ideas: We are currently seeking ideas for sessions. All CDTRP members are invited to propose their ideas for sessions of any format (e.g., panel discussions, debates, working groups, workshops). We welcome both sessions that would be part of the main program, open to all attendees, and smaller working sessions limited to specific collaborators. Your input will help us create an outstanding program that reflects the latest issues and developments in the field.  
Submit your session

and workshop ideas

below!
CALLING ALL TRAINEES 
Oral presentations: We invite trainees to submit their completed or near-completed projects for consideration to be selected for an oral presentation. The top submission from each CDTRP Theme will be selected and receive free registration plus a $150 cash prize.  
To be considered, trainees must be registered members of the CDTRP Education and Career Development Platform at the time of submission.
Submit your abstracts

and workshop ideas

below!
The submission deadline is

Monday, June 12

th

11:59 pm PDT

.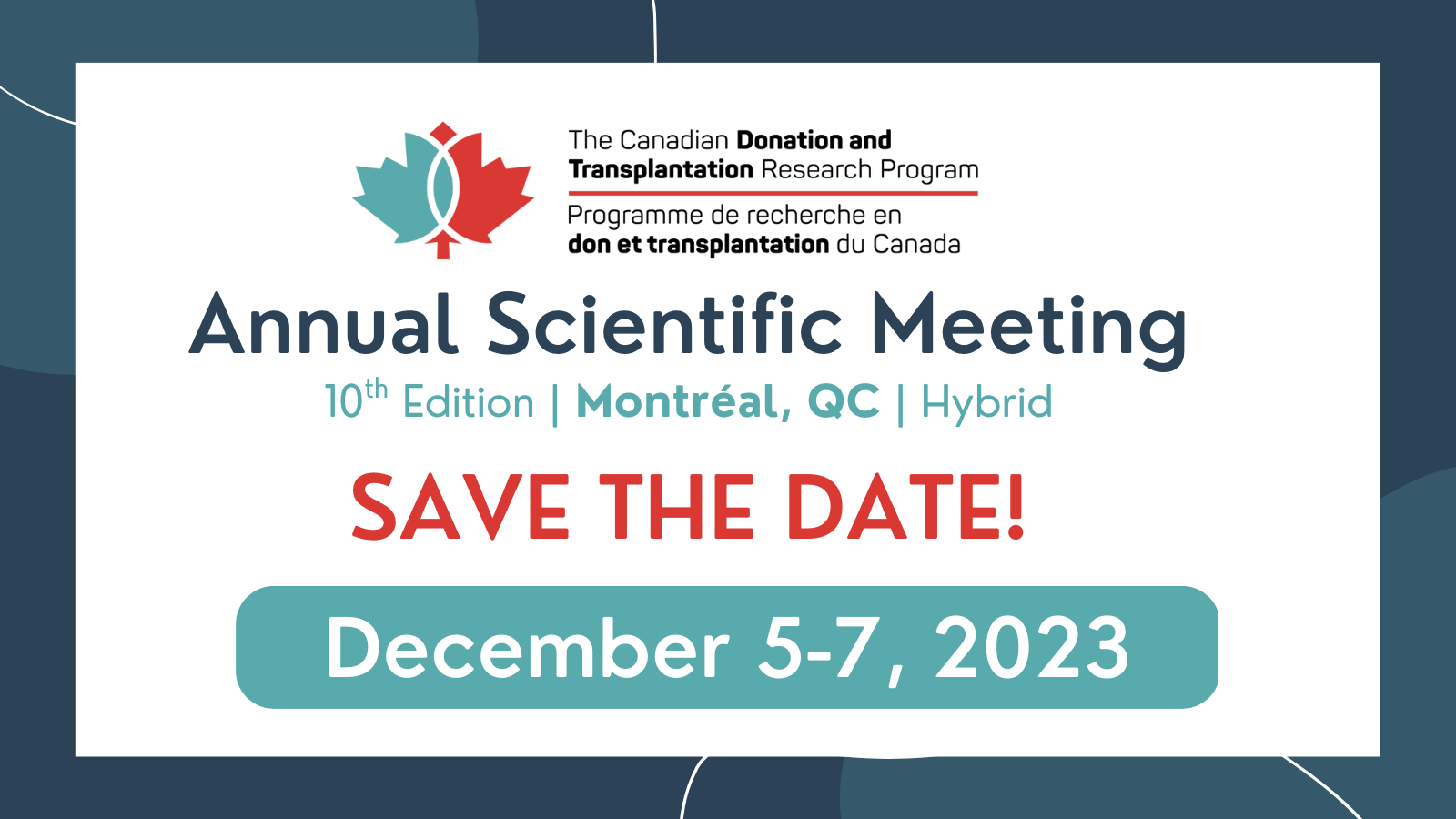 Mark your calendars!
Our highly anticipated Annual Scientific Meeting is coming soon, and we hope to see you there. The event will be in a hybrid format, with the in-person component in Montréal, QC, on December 5-7, 2023. We are delighted to announce that this year's Meeting Co-Chairs are Dr. Siba Haykal and Dr. Vanessa Silva e Silva, supported by a planning committee of CDTRP researchers, trainees, and patient, family, and donor partners. 
Take advantage of this unique opportunity to connect with colleagues, build collaborations, learn about the latest research, and gain inspiration for your work.
Registration will open at the end of June.