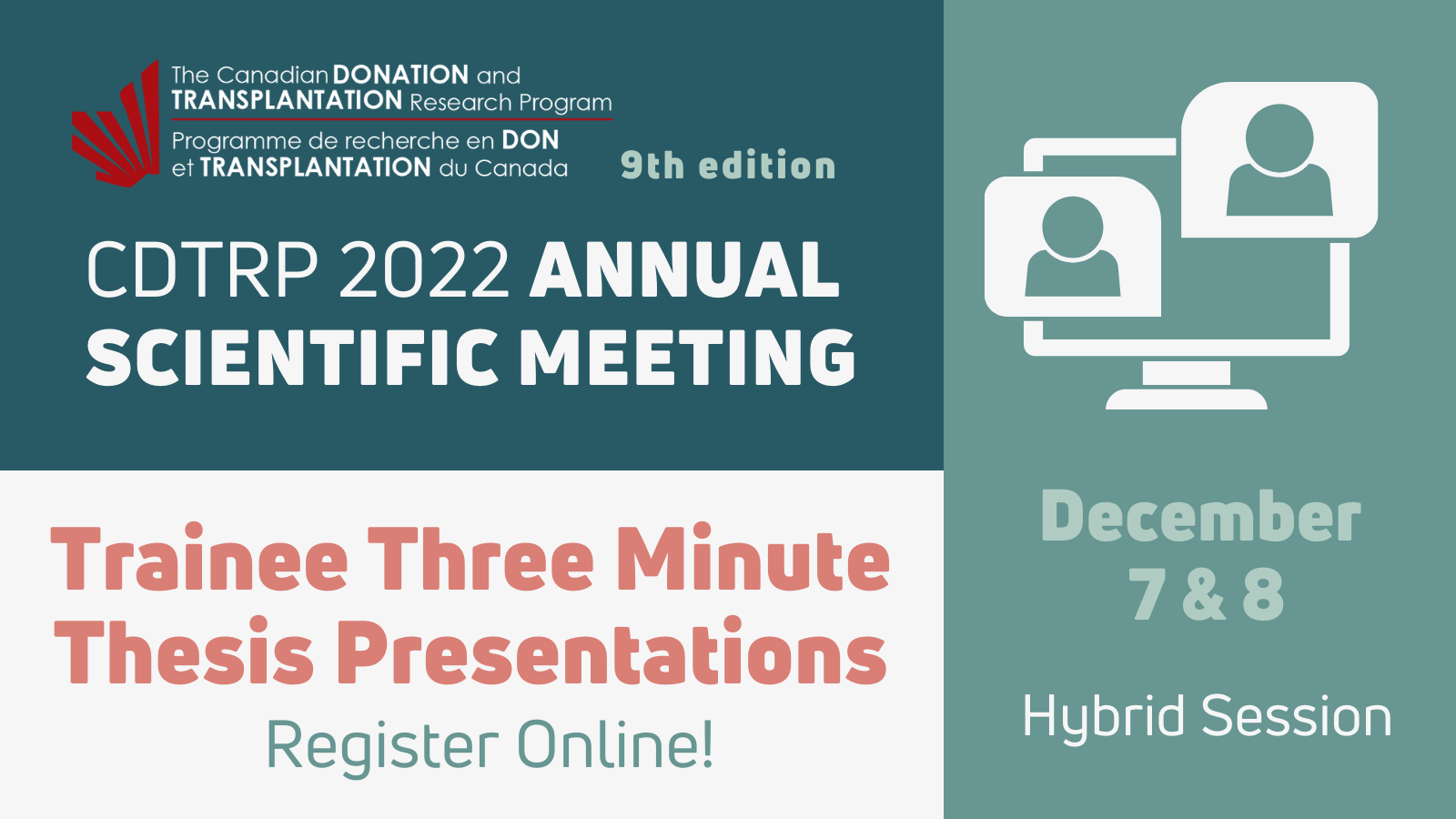 CDTRP 2022 Annual Scientific Meeting – Trainee Sessions Highlight
Join the next generation of donation and transplantation researchers as CDTRP trainees, and other graduate students across Canada present their research as a Three Minute Thesis (3MT). 3MTs allow students to foster effective presentation and communication skills as they explain their work in 3 minutes and 3 slides.
These interactive sessions will be held on December 7 and 8 and are open to in-person and virtual attendees. The 27 presentations are aligned with CDTRP's Research Themes and cross-cutting priorities.
Attendees will have the opportunity to ask each presenter questions and evaluate each presentation in real time! CDTRP will present three awards: the top in-person presenter during each session, and the top virtual presenter from either session.
The top presentations, selected by the CDTRP members in the audience, will be awarded a $250 prize.
Trainee Three Minute Thesis Presentations
December 7 | 4:30 – 6:00 pm PST
December 7 | 5:00 – 6:30 pm PST
VIRTUAL ATTENDEES, REGISTER BELOW FOR BOTH SESSIONS!
Not registered yet? Now it's time!
Register now for the CDTRP 9th Annual Scientific Meeting taking place on December 7-9, 2022 in a hybrid format. This year, we are pleased to welcome you in beautiful Kelowna, BC and finally meet face-to-face! Join us to enjoy what this beautiful region has to offer. Whether it's snowshoeing, skating, wine tours; the possibilities are endless!
The CDTRP 2022 Annual Scientific Meeting will proceed as a hybrid event with the opportunity of attending in person or virtually. The health and well-being of our Meeting attendees remain our foremost priority. We are committed to providing a safe, productive, and welcoming environment for all participants. View our Health and Event Safety policy here.
Having trouble registering? Do not hesitate to send us an email at info@cdtrp.ca.
We thank Paladin Labs Inc., GSK, AstraZeneca, Takeda Canada and Astellas Pharma, Inc. for sponsoring this event.