Highlights of the CDTRP 2022 Annual Scientific Meeting
On behalf of the planning committee and our two Co-Chairs, Mamatha Bhat and Michael Khoury, thank you to all of the moderators, speakers, and participants for making the CDTRP 9th Annual Scientific Meeting, and first hybrid event, a success! For those who missed it, or couldn't make all the sessions, you will soon be able to view recordings on the CDTRP website.
For those who attended (in person or virtual), please share your thoughts in our event survey below.
We wish to thank Paladin Labs Inc., GSK, AstraZeneca, Takeda Canada and Astellas Pharma Canada, Inc for sponsoring this event.

TRAINEE THREE-MINUTE THESIS TOP PRESENTATIONS
A total of 27 CDTRP trainees, and other graduate students across Canada of all levels, competed in a 3-Minute Thesis (3MT) presentation. 3MTs allow students to foster effective presentation and communication skills as they explain their work in 3 minutes and in 3 slides. As 3MT presentations are designed for non-specialist audiences, CDTRP members had the opportunity to evaluate each presentation live.
Congratulations to the winners of the Trainee 3-Minute Thesis Presentations who got awarded $250 at our dinner celebration!
Marwa Sadat
Manoela Ferreira, Marie-Hélène Normand & Sandrine Juillard
Farnaz Farahbakhsh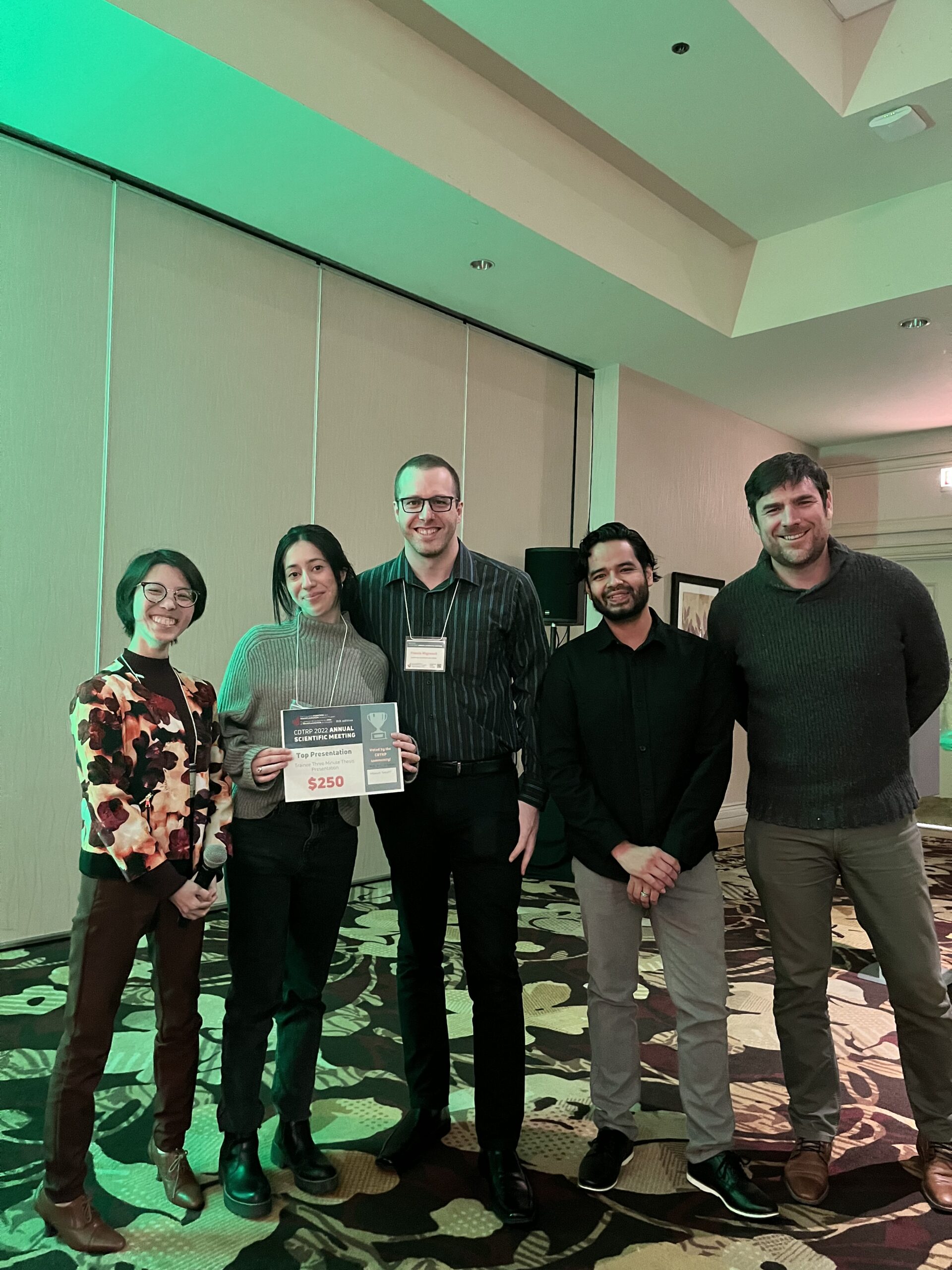 In person top presentation | Themes 3-4
Normothermic ex vivo perfusion of the murine pancreas to model type 1 diabetes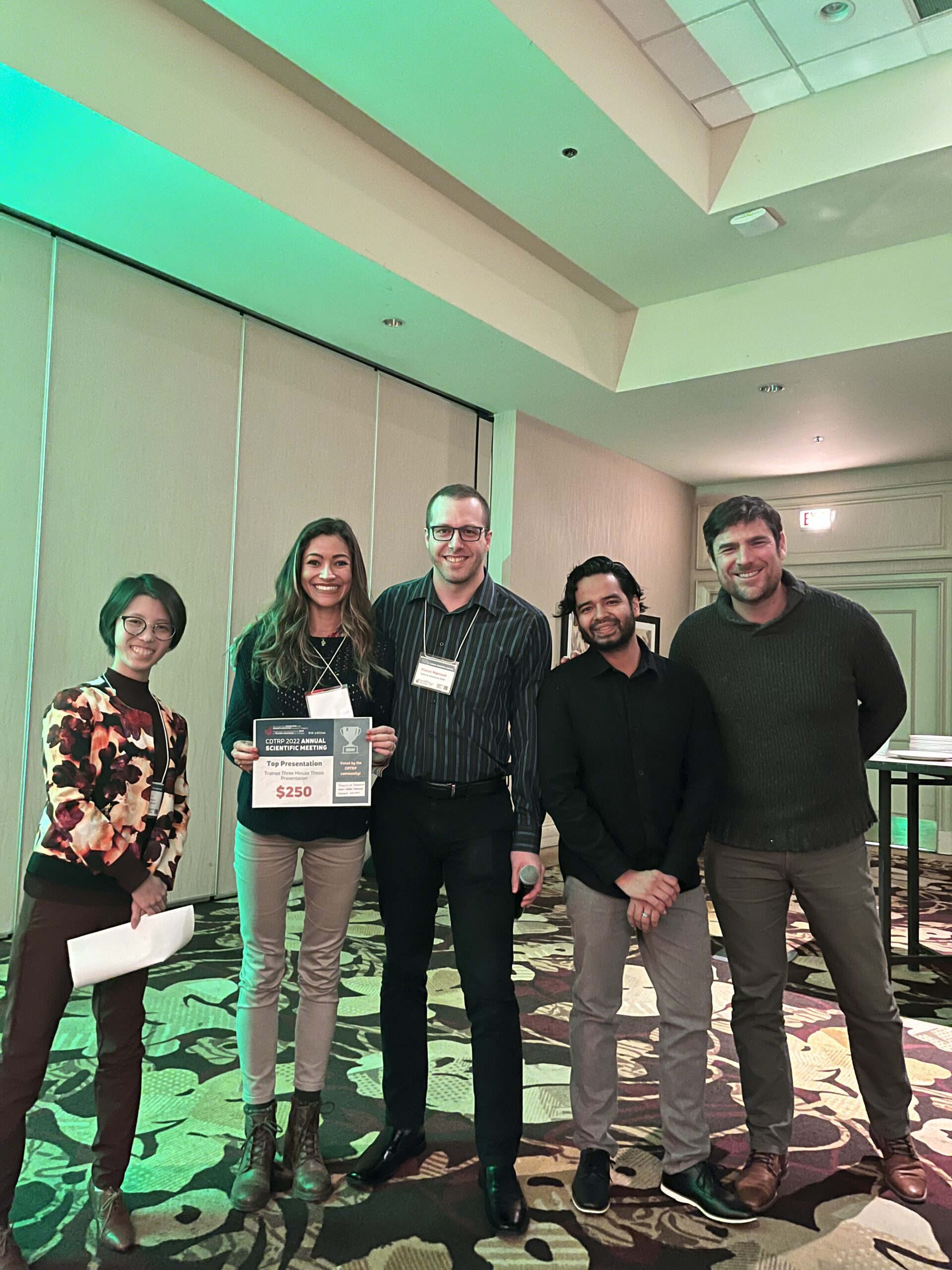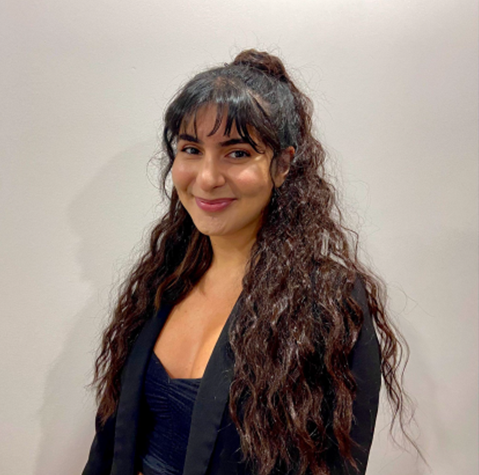 Virtual top presentation
Iranian Donors Save Lives Campaign to Engage Iranian Peoples as Stem Cell Donors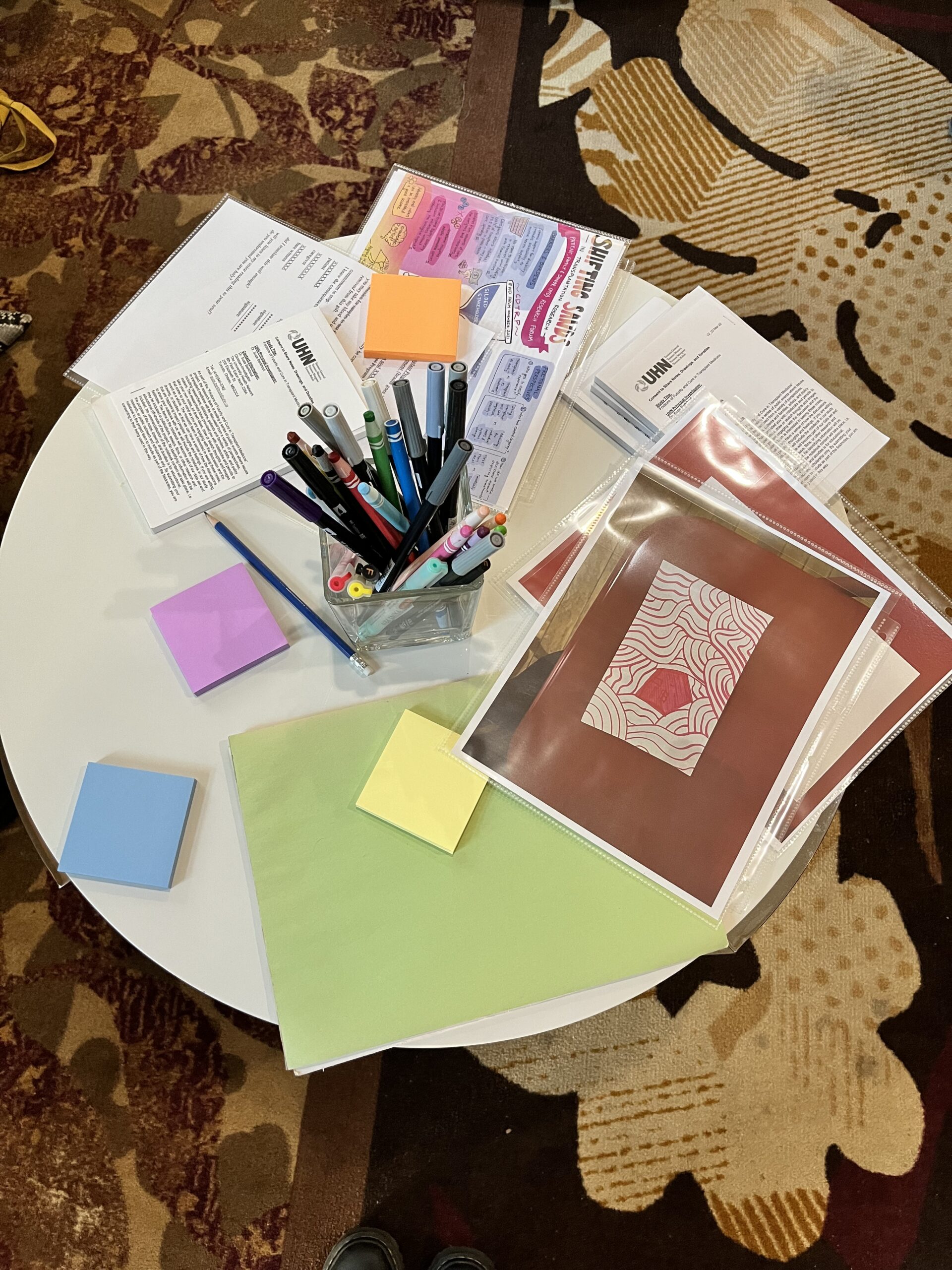 THE FRICTIONS DISCUSSION LOUNGE
Throughout the meeting, social science and arts-based researchers from the "Frictions of Futurity and Cure in Transplant Medicine Team" (Dr. Suze Berkhout, Chloe Wong-Mersereau and Alexandra Frankel) hosted a discussion lounge. The lounge was a space to articulate diverse viewpoints, share knowledge, practices, and ways of knowing, and engage with different forms of understanding the challenges, tensions, promises, and hopes that are attached to transplantation and in particular to the way that transplantation both reveals and troubles concepts such as cure, risk, kin, and care.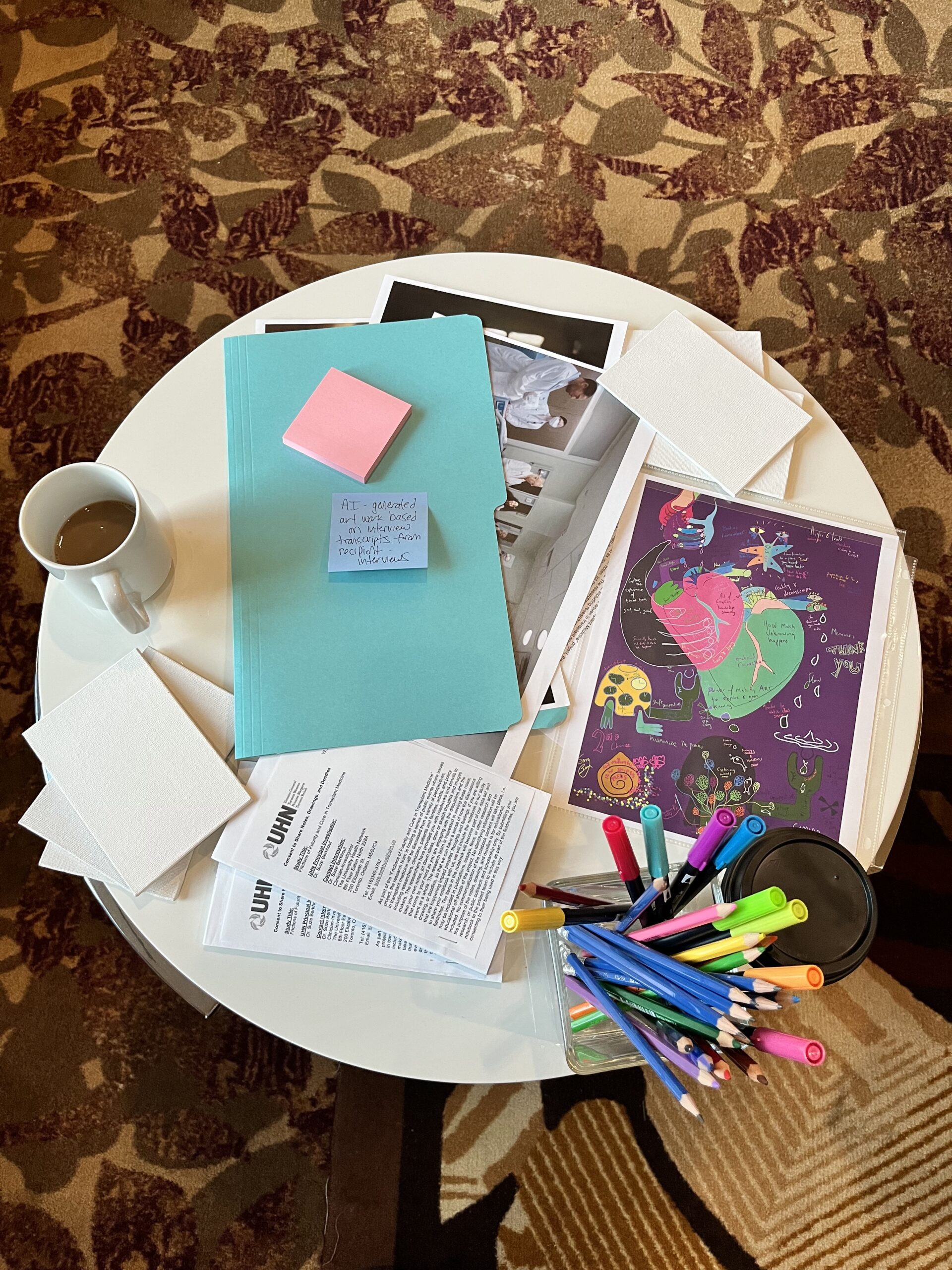 MOVEMENT BREAKS
Dr. Manoela de Paula Ferreira kept the participants moving for 15 minutes just before the morning breaks to allow them to stretch their legs after listening carefully to the presentations. Manoela is a research coordinator working with Dr. Lisa Wickerson in a telerehabilitation and telemonitoring lab in the department of Physical Therapy at the University of Toronto Dr. Ferreira completed her bachelor's degree in Physical Therapy and Dance, followed by a Master's and Ph.D. degrees in Physical Education at the Federal University of Paraná (UFPR) – Brazil, where she studied the effects of a home-based dance exercise program in people with Parkinson's Disease.
Manoela definitely showed virtual and in person participants the importance of exercise with a very invigorating exercise program!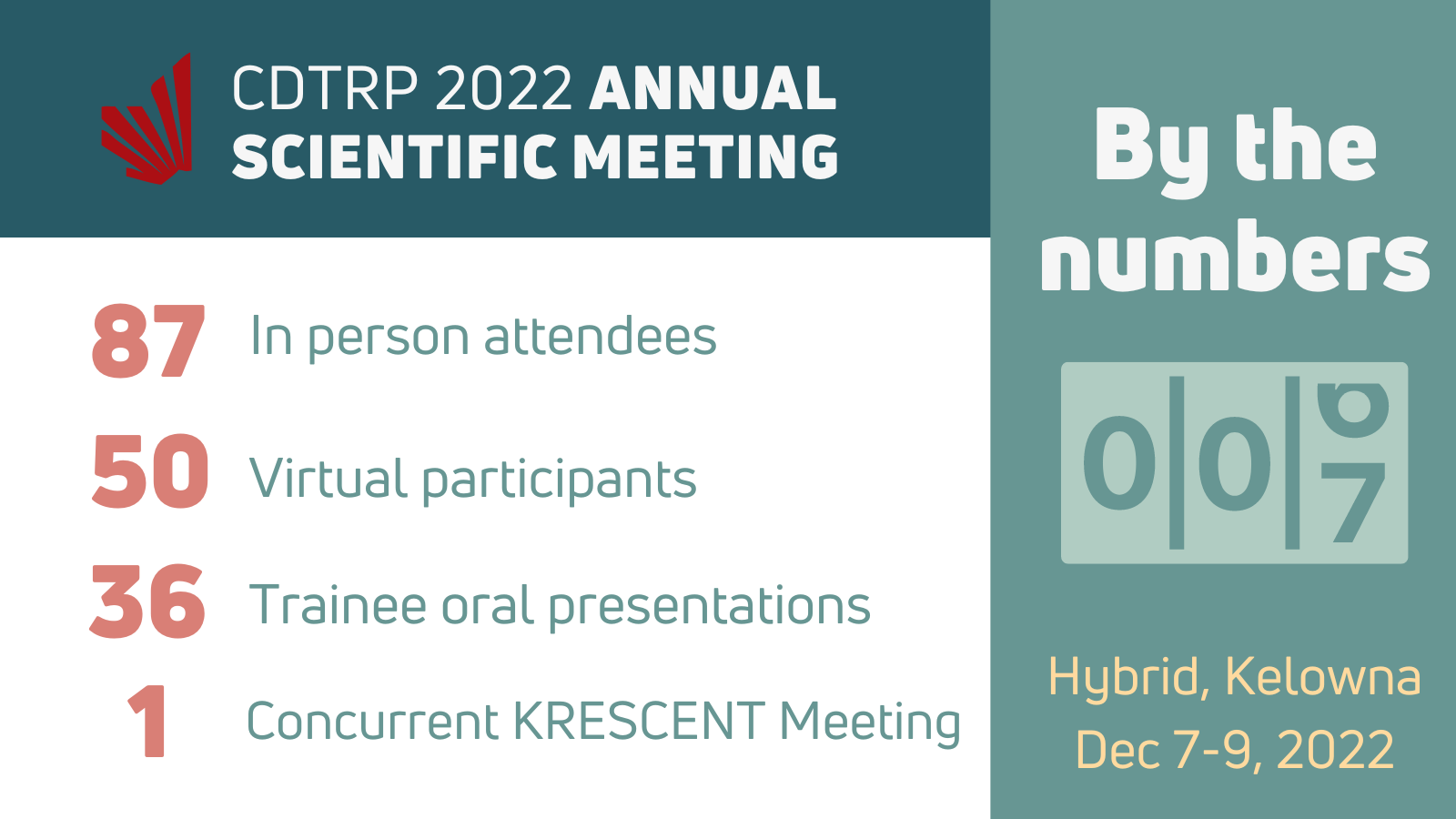 PRE-SCIENTIFIC MEETING | Tuesday, December 6, 2022
Virtual participants joined us for an online networking session to get to know and exchange with other members of the CDTRP community. Patricia Gongal, CDTRP Executive Director and Sean Delaney, CDTRP Patient Partner, hosted this session.
In person participants had the opportunity to join a wine tour in the beautiful Okanagan Valley region.
DAY ONE | Wednesday, December 7, 2022
We opened with the CDTRP Year in Review and provided an overview of the CDTRP highlights of the year 2022 given by Dr. Lori West, Scientific Director and Dr. Patricia Gongal, Executive Director. Dr. Marie-Josée Hébert also took part in the discussions as the past Scientific Co-Director and newly appointed Chair of the Governing Council of the Canadian Institutes of Health Research (CIHR). More info here.
The morning presentations focused on Donation and included:
A panel discussion highlighting the recent implementation of recommendations of the into practice in Alberta through Bill 205, Human Tissue and Organ Donation (Mandatory Referral) Amendment Act, 2022;
A presentation on the importance of rethinking policies of mandated anonymity in deceased organ donation;
Presentations on the need for pragmatic and adaptive trials in organ donation.
Following a lunch sponsored by Astra Zeneca, the afternoon presentations focused on Organ Perfusion and included presentations on:
Facilitators and barriers of ex situ heart perfusion in pediatric donation;
Ex situ lung perfusion with a porcine transplantation model;
Hepatic ischemia-reperfusion injury;
Normothermic ex vivo kidney perfusion.
After the presentations, we were pleased to offer additional activities:
The Frictions of Futurity and Cure in Transplant Medicine Discussion Lounge:
Indigenous Book Club: Growing reconciliation in ODT through Indigenous literature:

Participants read the novel Five Little Indians by Michelle Good and attended a discussion gathering hosted by Dr. Caroline Tait. This Book Club drew upon Indigenous fiction and created a safe and productive space to discuss complex health issues impacting First Nations, Métis, and Inuit peoples.

Trainee Three-Minute Thesis Presentations Part 1:

The next generation of donation and transplantation researchers presented their research as a Three Minute Thesis (3MT). Presentations during this session were related to CDTRP's Theme 3 (Engineer and Allocate Better Grafts) and Theme 4 (Tailor an Optimal Immune System for Each Patient).
DAY TWO | Thursday, December 8, 2022
Morning sessions:
Focus on Exercise in Transplantation;
Bringing Narrative and Visual Research Methods to Transplant: An Experiential Workshop;
Focus on Equity, Utility and Access:

Exploring the information needs of African, Caribbean, and Black Community Members Regarding Living Donor Kidney Transplantation in Toronto, Ontario;
Examining questions of equity and utility for Indigenous patients living with end-stage organ failure.
Afternoon sessions:
Keynote Speaker, Dr. Robin Pierson: Xenotransplantation: The Path to Clinical Application;
Immunology presentations:

Glycocalyx engineering of vascularized grafts to achieve localized immunomodulation;
ABO antibody production in mice: The role of sex and T cells in natural versus induced anti-A antibodies;
Preliminary results of the first clinical trial to prevent graft rejection in heart transplant children employing a cellular therapy with autologous Treg obtained from thymic tissue (thyTreg).
After the presentations, we were pleased to offer additional activities:
The Frictions of Futurity and Cure in Transplant Medicine Discussion Lounge:
Workshop on developing a Framework for Evaluating Patient, Family, and Donor Impact within CDTRP;
Trainee Three-Minute Thesis Presentations Part 2:

The next generation of donation and transplantation researchers presented their research as a Three Minute Thesis (3MT). Presentations during this session were related to CDTRP's Theme 1 (Improve a Culture of Donation), Theme 2 (Inform Universal Practices for Donation), and Theme 5 (Restoring Long-Term Health).
DAY THREE | Friday, December 9, 2022
Morning sessions:
A Vision for the Future of the Canadian Donation and Transplantation Research Ecosystem and the role of CDTRP;
CDTRP Media Workshop Series on ODT & Health Literacy;
Addressing critical emerging issues in COVID-19 in transplant recipients;
Artificial Intelligence and Transplantation.
SEE YOU NEXT YEAR FOR THE 10TH EDITION OF OUR ANNUAL SCIENTIFIC MEETING!