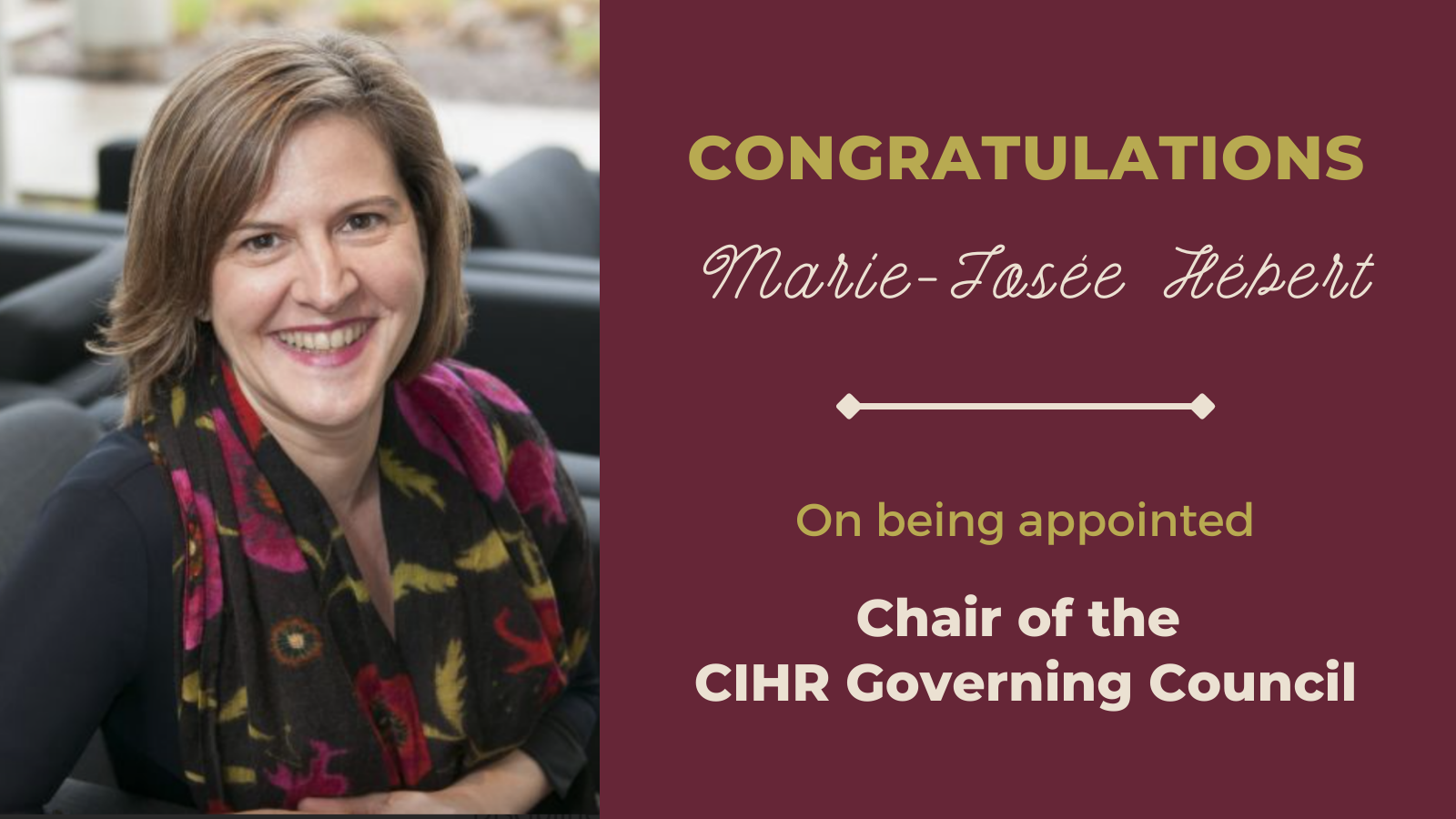 Congratulations Dr. Marie-Josée Hébert – Appointment Chair of the CIHR Governing Council
We are thrilled to share that Dr. Marie-Josée Hébert has been appointed Chair of Governing Council of CIHR. The Governing Council has the highest oversight role for the organization, including among its roles developing CIHR's strategic directions, goals, and policies and overseeing the Institutes. The CDTRP is exceptionally proud of Marie-Josée and this great honour that recognizes her visionary leadership.
As a clinician-scientist, transplant nephrologist, and exceptional basic scientist, she is the founding Scientific Co-Director of the Canadian Donation and Transplantation Research Program (CDTRP), created in 2013. Bringing together the Canadian donation, solid organ transplant, and hematopoietic stem cell transplant research communities with dozens of partners across sectors and disciplines, alongside patients, families, and donors, the CDTRP created a new national framework for collaboration and team science.

The CDTRP, from its inception, has endeavored to build a new table for donation and transplantation research with a framework that enables collaboration and transdisciplinarity. At the time of the CDTRP's inception, there were many doubters that one could do more than divide a pie of grant funding. Ten years later, we have demonstrated what can be achieved by valuing non-traditional career paths to research, valuing patient and family voices, and elevating women in science. Marie-Josée's leadership has been transformative for donation and transplantation research in Canada.
Dr. Marie-Josée Hébert earned a specialized degree in nephrology at the Université de Montréal, followed by postdoctoral studies at Brigham and Women's Hospital, Harvard. Since 1998, she has been a Professor of Medicine at Université de Montréal (UdeM), researcher at the CHUM research centre, and nephrologist–transplant physician at CHUM. She co-holds the Shire Chair in Nephrology, Renal Transplantation and Regeneration at UdeM. Her laboratory focuses on the role of programmed cell death as a major pathway contributing to immune dysregulation, rejection and abnormal vascular repair. Findings from her team have led to the characterization of new mediators of rejection and renal failure in humans. They also contributed to a better understanding of the mechanisms of fibrogenesis triggered by endothelial injury, autophagy and apoptosis. Fellow in the Canadian Academy of Health Sciences, Marie-Josée Hébert received the Dr. John B. Dossetor Research Award (2015) and the Medal for Research Excellence (2016) from the Kidney Foundation of Canada. In 2017, she was named scientist of the year by the newspaper La Presse. As Vice-Rector of Research, Discovery, Creation and Innovation at the Université de Montréal since 2015, she has played a leading role in the development of major interdisciplinary research initiatives, including the launch of IVADO – Institute for Data Valorization, Mila – Quebec Artificial Intelligence Institute, the Digital Health Consortium and the Montreal Declaration for the Responsible Development of Artificial Intelligence.