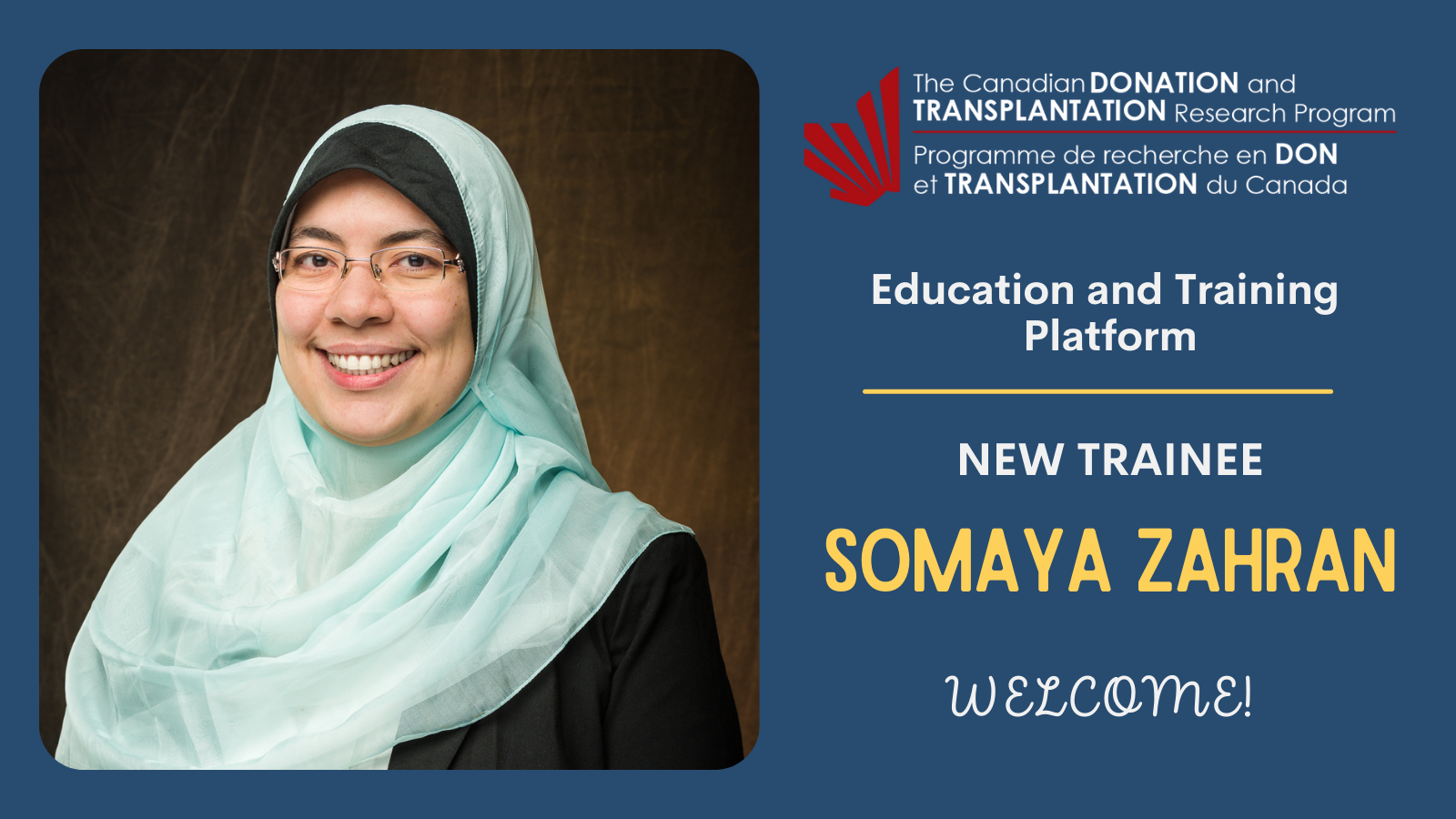 Welcome to new Trainee: Somaya Zahran
The CDTRP's Education and Training Platform is growing and we're pleased to welcome our newest member, Somaya Zahran. Somaya is currently a second year internal medicine resident at McGill University and part of Theme 1 – Improve a Culture of Donation. Her project is entitled "Not all eplet mismatches are created equal – A cohort study illustrating implications to long-term graft outcomes." Our Education and Training Platform Manager, Manuel, recently caught up with Somaya to understand more about what her goals are for being a trainee with the CDTRP.
What are your fields of expertise and interests in research?
My Ph.D. was focused on basic science and currently learning epidemiological methods. In terms of topic, I am a nephrology nerd, with a special interest in transplant nephrology, from matching donors and recipients to clinical outcomes of living donors and anything in between.
What new areas of interest would you like to develop or with which different disciplines or specialist(s) would you like to collaborate within the CDTRP?
Epidemiological, clinical outcomes and clinical trials – all in nephrology! Collaboration with transplant nephrologists, patient advocacy organizations, and stakeholders.
Tell us a fun fact about yourself!
My favorite hobby that I hope will never give up on is baking!
About the Education and Training Platform
Providing resources to meet diverse education, training and career development needs, the Education and Training Platform incorporates academic programs to give trainees a broad overview of knowledge and issues related to the practice of donation and transplantation while providing them with tools on how to be better communicators, managers, scholars and professionals via webinars, mentoring programs and in-person meetings.