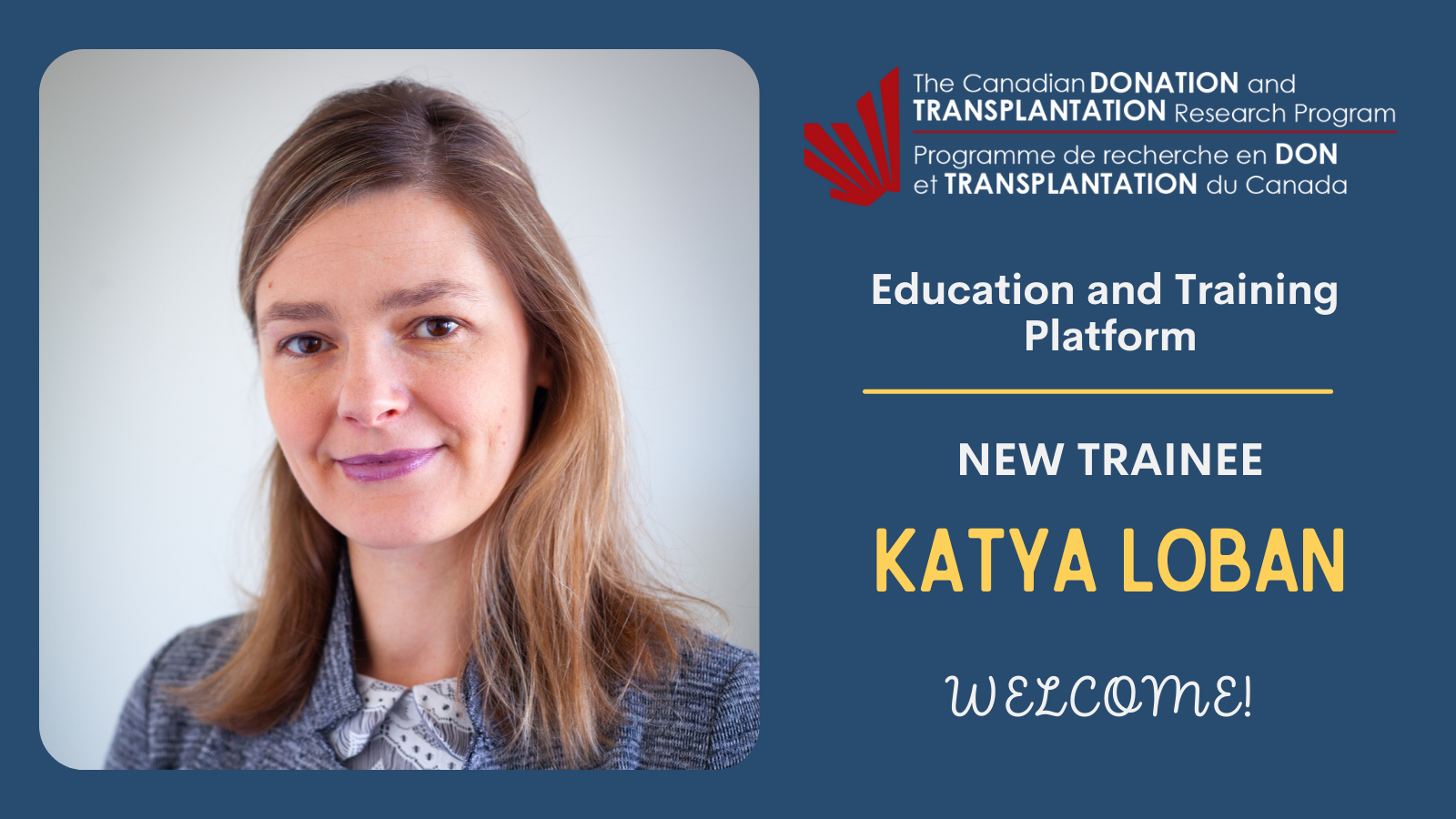 Welcome to new Trainee: Katya Loban
The CDTRP's Education and Training Platform is growing and we're pleased to welcome our newest member, Katya Loban. Katya is a Postdoctoral Fellow at McGill University and part of Theme 1 – Improve a Culture of Donation. Her project is entitled "Increasing living kidney donation via collaboration with family physicians." Our Education and Training Platform Manager, Manuel, recently caught up with Katya to understand more about what her goals are for being a trainee with the CDTRP.
What are your fields of expertise and interests in research?
I am a health services and policy researcher with a background in social sciences (sociology, organization development and law), management and primary health care. My doctoral project focused on understanding collaborative processes and how various organizational and system factors contributed to the effectiveness of multi-stakeholder partnerships working towards enhancing the accessibility to primary health care (PHC) for vulnerable populations.

My postdoctoral study will focus on integrating family physicians in the multidisciplinary health care teams that champion living kidney donation in Canada. The intended impacts of this research will be clinical, practical and theoretical. Specifically, we will identify the points and levers for change at organizational and system levels to increase living donor kidney transplantation (LDKT), work with relevant stakeholders to mobilize training and health system resources, and understand how this mobilization leads to sustainable and responsible change responsive to the needs of patients with kidney failure and the welfare of living donors. The ultimate impacts will be to improve the health of patients with kidney failure by increasing LDKT, to strengthen the LDKT field and generate meaningful learnings to be transferred across professional and geographical borders.
What new areas of interest would you like to develop or with which different disciplines or specialist(s) would you like to collaborate within the CDTRP?
As a qualitative researcher and a non-MD, I look forward to working closely with clinical scientists, learning from them and contributing my perspectives. In addition, nephrology is a relatively new field for me, and I look forward to expanding my knowledge of this field.
Tell us a fun fact about yourself!
I have visited the North Pole as part of a two-week expedition to the Arctic.
About the Education and Training Platform
Providing resources to meet diverse education, training and career development needs, the Education and Training Platform incorporates academic programs to give trainees a broad overview of knowledge and issues related to the practice of donation and transplantation while providing them with tools on how to be better communicators, managers, scholars and professionals via webinars, mentoring programs and in-person meetings.