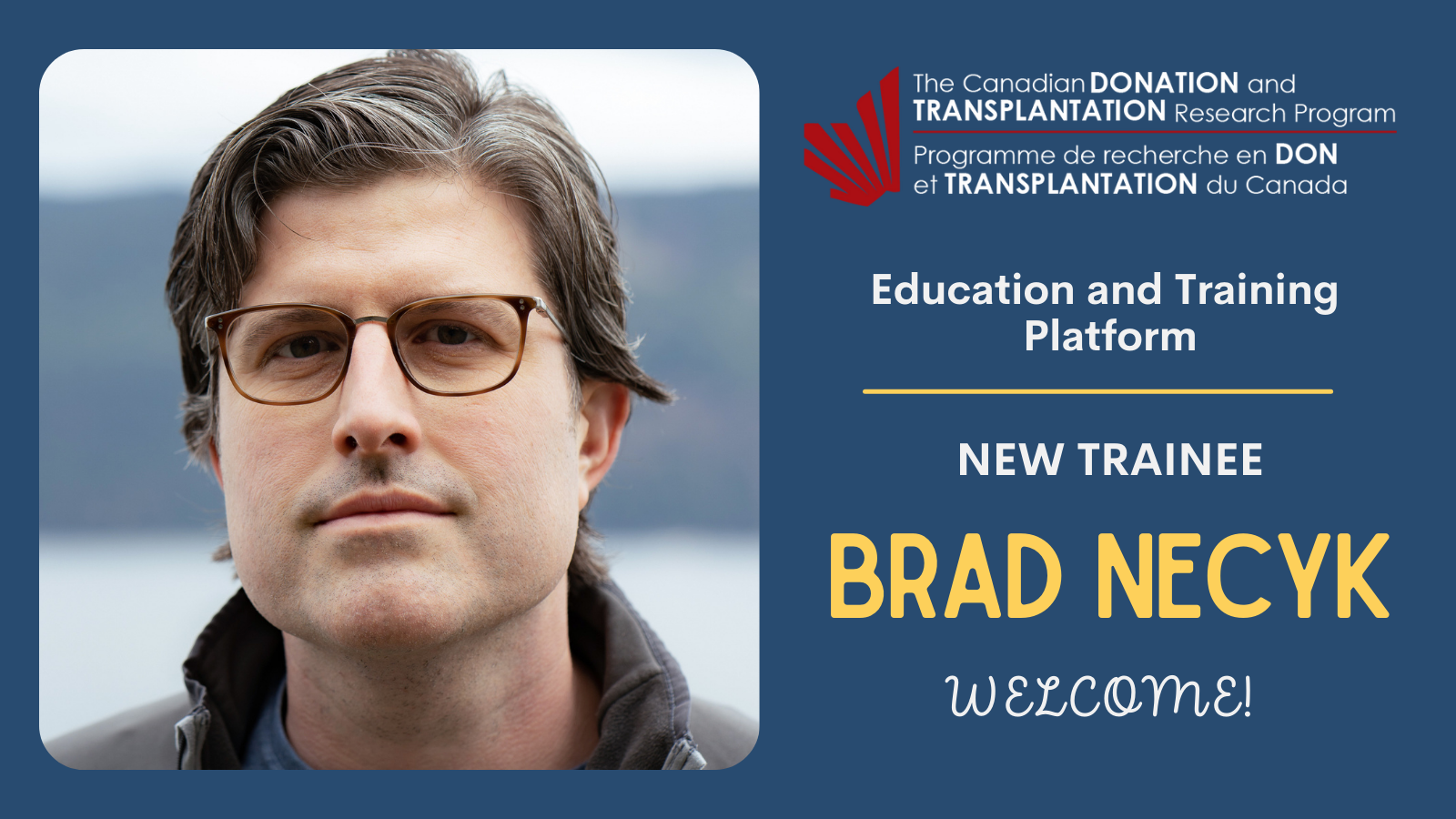 Welcome to new Trainee: Brad Necyk
The CDTRP's Education and Training Platform is growing and we're pleased to welcome our newest member, Brad Necyk. Brad is a postdoctoral fellow at York University and part of Theme 1 –  Improve a Culture of Donation. Education and Training Platform Manager, Manuel Escoto, caught up recently with Brad to understand more about what his goals are for being a trainee with the CDTRP.
What are your fields of expertise and interests in research?
I am a visual artist, filmmaker, and writer who creates artworks at the intersection of research-creation and medicine, telling stories of the lived experience of illness and healing.
What new areas of interest would you like to develop or with which different disciplines or specialist(s) would you like to collaborate within the CDTRP?
I am looking to collaborate with patients, caregivers, and clinicians to understand the lived experience of alcoholic liver disease and liver transplantation.
What new areas of interest do you want to explore, and which skills would you like to build on?
I would like to build understandings of the lives and trauma that led many to develop alcohol use disorder. I hope that by telling these stories we can combat the stigma many face when seeking liver transplantation from alcoholic liver disease. I hope to develop my storytelling skills through visual art, filmmaking, and writing.
Tell us a fun fact about yourself!
I love meditating in old-growth forests in the Pacific Northwest.
You can visit Brad's website here and follow him on Twitter (@bradnecyk).
About the Education and Training Platform
Providing resources to meet diverse education, training and career development needs, the Education and Training Platform incorporates academic programs to give trainees a broad overview of knowledge and issues related to the practice of donation and transplantation while providing them with tools on how to be better communicators, managers, scholars and professionals via webinars, mentoring programs and in-person meetings.