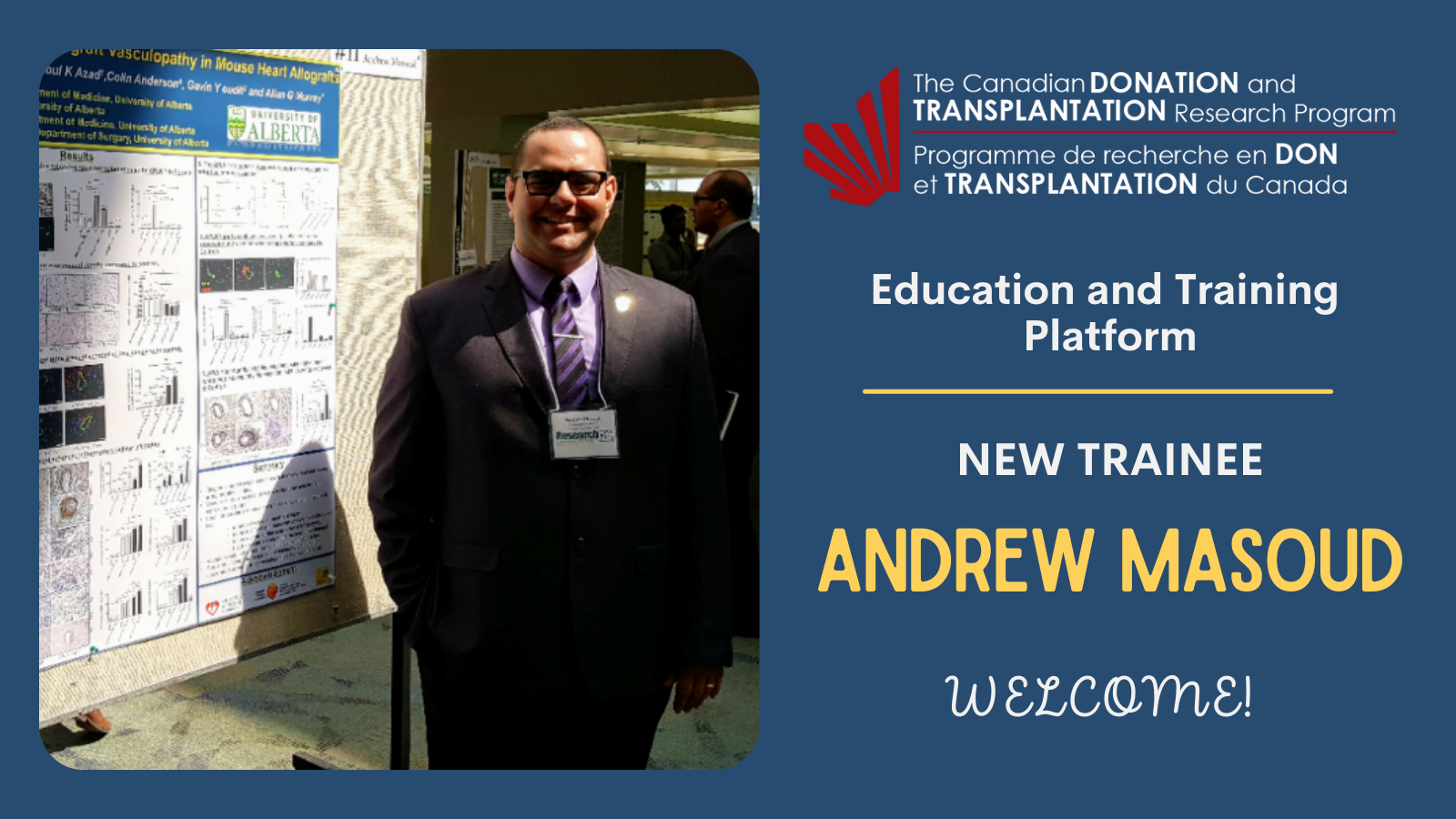 Welcome to new Trainee: Andrew Masoud
The CDTRP's Education and Training Platform is growing and we're pleased to welcome our newest member, Andrew Masoud. Andrew is a Graduate PhD Research Fellow in Philosophy in Medicine at University of Alberta and part of Theme 2 – Inform universal practices for donation. Communications Manager, Stéphanie, recently caught up with Andrew to understand more about what his goals are for being a trainee with the CDTRP.
What are your fields of expertise and interests in research?
I am an MD, a Graduate PhD Research Fellow, and a Scientific Writer, who is working on developing advanced expertise in the fields of organ transplantation research to benefit patients suffering from transplantation rejections. These fields of research include the translational medical research, basic science investigation, transplantation immunology, vascular biology, preclinical modeling, health research project management, patients' communication, research coordination, biostatistics and epidemiology of organ transplants in Canada.
What new areas of interest would you like to develop or with which different disciplines or specialist(s) would you like to collaborate within the CDTRP?
I am looking to collaborate with clinician scientists, influential research teams, and with patients and their families towards implementing an improved clinical and scientific practice.

I am interested in new research initiatives that can translate innovative scientific findings to patients, and some of my new research interests include the development of transplantation biomarkers, translational therapeutics, transplant preservation, clinical research coordination, angiogenic therapies, histocompatibility & immunogenetics, transplantation pathology, regenerative medicine, senolytic drug targets, perfusion medicine, and the molecular biology mechanistics of organ transplantation rejection.

I believe that through the CDTRP, research- and clinician scientists can better understand patients' communication, education, clinical research strategic planning, donation mediation, advising as well as health promotion.
Tell us a fun fact about yourself!
I am an avid sound engineer, a Pianist and a Lead Singer of his Church's choir.
You can follow Andrew on Twitter: @AndrewMasoud2.
About the Education and Training Platform
Providing resources to meet diverse education, training and career development needs, the Education and Training Platform incorporates academic programs to give trainees a broad overview of knowledge and issues related to the practice of donation and transplantation while providing them with tools on how to be better communicators, managers, scholars and professionals via webinars, mentoring programs and in-person meetings.