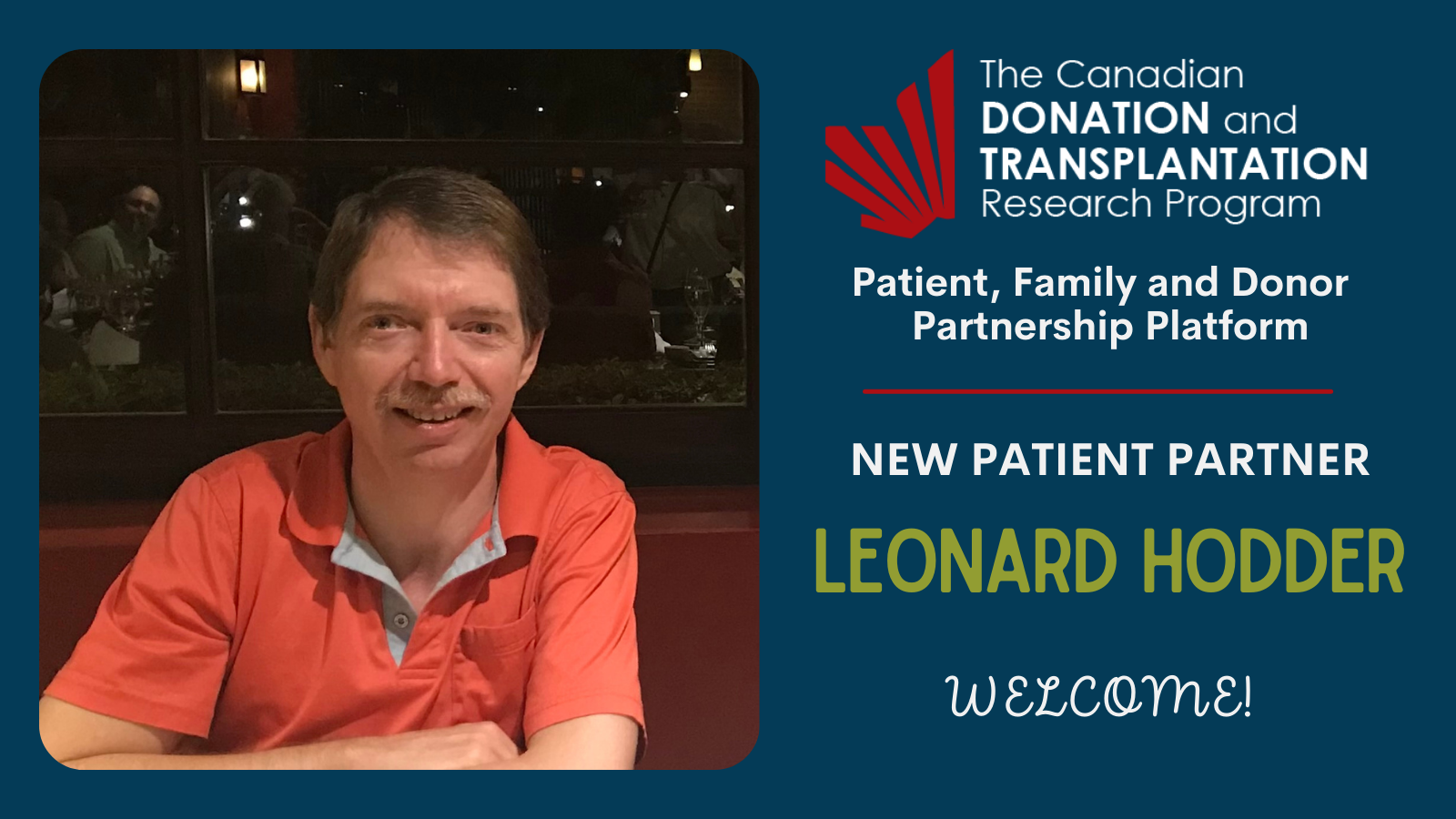 Welcome to new Patient, Family, Donor Partner: Leonard Hodder
The CDTRP's Patient, Family and Donor (PFD) Partnership Platform is growing and we're pleased to welcome our newest member, Leonard Hodder. Our PFD Platform Manager, Manuel Escoto, caught up recently with Leonard to understand more about what his goals are for being a patient partner with the CDTRP.
What brought you to CDTRP's Patient, Family, and Donor Research Platform?
As a non-directed living liver and kidney donor, I have had the good fortune to participate with a few transplant organizations and online communities. Through that, I have learned much about what organ donation and transplantation can do for someone in need. I see how important it is to advocate for organ donation, with the goal of normalizing living donation, reducing wait times and improving outcomes. I see CDTRP's goals are very much in line with mine, and I look forward to the opportunity to contribute in any way I can.
What are your areas of research interest and experience in patient research?
I'm most interested in participating in studies that will educate potential living donors and ultimately lead to an increase in living organ donation rates.
What new areas of interest do you want to explore, and which skills would you like to build on?
I don't have any specific areas of interest that I'm looking to explore or specific skills to build on, but hopefully, once I learn more about what CDTRP is involved in, I will!
Tell us a fun fact about yourself!
After completing high school, my life's path didn't lead me to university, and despite that, I got a great job as a software developer that I held for over 20 years. One day, though, I decided I was going to get that degree, and while still working, I enrolled as a part-time, mature student at York University. Five years later, I completed a Bachelor of Computer Science degree, for no reason other than to say "I did that"!
About the Patient, Family and Donor Partnership Platform
A strong, central feature of the CDTRP, the Patient, Family and Donor (PFD) Partnership Platform gives patients, caregivers and living donors a voice while offering an environment to collaborate between families, investigators, project leads and CDTRP Themes. Nationwide patient, family and donor participation is a research priority in all CDTRP projects, contributing to the transfer of knowledge and positive impact on transplantation and donation in Canada.