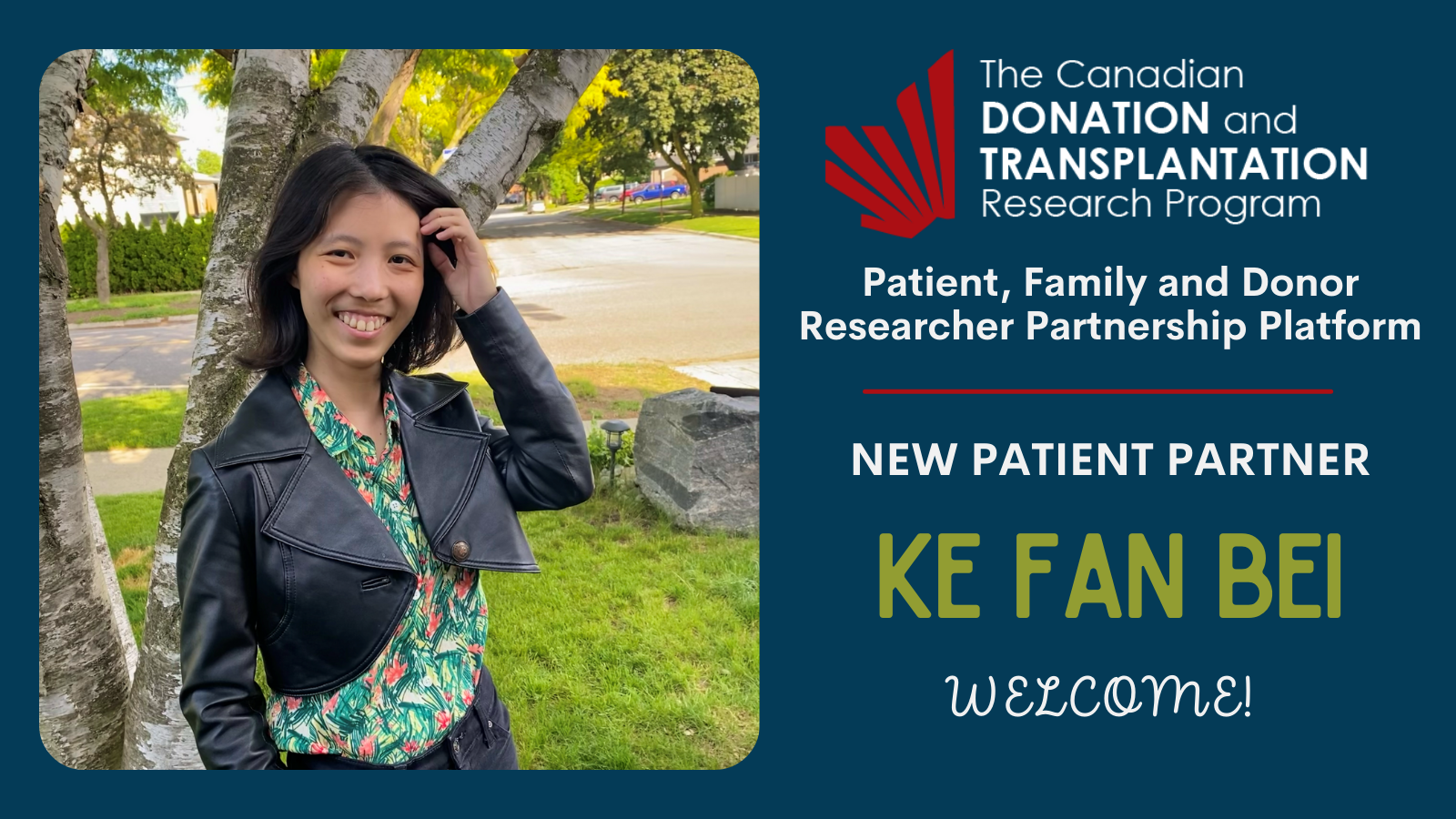 Welcome to new Patient, Family, Donor Partner: Ke Fan Bei
The CDTRP's Patient, Family and Donor Partnership Platform is growing and we're pleased to welcome our newest member, Ke Fan Bei. Our PFD Platform Manager, Manuel Escoto, caught up recently with Ke to understand more about what her goals are for being a patient partner with the CDTRP.
What brought you to CDTRP's Patient, Family, and Donor Research Platform?
Since my childhood, I have continuously been through the healthcare system as a patient. Having to manage an ongoing chronic health condition has affected me and my family's life significantly. I can recognize the difficulties of navigating the healthcare system and what it is like to be a patient. I am also pursuing higher education in immunology in which, I hope to offer a unique perspective that will bridge the patient experience and research. To lend my voice and lived experience and be a part of a wide network of collaborators would be a valuable experience.
What are your areas of research interest and experience in patient research?
As a graduate student in immunology and as a patient, I find the immune system to be an interesting and critical part of transplant and organ donation, leading me to have a great interest in the optimization of the immune system and improvements in grafts. My personal perspective in this field has continuously invigorated my desire to be involved in the field of transplant. Even though I have not directly engaged in patient research, I have worked in both clinical and wet-lab settings in the areas of transplant and immunology. Expanding my knowledge in this field is something I am always looking forward to.
What new areas of interest do you want to explore, and which skills would you like to build on?
As an immunology student and having been in the transplant and organ donation system for several years, I want to contribute and participate in the field from a different perspective. To become more well-rounded in the transplant field, I hope to challenge myself through learning about new areas such as the legal and ethical aspects of the system. Additionally, through collaboration with others, I wish to learn and network within the transplant community.
Tell us a fun fact about yourself!
I keep carnivorous plants and tarantulas!
About the Patient, Family and Donor Partnership Platform
A strong, central feature of the CDTRP, the Patient, Family and Donor (PFD) Partnership Platform gives patients, caregivers and living donors a voice while offering an environment to collaborate between families, investigators, project leads and CDTRP Themes. Nationwide patient, family and donor participation is a research priority in all CDTRP projects, contributing to the transfer of knowledge and positive impact on transplantation and donation in Canada.