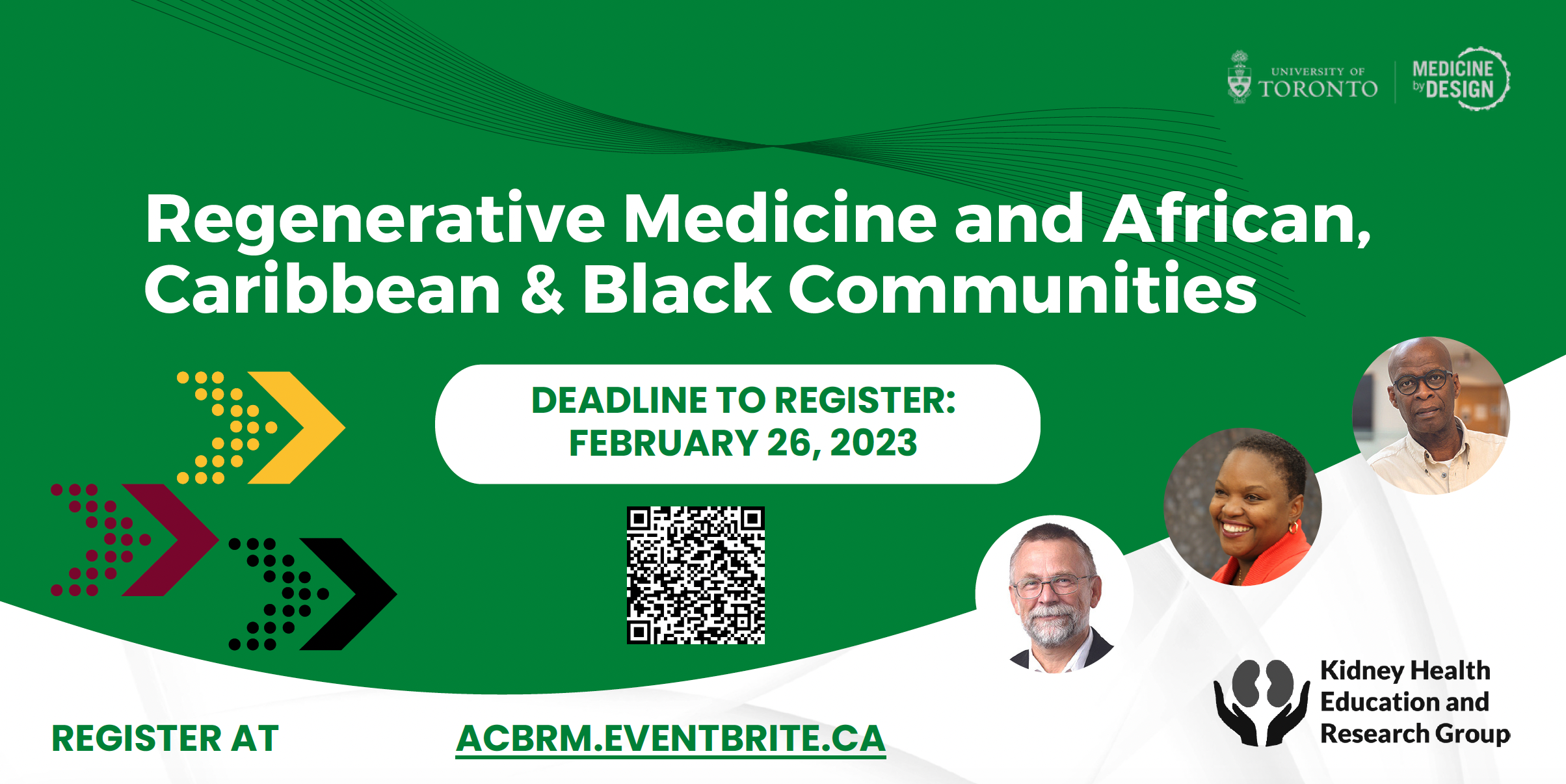 Register for virtual workshops exploring barriers and opportunities for regenerative medicine in ACB communities
The African Caribbean Black Regenerative Medicine Project invites researchers, clinicians and students to participate in a series of virtual workshops on February 27, February 28 and March 2, 2023.
Participants will discuss issues pertinent to Regenerative Medicine and the African Caribbean and Black (ACB) communities.
Please select a date and join them as they engage in topics that:
define state of the art of regenerative medicine approaches;
discuss equity concerns in the field of regenerative medicine;
outline key messages from regenerative medicine community to ACB community;
unpack concepts of racialization/racism and related education pertinent to the regenerative medicine community.
For more information, contact Jacqui Getfield, PhD at jacqueline.getfield@uhn.ca.
Deadline to register: February 26, 2023
Regenerative Medicine and African, Caribbean & Black (ACB) Communities
The adoption of regenerative medicine — which harnesses the body's ability to regenerate and repair using living therapies such as those made from stem cells — into widespread clinical use is immensely promising.
And for researchers Istvan Mucsi and Carl E. James, that promise can only be realized if regenerative medicine therapies are equally available to all populations.
Focusing on the African, Caribbean and Black (ACB) communities, Mucsi and James lead a Convergent Working Group that seeks to understand and overcome the potential barriers to the adoption of regenerative medicine in those communities. The first step is bringing a group of experts and community members together.
"In this collaboration, we focus building trusting relationships, mutual understanding and efficient communication between ACB communities and professionals in the field of regenerative medicine," says James, a professor in the Faculty of Education at York University. He brings his expertise in equity and social justice to this partnership with Mucsi, a clinician investigator and transplant nephrologist at the Ajmera Transplant Centre, University Health Network (UHN), who has focused on reducing psychosocial and ethnocultural barriers to transplantation in his research.