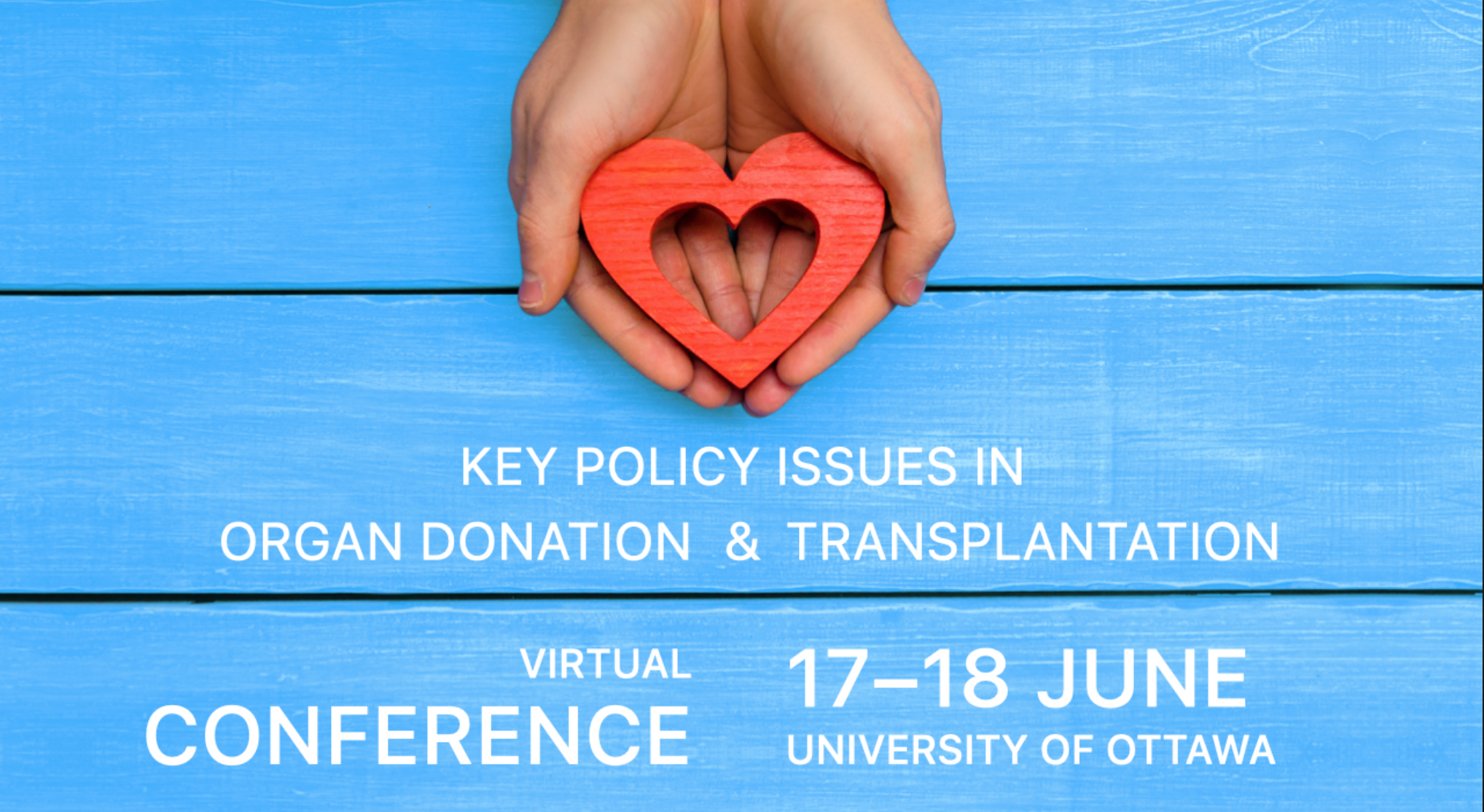 NEXT WEEK! Virtual Conference: Key Policies Issues in Organ Donation & Transplantation
FOCUS: The key current and emerging policy challenges facing the Canadian organ donation and transplantation system.
Major challenges flow from Canada's federal structure given that an optimal ODT system coordinates and shares amongst a large pool of donors and recipients. In recent years, policy shifts in the area of organ donation law (Nova Scotia's shift to presumed consent) and in other areas of law (the adoption and potential expansion of medical assistance in dying) have raised new questions. Death definition and determination criteria are also critical policy and legal issues for donation – with important research emerging from Canada that affect the application of the dead donor rule, as well as a new Canadian initiative to develop a legislated definition of death.
On the transplantation side, equally important policy challenges exist. In recent years, media coverage and multiple legal challenges have put the 6-month alcohol abstinence rule for liver transplant listing into the limelight. Other listing contra-indications related to mental health and cognitive disability have not been widely discussed, but raise important legal and human rights issues as well.
Cross-cutting issues affecting both donation and transplantation must also be discussed – including the manner in which COVID-19 has and will affect the way in which OR and ICU resources are rationed (e.g. deprioritizing donation to create space for COVID-19 patients) and how potential transplant recipients are prioritized.
The virtual conference will be on June 17-18, 2021.
Speakers:
Héloïse Cardinal – Transplant Nephrologist / Principal Scientist – Immunopathology | Centre hospitalier de l'Université de Montréal
Jennifer Chandler – Professor, Faculty of Law |University of Ottawa Centre for Health Law, Policy and Ethics
Michaël Chassé – Intensivist / Principal Scientist – Innovation | Centre hospitalier de l'Université de Montréal
Prosanto Chaudhury – Interim Director, Multi-Organ Transplant Program |McGill University Health Centre
Glenn Cohen – Professor / Deputy Dean |Harvard Law School, U.S.A.
Sean Delaney – Patient Partner / Associate Director, Organ Listing & Allocation | Canadian Blood Services
Patrick Fafard – Professor, Public and International Affairs | University of Ottawa Centre for Health Law, Policy and Ethics
Katherine Fierlbeck – Professor, Political Science | Dalhouse University
Marie-Chantal Fortin – Nephrologist / Principal Scientist – Immunopathology | Centre hospitalier de l'Université de Montréal
Dale Gardiner – National Clinical Lead for Organ Donation | Nottingham University Hospitals, U.K.
Jed Gross – Bioethicist | University Health Network (Toronto)
Vanessa Gruben – Professor, Faculty of Law | University of Ottawa Centre for Health Law, Policy and Ethics
Andrew Healey – Chief Medical Officer | Trillium Gift of Life Network
Stanislas Kandelman – Anesthesiologist | Hôpital Royal Victoria (Montréal)
Maureen Meade – Critical Care Consultant / Professor, Department of Medicine | McMaster University
Istvan Mucsci – Nephrologist | University Health Network (Toronto)
Simon Oczkowski – Intensivist / Professor, Faculty of Health Sciences | McMaster University
Thaddeus Mason Pope – Professor | Mitchell Hamline School of Law, U.S.A.
Timmie Ann Schramm – Friend of an organ donor following MAiD
Sam Shemie – Critical Care Pediatrician | Hôpital de Montréal pour enfants / McGill University Health Centre
Christy Simpson – Professor and Head, Department of Bioethics | Dalhousie University
Maxwell Smith – Professor, School of Health Studies / Co-Chair and Member, Ontario COVID-19 Health System Response Bioethics Table | Western University 
Caroline Tait – Medical Anthropologist, Department of Psychiatry | University of Saskatchewan
Everad Tilokee – Data Analyst, Research and Training Programs (Centre for Innovation) / Transplant Recipient | Canadian Blood Services
Maeghan Toews – Lecturer | Adelaide Law School, Australia
Alyssa Tomkins – Partner | Caza Saikaley LLP
Robin Urquhart – Professor, Department of Surgery | Dalhousie University
Charles Weijer – Professor, Departments of Philosophy and Medicine | Western University
Matthew-John Weiss – Canada Research Chair in Critical Care, Neurology and Trauma | Université Laval