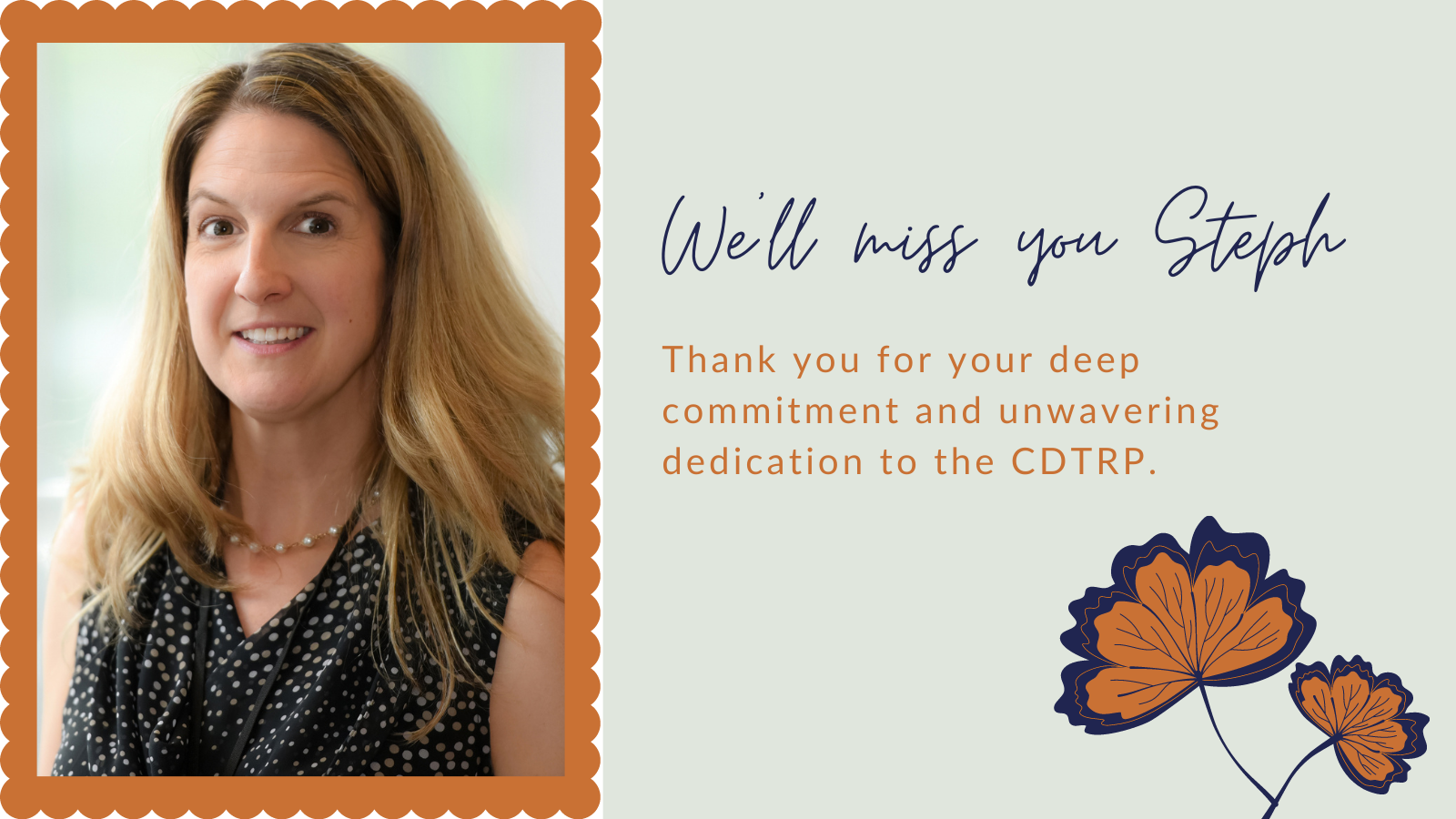 Update for CDTRP Financial Management – Farewell Stephanie Maier
The University of Alberta is undergoing a major administrative restructuring process, which includes centralizing financial support services. Beginning April 7, financial and contract-related tasks for the CDTRP will be handled differently, and new finance-related questions arising should be directed to info@cdtrp.ca.
Unfortunately, we must announce that as of April 7, Stephanie Maier is no longer employed by the University of Alberta. Stephanie has been working with the CDTRP from the very beginning (2012, when the original CNTRP proposal was developed), growing into her current role as Finance and Program Manager.
Stephanie's eagle eye for detail is legendary. She worked mainly behind the scenes to support the CDTRP community and many aspects of network operations. Some key accomplishments include supporting the logistics of all past CDTRP annual meetings, managing funding agreements, including the contracts to bring many new institutions into the CDTRP coalition (now 37 strong!), and tracking all CDTRP expenditures. She played a key role in several major CDTRP initiatives and proposals, such as managing the budget for the 2018 Networks of Centres of Excellence proposal. On the latter, one reviewer commented that they had never read a budget justification that was so well assembled!
"I am very sad to leave but also happy to know that the CDTRP will be in good hands with its amazing management team! These past 15 years working with Lori, the West lab and GlycoNet members, and the entire CDTRP community have been wonderful. I hope to cross paths with many of you in the future!" – Stephanie
Stephanie has found herself in the position of looking for new career opportunities in research administration and management. If you or a colleague are looking for someone who loves scrutinizing every budget line and contract phrase, with years of experience in research, and deep knowledge of the donation and transplantation research community in Canada, you can find Steph on LinkedIn here.
We'll miss you Steph. Thank you for your deep commitment and unwavering dedication to the CDTRP.
Here are some messages from the CDTRP team:
Dear Steph,
We will miss you and your outstanding eagle eye, your attention to details, your care for each CDTRP member and your great team spirit (particularly during dance competitions !!!! ;) I wish you all the best. – Mélanie Dieudé
Thank you for all your help and onboarding throughout the years.
We'll miss your eagle eye! Make this the best chapter of your life. – Chelsea Patriquin
I feel a bit ripped off that we didn't get to work together for very long because you are so kind and full of knowledge.
Thank you for making sure I was well set up and well taken care of before you left.  I wish you all good things for your future! – Katie Bain
I'm going to miss you Steph! Good luck with your new challenges xxx – Julie Turgeon
I wish you the best of luck starting your new chapter, you will definitely be missed.
And I finally I get to be the only Stéphanie! ;) – Stéphanie Larivière
Dear Steph, my very best wishes to you. Management team won't be the same without you but I have no doubt you'll soon find a new way to apply all of your talents to supporting and advancing research – Patricia Gongal