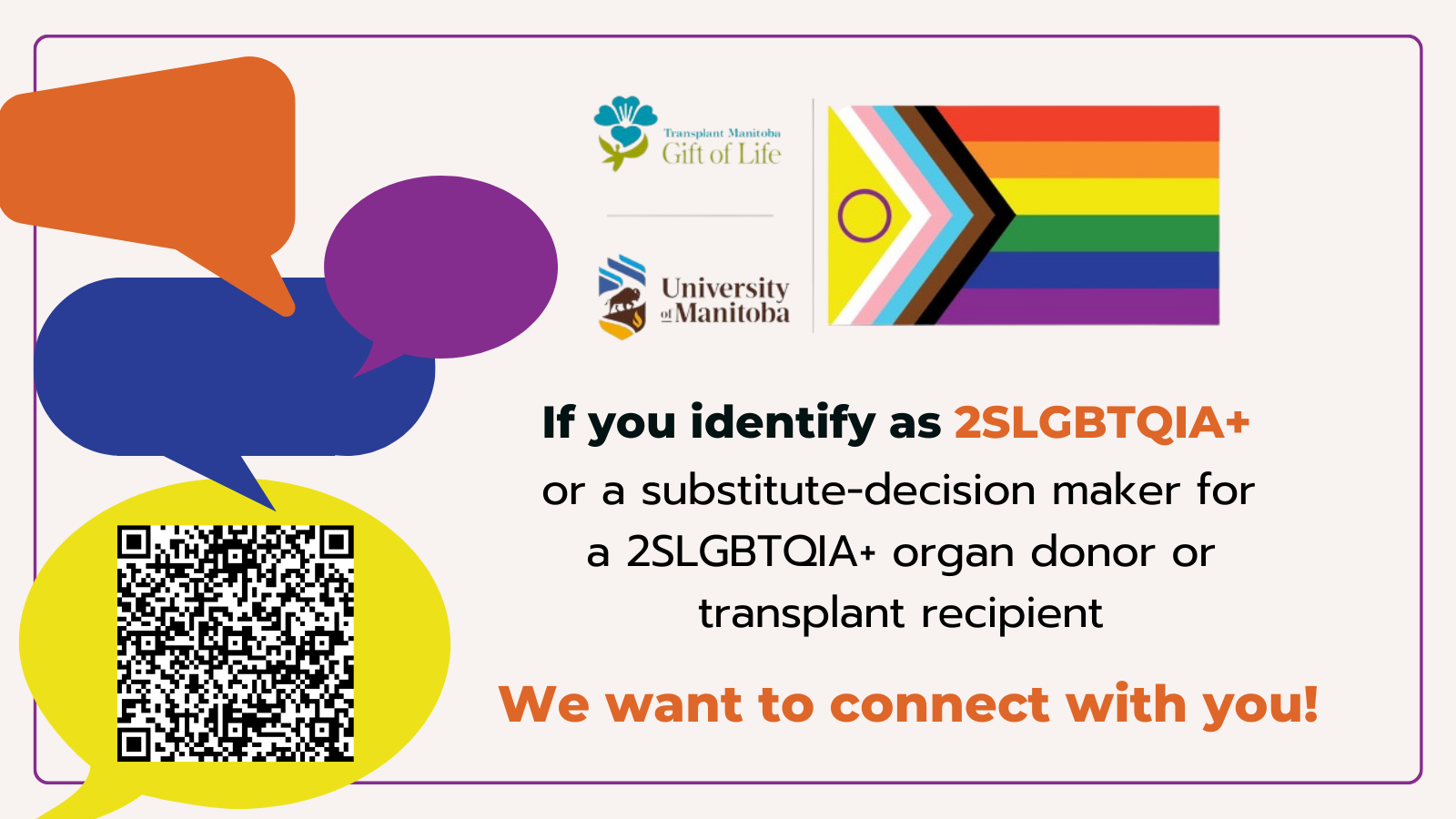 Dr. Murdoch Leeies' team at University of Manitoba is forming a 2SLGBTQIA+ patient/family advisory team and is looking for interested people who have been involved with the organ donation or transplantation system. If you are a 2SLGBTQIA+ identifying person who has been a living organ donor, a solid organ transplant recipient or the substitute-decision maker or caregiver of a 2SLGBTQIA+ person who was considered for donation after death (whether they did or did not donate) then they hope you will consider registering your interest to participate.
The team hopes that your engagement will help them to design research as well as policies that can improve equity for 2SLGBTQIA+ people in our health system. We greatly value your participation.
Details
Once formed, this group will meet to discuss issues that impact 2SLGBTQIA+ people in the organ and tissue donation and transplantation system. The group anticipate arranging approximately 4 x 1 hour meetings per year (video-conference or tele-conference depending on location). An honorarium to recognize your time and experience will be included. Participants can be located anywhere in Canada.
If you wish to join this engagement group, you can register by signing up electronically below.
About Dr. Murdoch Leeries
Dr. Leeies is an organ donation, critical care medicine and emergency medicine specialist physician based in Manitoba. Trained as a clinician investigator, he serves as the Director of Research for the Department of Emergency Medicine at the University of Manitoba.
Dr.Leeies leads a collaborative program of research with a focus on promoting health equity in organ and tissue donation and transplantation. This intersectional research program pairs with his clinical work as an organ donation specialist physician with the Transplant Manitoba Gift of Life program. Dr. Leeies extends his commitment to the principles of equity, diversity, and inclusion (EDI) through academic and clinical service as the Director of EDI nationally for the Canadian Critical Care Society, and the Chair and Co-Chair (respectively) of the EDI committees for Critical Care Medicine and Emergency Medicine in Manitoba.
Dr. Leeies was recently awarded the Preparing for Research by Engaging Public and Patient Partners (PREPPP) Award from the University of Manitoba Centre for Healthcare Innovation in support of the development of a 2SLGBTQIA+ Patient & Public Advisory Team which will partner in the development of patient-centered research that explores the inequities that 2SLGBTQIA+ persons face in the Canadian organ and tissue donation and transplantation system. Through this work Dr. Leeies hopes to generate knowledge that can inform the reformation of structural and systemic elements of the health system that uphold these inequities.